Rajon Rondo Stands By Comment That Miami Were 'Crying To Referees' In Celtics Heat Game 4 [VIDEO]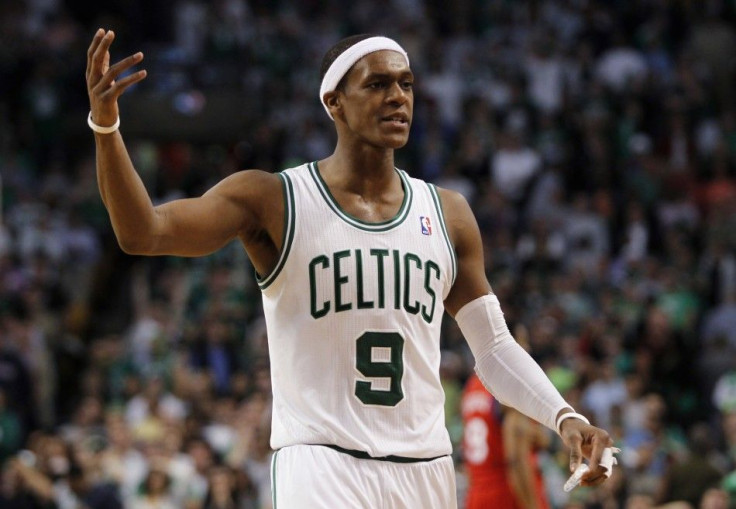 Boston Celtics point guard Rajon Rondo surprised pretty much everyone Sunday night during halftime of Game 4 of the NBA Eastern Conference Finals when he made a comment alleging that the Miami Heat were crying to referees during the first half of the game.
Rondo, the rising young Celtics star who runs a team of veterans, made the comments during his halftime interview with ESPN reporter Doris Burke while his team was up 61-47 at the close of the second period.
Burke asked Rondo what he and the Celts had been doing in order to end the first half with such a commanding lead over as great a defensive team as the Heat. He did not mince words in his on-the-fly response:
Them complaining and crying to referees in transition.
It was a comment that surely fueled Miami fans' fire, and sweetened happiness as the Heat surged back from the 14-point deficit at the half to take the game to overtime. But in the end Miami just couldn't pull it off, and when Dwayne Wade missed a three as the buzzer sounded at the end of OT, the Celtics had tied the series with a slim 93-91 victory at home.
And after the high-tension game, Burke spoke briefly with Rajon Rondo again during his on-court, post-game interview. She returned to the controversy, asking whether he had reconsidered the comment about the Heat crying and Rondo said that he stood by the remarks.
Game 4 was an emotional night for both teams, with the Celtics playing at home in a must-win situation. Rondo also caught a technical foul during an altercation in which he appeared to try and kick the Heat's Shane Battier after the two fell down on the court.
Despite the minor controversy over Rondo's comments, however, Game 4 was probably the best game of the 2012 NBA Playoffs so far, with two teams striving with everything they've got in order to win a championship battling it out to the last second in the hallowed air of Boston Garden (now TD Garden).
And Rondo is not totally on his own in vocalizing annoyance with the way Miami deals with officials. Last month, Indiana Pacers coach Frank Vogel called Miami the biggest flopping team in the NBA. Looks like whatever the Heat are doing, they must be doing it right as the Pacers are out of the postseason, and the Heat are headed back to Miami for Game 5 at home.
Click play below to watch Rajon Rondo's half-time comments about the Heat crying to referees:
© Copyright IBTimes 2023. All rights reserved.