Raptors vs. Warriors Game 3: Prediction, Why Toronto Can Beat Golden State For 2019 NBA Finals Lead
Kevin Durant and Kevon Looney are out. Klay Thompson is questionable after suffering a hamstring strain Sunday night. Andre Iguodala doesn't appear to be 100 percent with a leg injury.
That's four of the Golden State Warriors' most important players dealing with injuries ahead of Game 3 in the 2019 NBA Finals. The defending champions will host the Toronto Raptors Wednesday night, looking to survive a rash of ailments to take a 2-1 series lead.
Toronto is largely healthy, though Kawhi Leonard seems to still be battling a leg injury that he suffered in the Eastern Conference Finals. Leonard and Stephen Curry are the series' leading scorers with 28.5 points per game.
With Durant sidelined for the first two games in Toronto, the Raptors and Warriors appeared evenly matched. Even after Golden State barely escaped Canada with a victory, they are pretty significant favorites in Game 3.
The Warriors are laying 5.5 points at Oracle Arena, according to the betting line at OddsShark. The total for Wednesday night's contest is 213.
The Raptors were only 1.5-point favorites at home. They outscored Golden State 222-218 at Scotiabank Arena.
It's no surprise that Golden State is favored now that the series has shifted to the Bay Area. But close to a six-point spread? That feels like a lot, considering how tough Toronto has played the defending champs and all the questions regarding the Warriors' health.
Toronto's defense has largely been outstanding since Game 3 of the conference finals. Golden State was forced into taking mostly contested shots in their Game 1 loss. The Warriors had a 34-point outburst in the third quarter of Game 2 that catapulted them to victory.
Much of that scoring was the result of Thompson making difficult jumpers. The shooting guard led the Warriors with 25 points, despite exiting the contest early. He made four of his six three-point attempts to go along with five assists.
Stephen Curry was held without a basket in the fourth quarter. Toronto made sure to shut down the two-time MVP when his fellow Splash Brother was in the locker room.
Thompson is expected to play. He is known for battling through injuries. How effective he might be on one and a half legs is a question mark.
DeMarcus Cousins and Draymond Green will have to be major contributors on offense in order for the Warriors to win. They accomplished that Sunday night by combining for 28 points on 20 field-goal attempts with 15 assists.
Cousins has only played two games since a quad injury forced him to sit for 45 days between games. He's no guarantee to have a repeat performance in Game 3.
Those kinds of questions will be what determines the outcome of the series. Which role players are going to step up? How aggressively will each team try to stop the opposing superstar?
Golden State was intent on double-teaming Leonard in Game 1 and making the other Raptors beat them. That's exactly what happened when Leonard was held to 23 points but Pascal Siakam and Marc Gasol went a combined 20-27 for 52 points in a Toronto victory.
The Warriors weren't as zealous in trying to trap Leonard Sunday night. He scored 34 points, though the other Raptors didn't convert as many easy looks as they had in the series opener.
The Raptors have been doing their best to deny Curry open shots with Durant in street clothes. Toronto shifted their focus even more toward stopping the greatest shooter ever when Thompson got hurt.
If Thompson is limited whatsoever, Golden State will face an uphill battle, even at home. The Raptors' defense is going to keep this game competitive. Toronto's backcourt, led by Fred VanVleet, has guarded Curry as well as the team could've hoped.
Don't be surprised if the Raptors steal home-court advantage right back from the short-handed Warriors.
Game 3 Prediction: Toronto over Golden State, 105-102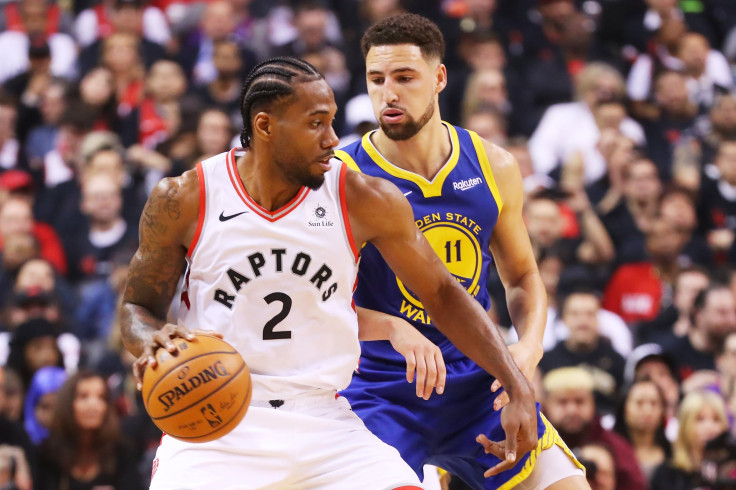 © Copyright IBTimes 2023. All rights reserved.