Rare China Shooting Spree Kills Six, Prompts Even Tighter Gun Controls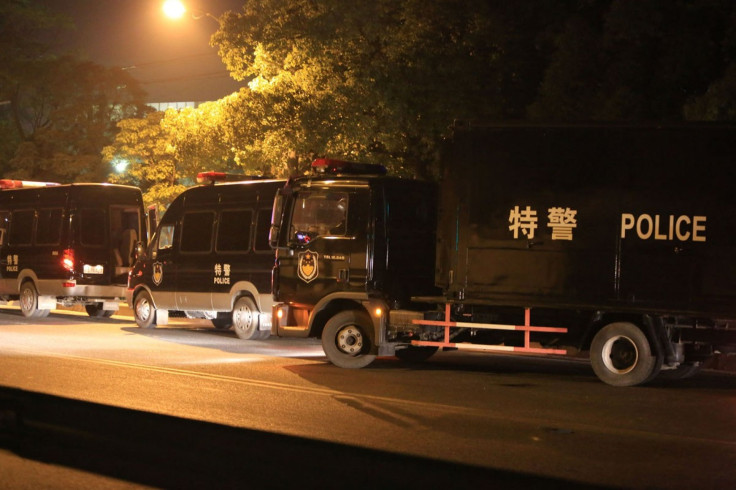 Six people were killed when a man in China went on a rare shooting spree at a chemical plant in Shanghai's Baoshan district. A 62-year-old man, identified as Fan Jieming, is reportedly the person responsible for shooting and killing five people and brutally beating another to death.
State-run news agency Xinhua is saying that, prior to Fan's shooting spree, he was involved in an altercation about the privately owned factory's finances with a coworker at the chemical plant. Fan was reportedly the office manager at the plant, which had ceased production in mid-May as a result of pollution complaints, local news source Caixin says.
During the dispute, Fan grabbed a tool and bludgeoned his colleague to death. Fan then returned to the factory's staff dormitory where he had stashed a hunting gun, retrieved the weapon and fled to Shanghai's Pudong area in an illegal taxi. Fan then killed the vehicle's driver and used the vehicle to drive back to Baoshan, where the factory is located, killing a soldier in front of a military unit's barracks and thus obtaining an additional gun. With both weapons, Fan made his way back to the factory and killed another three employees, including the factory's supervisor, before being subdued by a police officer who was patrolling the area. Four other people were shot and sustained injuries.
Fan is now under police custody, and the case is still under investigation. Shooting rampages are very rare in China, and the event prompted a swift response from municipal leaders and the Ministry of Public Security, which have released a statement calling for a thorough investigation of the shooting. Gun control laws in China are some of the strictest in the world, making it difficult for most civilians to legally own firearms.
According to the South China Morning Post, an emergency meeting was held on Sunday by the Ministry of Public Security, which said it was planning to launch a more comprehensive campaign on gun management across the country. Those who own firearms for hunting purposes are already tightly controlled by officials. In addition to a hunting permit, gun owners must register for additional permission at local police stations in order to keep a hunting rifle.
The story has been trending on various social media outlets, including China's most popular microbloging platform, the Twitter-like Weibo. Many netizens are expressing condolences for the innocent lives that were taken, many saying that it was the result of a gun being present.
"One can only wonder how different the outcome would have been had no gun been involved," one commenter said, referencing the increasingly common stabbings that have occurred recently. While stabbings occur much more frequently than shootings, fatalities in each incident usually do not occur. "We need more security on who owns guns; I don't want them at all!" a user said. "So many people brutally murdered all because this man had a gun to hunt? Doesn't seem right."
"How terrifying that someone unstable can have a gun. If the law isn't protecting us, what will?" another user chimed in. Fan's mental health has been questioned by many on social media, but his mental state has not been officially assessed: "Why kill a soldier and a driver unrelated to the factory? He must be unstable."
Not all agreed that guns were the issue, insisting that Fan was clearly unstable and very angry. "People, he first killed his coworker with a tool -- not a gun. He was a murderer even before the gun came out," a blogger retorted. "It may sound harsh, but being killed by a gunshot was more humane than the way he killed the first guy -- so brutal," he added.
© Copyright IBTimes 2023. All rights reserved.
FOLLOW MORE IBT NEWS ON THE BELOW CHANNELS