Ray Rice Elevator Video: NFL's Delayed Response Speaks To America's Larger Domestic Violence Issue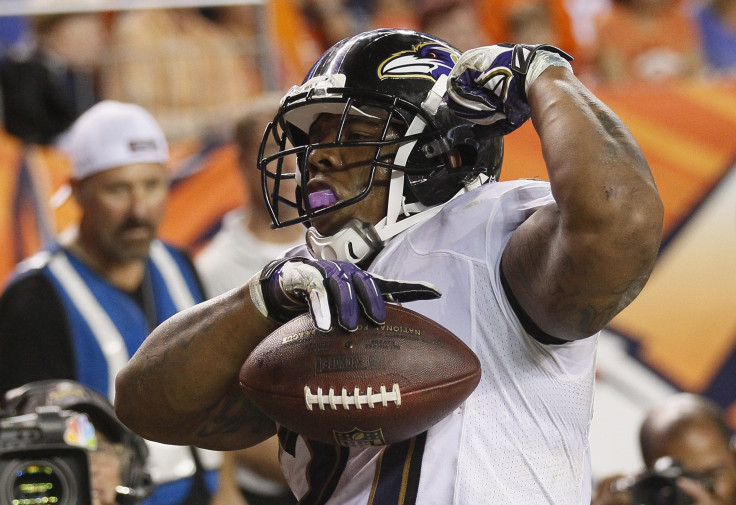 The NFL's decision Monday to indefinitely suspend former Baltimore Ravens running back Ray Rice represented the league's first decisive action against an employee proven to have engaged in domestic abuse. However, the league's failure to act before the leak of damning surveillance footage -- as well as previous failures to adequately discipline players who engaged in domestic violence -- speaks to the organization's unwillingness to confront an issue that affects more than 1 million women annually, according to critics.
"Even now, the commissioner appears to fall short of implementing systemic change that will get at the root cause of the violence. He may have dropped the ball again by failing to move bold initiatives that do more than punish players by actually supporting women," Teresa Younger, president and CEO of the Ms. Foundation for Women, said Tuesday in a statement. "As fans, we should be demanding a higher standard of accountability and responsibility from football players and officials. In fact, Goodell only seems to take stronger action when the public outcry has been loud."
Given the NFL's massive audience, a strong stance against domestic violence could have a profound effect on a problem that disproportionately affects U.S. families. Roughly 85 percent of all domestic violence victims are female, according to the National Coalition Against Domestic Violence. An estimated 1.3 million women are victims of physical assault every year, with one out of every four women experiencing such violence in their lifetime.
Over the last few years, some of the league's most high-profile instances of domestic violence were never properly addressed. The Dolphins opted to release former wide receiver Chad Johnson in 2012 after he allegedly headbutted then-fiancée Evelyn Lozada, but he did not receive a suspension. More recently, Carolina Panthers defensive end Greg Hardy was sentenced to 18 months' probation for assaulting and threatening his girlfriend, but has yet to be suspended. In all, domestic abuse accounts for 48 percent of arrests for violent crimes among the league's players, compared to just 21 percent among average American males, Five Thirty Eight notes.
Previously unreleased surveillance footage obtained by TMZ Sports Monday shows Rice fighting with then-fiancée, now wife Janay Palmer during the couple's February domestic violence incident in an elevator at Atlantic City's Revel Hotel and Casino. After a brief argument, Rice punched Palmer in the head, rendering her unconscious. The former NFL star then dragged her motionless body off the elevator, where he was confronted by hotel security.
Within hours of the video's release, both the Ravens and the NFL took action. The Ravens announced that they had terminated the final three years of Rice's contract, while NFL Commissioner Roger Goodell announced Rice's indefinite suspension from the NFL.
The move marked a major departure from Goodell's initial ruling on the matter. After consulting with law enforcement, the league announced in July that Rice would be suspended without pay for two games and fined an additional game check for assaulting Palmer.
Even before TMZ Sports obtained the elevator video, critics slammed Goodell for being too lenient toward a man who had rendered a woman unconscious with his bare hands. ESPN pundit Keith Olbermann accused the NFL of not caring about its female fan base. The NFL said it did not view the surveillance footage before determining the length of Rice's initial suspension.
Paul Bukovec spent more than three decades counseling and rehabilitating men who had abused their partners as the founder and former owner and director of Menergy. While disappointed in the NFL's delayed reaction to the Rice incident, he said the saga will force the league to directly confront an issue that it has otherwise avoided.
"In a weird and perverse way, I'm glad that the NFL did such a bad job on this initially, because now they have to eat humble pie and they have to do something more dramatic to make up for it," Bukovec told IBTimes. "I think that's what we need. Millions of American men are watching the NFL and we want them to do something now."
While critics have targeted Goodell and the NFL office with the majority of their criticism, a surprising amount of vitriol has also been directed at Palmer. Palmer was defensive of her husband's character from the beginning. She apologized in May for her role in the Atlantic City incident and released a statement Tuesday that slammed the media for ruining Rice's football career.
Online detractors questioned how Palmer could marry or defend a man who had punched her in the head less than a year before, but statistics show that such behavior is quite common among women who have experienced domestic violence. The average victim leaves an abusive relationship seven or eight times before she ends the relationship for good.
"People want to assume that things will get better. A lot of women love the whole man, and he may have many wonderful attributes," Bukovec adds. "Most of the men I saw over the years, they were decent men, most of them. The women are in love with the men, they just have blinders on about this particular behavior and hope that it will change."
Women on social media – some of whom have dealt with abuse -- have rallied to Palmer's defense. The hashtag "#WhyIStayed" went viral on Twitter Tuesday as supporters shared their thoughts and individual experiences.
Asked if he believed that Rice's assault on Palmer was an isolated incident, Bukovec expressed his skepticism. "It's possible, but it's not so probable. I would say, at the very least, [Rice] has some serious attitude problems about trucking opposition from his woman. That seems really clear, and it would have manifested in a number of other ways."
Rice is not beyond redemption -- if he is willing to confront his past behavior, Bukovec said.
"I would [tell Rice], 'you learned this, or you learned not to contain yourself in certain ways, and you can unlearn it. You can be a better man, but you have to work at this and you have to show a fair amount of contrition and humbleness. You have to stay small and you have to be in a room with other ordinary guys and let them call you out on your attitudes and behaviors,'" Bukovec said. "I believe such a man is redeemable, but he has to work."
Coupled with the NFL's recently revamped disciplinary policy on domestic violence, Goodell's decision to indefinitely suspend Rice could be the first step in its own bid for redemption.
FOLLOW MORE IBT NEWS ON THE BELOW CHANNELS