Ray Rice Told Roger Goodell He Punched Janay Palmer, Despite Commissioner's Claim Of 'Ambiguous' Account: Report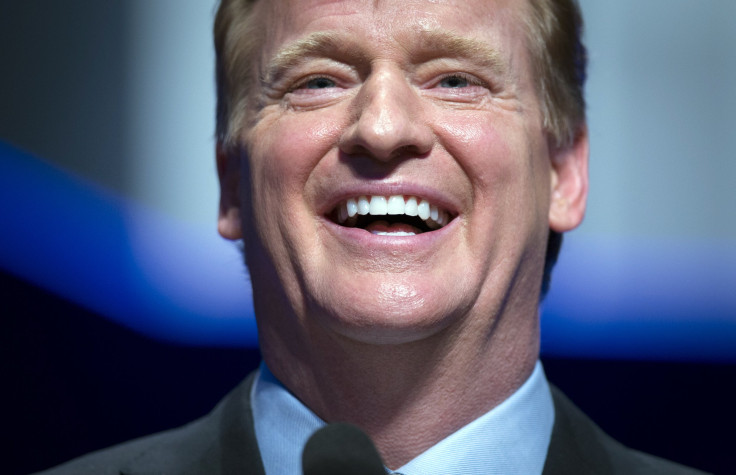 Ray Rice told NFL Commissioner Roger Goodell that he knocked then-fiancée Janay Palmer unconscious during a February domestic dispute, multiple sources told ESPN's "Outside the Line" Thursday. If true, the new report would contradict Goodell's claim that Rice gave an "ambiguous" account of what occurred in the Atlantic City casino elevator.
"Ray didn't lie to the commissioner," one source told ESPN in the report. "He told the full truth to Goodell – he made it clear he had hit her, and he told Goodell he was sorry and that it wouldn't happen again."
"There was no ambiguity about what happened [in the elevator]," another source said. Two other sources corroborated their accounts, but a fifth source said that former Baltimore Ravens star Rice told Goodell that he had "slapped" Palmer, now his wife.
During a Tuesday interview with "CBS This Morning" host Norah O'Donnell, Goodell said that no one in his office had seen the elevator surveillance footage – released to the public by TMZ Sports Monday – that provided proof that Rice had knocked Palmer unconscious with a punch to the head. Attempts to obtain the video through law enforcement were unsuccessful, Goodell added.
Instead, Goodell based his initial decision to suspend Rice for two games on the former Baltimore Ravens running back's account of what occurred during the elevator incident, as well as testimony from Palmer. Furthermore, Goodell told several NFL owners that he thought it would be "insensitive" to question Palmer's claim that she was partly responsible for the incident, the Wall Street Journal reports.
"That's why we asked for [the surveillance video] on several occasions. Because when we make a decision, we want to have all the information that's available," Goodell said. "And obviously that was the – that when we met with Ray Rice and his representatives, it was ambiguous about what actually happened."
Goodell explained his decision to indefinitely suspend Rice in a letter sent Friday to the NFL Players Association and obtained by ESPN. "This video shows a starkly different sequence of events from what you and your representatives stated when we met on June 16, and is important new information that warrants reconsideration of the discipline imposed on you in July," Goodell wrote.
The "Outside The Lines" report cast further doubt on the legitimacy of Goodell's statements regarding the NFL's investigation into the Rice domestic violence incident. A law enforcement official told the Associated Press Wednesday that the NFL had obtained a copy of the surveillance footage in May. The AP also obtained a 12-second voicemail from an NFL office number which confirmed that the league had received the video, according to their report.
An independent committee led by former FBI Director Robert Mueller began an investigation into the NFL's handling of the Rice saga on Thursday. However, critics have already begun to question whether Mueller – a partner at a law firm with ties to the NFL – can remain impartial during the proceedings.
© Copyright IBTimes 2023. All rights reserved.