Real Madrid vs. Roma 2016: VIDEO Highlights, Live Score Updates From Champions League First Leg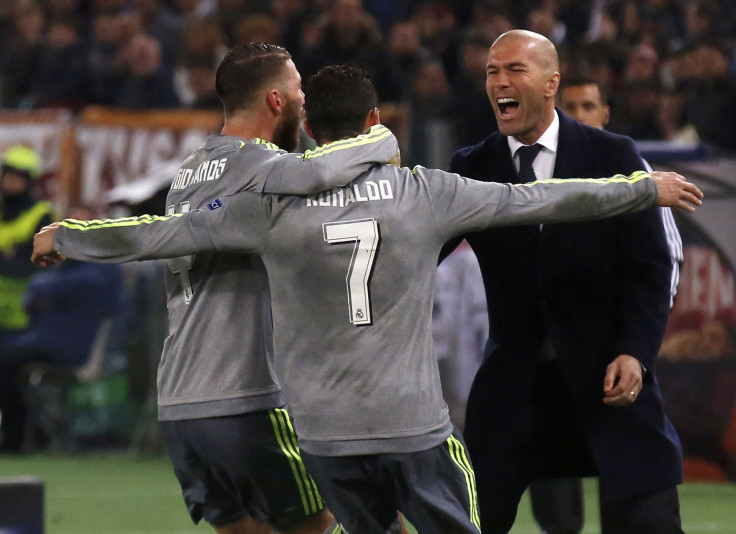 Recap: Real Madrid delivered a major blow in Zinedine Zidane's first Champions League outing as coach, taking a 2-0 advantage from their Round of 16 first leg against Roma in the Italian capital on Wednesday. Cristiano Ronaldo opened the scoring just before the hour mark, his deflected strike giving him a first goal on the road since November and Real Madrid the lead in a game that to that point had been finely poised. Jesé Rodríguez then came off the bench to drive a low shot into the corner of the net late on and give Zidane's men a huge advantage to take back to the Bernabeu in three weeks' time.
But, if the result had followed expectations of a Madrid team that has reached at least the semifinals for the last six seasons going up against a club that had not been to the quarterfinals since 2008, it was also harsh on a Roma side that more than played their part in an engaging contest. The man who led Roma to that last quarterfinal berth, by virtue of a win over Real Madrid, Luciano Spalletti, showed his tactical nous with a shrewd game plan. Reverting back to the striker-less formation he pioneered in his first spell in charge, the Italian, who returned to the job last month, had Roma happy to sit back and restrict Real Madrid's space before striking with pace and purpose on the break.
The speed of Stephan El Shaarawy and Mohamed Salah out wide were the chief threats for Roma, and both caused their fair share of concern for the Real Madrid backlin. But time and again, they, especially Salah, failed to take advantage. While Roma were wasteful, Real Madrid were clinical, helped by a deflection off the leg of Allessandro Florenzi that broke the game open. Roma still fired back and should have had a penalty when Florenzi was upended by Dani Carvajal in the box. Rubbing salt into the wounds, a tiring Roma then allowed Jesé to in all probability decide the tie with four minutes remaining.
Match highlights:
FULLTIME! Roma 0-2 Real Madrid (Ronaldo, Jesé)
Second-half goals from Cristiano Ronaldo and Jesé Rodríguez have given Real Madrid a big advantage to take back to the Bernabeu, reflecting their tag as strong favorites to progress ahead of the tie. However, the scoreline fails to tell the full story of a game in which Roma more than played their part. Luciano Spalletti's game plan was working a treat until Ronaldo's deflected effort found the back of the net. But even then Roma caused the Spanish giants plenty of trouble, and were denied a clear penalty to give them a chance to equalize. That non-call, along with some wastefulness in the final third was then compounded when Jesé came off the bench to surely seal the tie in Madrid's favor.

90 mins: Three minutes of injury time to be played.
Here's Jese's goal to put Real Madrid 2-0 to in front:
88 mins: Immediately after falling two goals behind, Francesco Totti is called for from the bench, but even the Roma legend surely can't rescue this situation. Meanwhile, Casemiro comes in to shore up the midfield in place of Ronaldo.
GOAL! Roma 0-2 Real Madrid (Jese, 86)
That could well be the goal that decides this tie. Jese, just moments after coming on, is allowed to drive forward into the penalty box down the right, before firing low into the far corner of the net. It's extremely harsh on Roma, but Real Madrid have been far more clinical.
83 mins: Salah has got in all the right positions tonight, but continues to find new ways not to take advantage. His control has just let him down terribly when found in the middle of the box. If Roma don't come away with anything from this match, they will have plenty of regrets. The chances have been there.
80 mins: A huge penalty appeal from every Roman in the crowd and the Roma players on the field, and understandably so. Florenzi got to the ball first in the box, before being taken out by Dani Carvajal. That's a huge and potentially decisive missed call from the referee.
79 mins: Oh, what a chance missed by Edin Dzeko. The striker who ended his long goal drought at the weekend had a clear sight of goal at the top corner of the six yard box, but fired the ball into the side netting. In Dzeko's defense, Varane appeared to get a decisive foot in.
77 mins: Roma introduce veteran midfielder Daniel de Rossi in place of the man who minutes earlier went desperately close to putting Roma back on level terms, William Vainquer.
76 mins: A crucial block from Lucas Digne. Karim Benzema looked poised to head Real Madrid into a 2-0 lead, but Digne was in the right place to block it with his head in front of goal. It's real end-to-end fare now.
73 mins: This Is thrilling stuff now, and Ronaldo really should have put Real Madrid two goals to the good. From James' cross to the back post, Ronaldo was free in behind but his header just trickled wide of the far post as Szczesny came out to apply pressure.
72 mins: Vainquer goes inches away from bringing Roma level. Dzeko holds up the ball superbly on the edge of the box, before laying it off into the path of the French midfielder who meets it with a crashing drive that had Navas at full stretch.
71 mins: Again Salah breaks in behind the Real Madrid defense and again he can't connect with the final ball. This time, though, huge credit must go to Varane, who was perfectly placed to prevent the ball from reaching Dzeko for a simple tap in.
69 mins: To Roma's credit, they're going on the attack with plenty of intensity. But the final touch isn't there, and right now it looks as if simply the greater quality in attacking areas is going to be the difference in favor of Real Madrid.
66 mins: Another opening spurned by Roma. First Nainggolan took a heavy touch in space on the edge of the box before Salah failed to seize on the chance when being found in the area. Roma can't afford to squander those sort of opportunities if they want to come away from tonight with anything to show for their considerable efforts.
63 mins: Roma make their first change, replacing the man who missed a fine chance just before Real Madrid's goal, El Shaarawy, and introducing target man Edin Dzeko. Meanwhile, Mateo Kovacic comes on for Isco.
62 mins: Rapahel Varane earns the first yellow card of the match for a late challenge.
Here's a video of that Ronaldo goal:
GOAL! Roma 0-1 Real Madrid (Ronaldo, 57)
Roma were enjoying a really good spell at the start of this second half, but Ronaldo has just stuck a dagger in their hopes of getting through this tie. Played in behind down the left, Ronaldo's clever flick got him inside on his right foot, and his curling shot toward the far corner received a crucial touch off the leg of Florenzi to take it past Szczesny. That's Ronaldo's first away goal since November, and it means Roma now will surely have to come out on the offensive, potentially leaving gaps at the back.
55 mins: for the second time in the match, El Shaarawy gets in behind cutting in from the left, but whereas it was Varane who thwarted him in the first half, this time it's Keylor Navas who sprints out of his goal to deny the man on loan from Milan. The pace from the wings of both El Shaarawy and Salah has been crucial to Roma's game plan, but it hasn't quite come to fruition as yet.
53 mins: Just for a moment Antonio Rudiger appeared to have been presented with a great chance in the Real Madrid box. A long ball forward was misjudged initially by Sergio Ramos, but the Roma defender's touch was poor allowing Ramos to recover. There's plenty of tension right now, and you suspect that any goal tonight could have a major impact on this tie.
51 mins: A moment of controversy as William Vainquer stopped Ronaldo's cross-field pass from reaching James on the edge of the box with a very high boot. Despite the Colombian taking a boot to the head, for which he is now receiving treatment, the officials allowed play to go on.
49 mins: Roma do have plenty of experience on the bench to call upon in the second half. Francesco Totti and Daniele de Rossi, the two players remaining from Roma's victory over Real Madrid at this stage of the Champions League eight years ago are ready and waiting, as is Edin Dzeko, who was close to joining Real Madrid when he left Wolfsburg for Manchester City.
46 mins: Ronaldo's frustration has been piqued in the opening seconds of the first half after the referee denied him a corner in a battle with Florenzi. The three-time Ballon d'Or winners will certainly be aiming to make more of an impact in the second half than the first.
Second Half Kickoff! Real Madrid get this Champions League Round of 16 first leg back underway, with the teams still goalless.
Here's the closest we came to a goal in the first half, through Marcelo's volley:
HALFTIME! Roma 0-0 Real Madrid
No goals but plenty to keep those watching engaged in the first 45 minutes. And it's the home side that will likely be the happier at the interval. Roma have been superbly disciplined without the ball, not allowing Real Madrid any clear chances despite them dominating possession. And when Spalletti's men have had the ball they have attacked with purpose and, despite not playing with a recognized striker, looked a threat. Real Madrid did, though, apply some real pressure midway through the period and Zinedine Zidane will want his side to get back to that intensity.
45 mins: A real opening for Roma at the end of the first half. El Shaarawy was sprung in behind down the left, and his first touch took him inside perfectly, but just as he was about to get a shot away Raphael Varane came across and made a superb challenge. A fine piece of defending from the young France international.
43 mins: Pjanic delivers a corner to the near post and Kostas Manolas heads well over the bar of Keylor Navas, who hasn't had a save to make as yet.
41 mins: Ronaldo gets the briefest sight of goal after a layoff from Benzema, but Roma again immediately swarm around the Portuguese to block his shot. Immediately Roma broke down the other end, but the hosts failed to take advantage as Salah broke in behind.
35 mins: At the other end, Roma provide their defense some much-needed relief and cause some problems in the Real Madrid box. Sergio Ramos produced a fine block just inside his area before the
34 mins: Marcelo comes the closest yet to opening the scoring. After Ronaldo lifted the ball over a defender to on the left side of the box, the Brazilian smashed an opportunistic volley that had Szczesny scrambling and relieved to see the ball just fly wide of his far post.
33 mins: Roma are now really getting pegged back as Real Madrid launch repeated attacks and Isco becoming a growing presence. Still they can't threaten Szczesny's goal, though, with Ronaldo just miscuing on the volley.
29 mins: Real Madrid are domainting possession, but Roma's organization without the ball continues to be impressive. Real Madrid are doing plenty of probing, but there's been no route through yet for Ronaldo, Benzema, or particularly James Rodriguez, who has offered very little so far.
24 mins: Salah goes on another dangerous burst down Roma's right, but the Egyptian winger just overran the ball having got into the Real Madrid penalty area. Still, Roma will be delighted with this start.
22 mins: Real Madrid enjoy the first spell of real pressure, winning back-to-back corners, but it ends with Karim Benzema heading well over the Roma crossbar.
20 mins: Ronaldo has had no joy so far and he has just been lucky to escape a yellow card after deliberately handling the ball on the ground after losing the ball to the impressive Florenzi.
16 mins: It's all Roma right now. Alessandro Florenzi is heavily involved down the right, and just supplied a neat ball through for Perotti's whose low cutback was met by El Shaarawy, but the man on loan from Milan couldn't get an effort on target at the near post
13 mins: Roma continue to be really purposeful when gaining possession. A clever linkup between Peroti and main danger man Salah in the box almost paid dividends.
10 mins: Roma have had no qualms in the opening 10 minutes about allowing Real Madrid to have the ball. The hosts are sitting back, but ready to pounce and break with pace when they do win it. Spalletti certainly seems determined for there not to be a repeat of Roma's heavy defeats to Barcelona and Bayern Munich.
8 mins: Cristiano Ronaldo has his first effort of the night, smashing a wildly ambitious free-kick from almost 40 yards well wide of Wojciech Szczesny's post.
6 mins: As you would expect, the crowd at the Stadio Olimpico is really fired up for this occasion. And they just got off their seats as Salah led a quick counter-attack before he was crowded out by the Madrid defense.
4 mins: Roma are indeed going without a natural striker. Spalletti has opted to pack the midfield, with Diego Perotti the most advanced, while Stephan El Shaarawy and Mohamed Salah offering a threat from out wide.
KICKOFF! Roma get the game underway at the Stadio Olimpico.
1:53 p.m. EST: Roma manager Luciano Spalletti has made a bold call with his team selection, dropping striker Edin Dzeko to the bench, just days after he ended his long goal drought. Miralem Pjanic takes his place in the starting lineup, but is unlikely to take up the role up front. Instead, Spalletti may be reviving the famed striker-less formation from his first spell in charge. Real Madrid, meanwhile, make two changes from the lineup that beat Athletic Bilbao 4-2 on Saturday. Isco comes into the midfield in place of Marko Kovacic, while the returning Marcelo takes the spot of Danilo in defense.
Preview: Luciano Spalletti will hope to recapture the magic of his first spell in charge of Roma when he leads the Italian side into battle against Real Madrid in their Champions League Round of 16 first leg on Wednesday. Spalletti returned to take charge of Roma last month, having previously been at the helm between 2005 and 2009. During that time he led the club to back-to-back Champions League quarterfinals, including, in 2008, victory over Real Madrid, both home and away, in the last 16.
Repeating that success will be no easy feat this time around. Roma have not been back to the quarterfinals of the Champions League since, and have been on the wrong end of heavy defeats when coming up against the European elite both this season and last, losing 6-1 to Barcelona and 7-1 to Bayern Munich.
Still, Roma come into the first leg at the Stadio Olimpico in revitalized form, winning their last four games to move up to fourth place in Serie A. Real Madrid are in similarly fine form under their new manager. Since Zinedine Zidane took charge last month, Real Madrid have won five and drawn one of their six games, scoring 23 goals in the process.
Even under the troubled and short-lived reign of Rafa Benitez, Real Madrid strolled through the group phase of the Champions League. The 10-time winners secured the best record of any team, dropping just two points and scoring 19 goals in their six matches. And they have not been knocked out before the semifinal stage since 2010.
They will, though, have to do without Welsh star Gareth Bale on Wednesday as he continues his recovery from a calf injury. Portuguese defender Pepe is also ruled out, although Marcelo could make his return. Roma are likely to be able to welcome back the only two players remaining from that victory over Real Madrid eight years ago, captain Francesco Totti and Daniele de Rossi.
Check back here from 2:45 p.m. EST for live score updates and video highlights from the first leg.
© Copyright IBTimes 2023. All rights reserved.