Real Madrid's Predicted Lineup Against Villarreal Features Returning Star And Prolific Forward
KEY POINTS
Real Madrid is one win away from securing this season's La Liga title
The predicted starting lineup for Los Blancos against Villarreal includes Rodrygo Goes and a healthier Eden Hazard
The coaching staff have been playing it safe as of late regarding Hazard's minutes
The strong play of Real Madrid has been evident ever since the La Liga season resumed from the COVID-19 suspension. Immediately after defeating the Granada squad, the club is one win away from clinching this year's La Liga championship. With this grand opportunity, two players expected by the team include Eden Hazard and Rodrygo Goes.
The recent match against Granada was a close game with a final score of 1-2. Thanks to Ferland Mendy and Karim Benzema's aggressive play, Real Madrid was able to score two goals that edged their rivals. With this victory, they're set to raise the La Liga title on their next bout against Villarreal.
Per The Real Champs, two players that are crucial for this big match are Rodrygo and hazard. It's important to note that Hazard has seen minimal time on the field as a precautionary measure. The veteran winger isn't necessarily injured but the coaching staff has been playing it safe in terms of his minutes on the field. The former Spanish Super Cup Champion sat out their matchup against Getafe and Athletic Bilbao. In addition to this, he only played eight minutes against Alaves and didn't play in the Granada game.
Having the presence of Hazard and Rodrygo stepping up will be a big boost for Zinedine Zidane and the rest of the team in one of the more crucial matches of the season. The potential return of Hazard will complement Rodrygo in position on the opposite side of the field. Couple this duo with star Karim Benzema will feature a dominant offensive presence for Real Madrid.
With Hazard on the field, they're equipped with someone who has the experience to step up in high-pressure situations. In his current stint with Real Madrid, he's made 20 appearances that are good for a goal and seven assists. To add to this, Rodrygo has shown promise as a right-winger given how he suited up for the position in 18 appearances this season. The young talent of Rodrygo coupled with Hazard dominating from the left-wing proves to be a vital combination for the team.
It will be vital to see how Real Madrid moves forward with their lineup in their bout against Thursday. It will be expected that the team will do whatever it takes to beat Villarreal and secure the La Liga championship.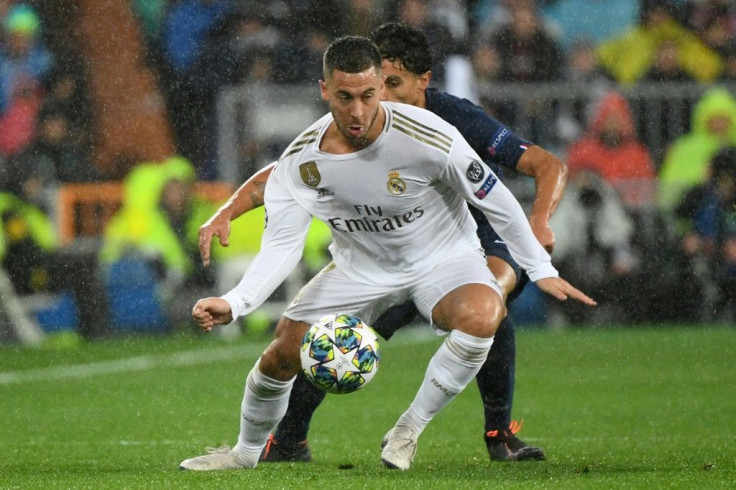 © Copyright IBTimes 2023. All rights reserved.