Recent Global Air Bag Recall Includes More Than 900,000 Vehicles In US, Led By Toyota Vehicles; Here's A List Of Every Toyota Recall So Far In 2015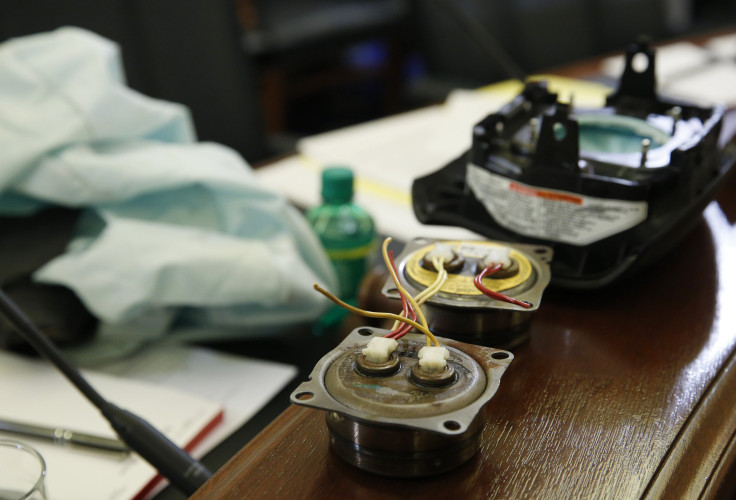 UPDATE: May 19, 3:40 p.m. -- Takata Corp. announced it would comply with demands from U.S. regualtors and expand the recall of its faulty air bag inflators. The recall expansion covers nearly 34 million cars in the U.S. Automakers have been separately issuing their own recall actions related to the dangerous air bag inflators.
Original story begins here:
Basically, it comes down to this: If you own a Toyota or Honda anywhere in the world, you need to check the companies' respective websites (here and here) to ensure your car doesn't have a shrapnel bomb hidden behind the steering wheel or passenger-side dashboard.
On Monday, the U.S. National Highway Traffic Safety Administration (NHTSA) posted the latest batch of four recalls associated with faulty and potentially fatal air bag inflators: three from Toyota covering more than 637,000 vehicles, including a Lexus coupe, and one from Nissan for nearly 264,000 vehicles.
While these flawed devices have been found in cars made by 11 automakers, so many of them have been used specifically in Japanese cars that it could forever alter the close, decades-long relationship Takata Corp., the maker of seat belts, air bags and child safety seats, has had with its main Japanese buyers.
Already, Honda, which has been Takata's closest partner, has switched to Takata's local Japanese rival, Daicel Corp., as the air bag supplier for its locally sold Honda Shuttle wagons.
"After all the replacement parts are supplied, the automakers have to decide whether to let Takata stay on as it is," Masaki Higurashi, deputy director of the automobile division at Japan's Trade Ministry, told Reuters in a report published Sunday. "I think the automakers are starting to think about that."
The defect is related to the use of ammonium nitrate pellets to use as the catalyst for the rapid-fire air bag deployment necessary for the safety devices to work properly. Takata switched from tetrazole, which is more stable, to ammonium nitrate in 2001. The replacement compound has a delicate relationship with temperature and humidity that can alter the force by which it explodes, possibly exceeding safe levels.

At the time, Takata lauded ammonium nitrate as a new and improved technology, according to the New York Times, but it also costs less than tetrazole, raising questions about whether Takata chose the cheaper compound as a cost-saving measure. Timothy McVeigh used 2,000 pounds of ammonium nitrate (commonly used as an agricultural fertilizer) to detonate his car bomb in Oklahoma City on April 19, 1995, killing 168 people.
NHTSA is investigating Takata to see if there has been any wrongdoing or cover-ups related to the massive deployment of faulty airbags dating back years. At least six deaths worldwide have been linked to the air bag inflators, though there may be more accidents and injuries whose causes might have been misdiagnosed by accident investigators.
Takata has been fined $14,000 a day by NHTSA since Feb. 20 for dumping a trove of documents on the regulatory agency without explaining their relevance, forcing U.S. investigators to sift through a mountain of data.
Last week, Toyota and Nissan expanded the number of cars found to contain these inflators by more than 6 millions cars. In a recall confirmation letter dated Monday, the NHTSA said Nissan is recalling 263,692 Pathfinder SUVs (2004) and 2004-2006 Sentra compact cars.
Globally speaking, more than 33 million cars have been affected by the Takata flaw, including 19.6 million vehicles from Honda, 8.1 million from Toyota and about 4 million for Nissan. Honda last week diagnosed a separate problem with air bag inflators in nearly 5 million vehicles, but none of them have been identified in the U.S.
Check Your Toyota (or Lexus) Vehicle
Click here for Toyota's recall search database using your vehicle identification number. Here are this year's Toyota U.S. auto safety recalls since the start of 2015 through May 14. The list is in descending order by number of affected vehicles.
AIR BAG SURPRISE: More than 1 million 2003 and 2004 model year Toyota Corolla and Corolla Matrix subcompact cars, Toyota Avalon full-size sedans and Pontiac Vibe hatchbacks whose air bags and seat-belt pretensions might deploy inadvertently due to an electrical flaw. (The Vibe was produced under a Toyota-GM joint venture that ended in 2010, so the defect affects some Pontiac models.)
INFLATOR BOMBS: Three separate U.S. safety recalls were issued covering more than 637,000 Toyotas, (including a small number of Lexuses and Pontiacs) to replace faulty air bag inflators. Millions of vehicles, mostly from Honda and Toyota, have been recalled in recent years to fix the problem in which inflators made by Japan's Takata Corp. can deploy with explosive force, emitting shrapnel that can injure drivers or passengers. The first recent addition to the U.S. list of affected cars includes about 300,000 Lexus SC two-door coupes (2005-2007), Pontiac Vibe hatchbacks (2005-2007), Toyota Corolla and Corolla Matrix sedans (2005-2007), Toyota Sequoia full-size SUVs (2005-2007), and Toyota Tundra pickup trucks (2005-2006). This recall covers front-passenger air bag systems. A separate recall was issued for more than 176,600 Toyota Sequoias (2004) and 2003-2004 Toyota Tundras for the same problem, including at least one car whose air bags were replaced after a collision with faulty air bag inflators. The third recall covers nearly 160,000 Toyota RAV4 crossover SUVs from the 2004 and 2005 model years for the same problem affecting front driver's side air bags.
FLAMING SPEAKERS: More than 51,000 Toyota Avalon full-size sedans (2011-2012), to fix an electrical short of the subwoofer speaker in the vehicle's trunk. The short poses a fire risk.

AIR BAG FAIL: Nearly 5,000 Prius V hybrid cars (2014-2015), to fix the passenger-side air bag that might not deploy.
STEALTHY TRAILERS: More than 1,100 RAV4 crossovers (2013-2015) equipped with accessory trailer lights, to fix a problem that could cause the rear trailer lights to turn off, posing a nighttime accident risk.
LOOSE AXLE BOLTS: 226 Toyota Yaris subcompact cars (2015), to tighten rear-axle bolts that might loosen over time, causing the wheel to lock up or damage the rear brakes.
WEAK WELDING: 116 FJ Cruiser SUVs (2014), to fix an inadequate weld on the steering shaft that could fail, causing a loss of steering control.
COPY EDITING MISTAKE: Eighteen Toyota Tacoma pickup trucks (2015), which may have had the wrong tires and wheels put on the vehicles. The affected cars have tire-pressure instructions on tire placards that inform users to inflate the tires beyond safe levels.
© Copyright IBTimes 2023. All rights reserved.