Reforms Of Immigrant Detention Too Cushy For Some In Congress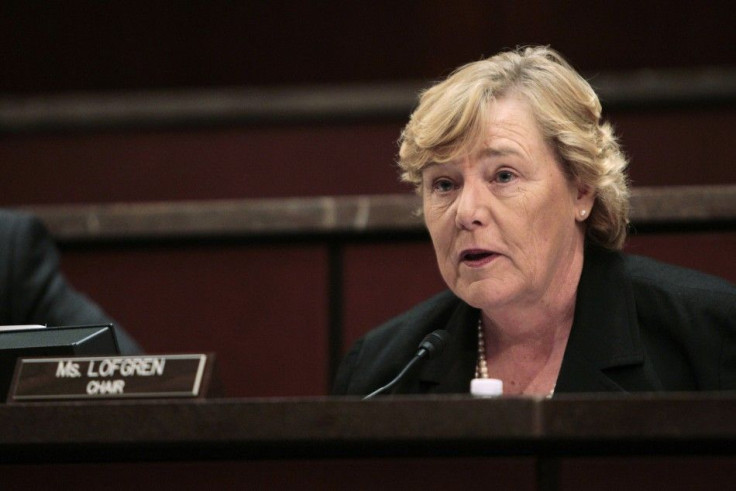 The title of the hearing, convened to discuss detention centers for immigrants facing deportation, practically invited controversy: Holiday on ICE.
ICE, or Immigration and Customs Enforcement, is the U.S. agency that oversees the capture and deportation of undocumented immigrants, and Republicans in the House of Representatives had called Wednesday's hearing to discuss revised immigrant-detention rules that were, in their eyes, too accommodating to those who have broken the law.
The Obama administration should put the interest of American taxpayers ahead of illegal and criminal aliens, House Judiciary Committee Chairman Lamar Smith, a Texas Republican, said at the hearing. He added that the new regulations on immigrant detention read more like hospitality guidelines.
ICE recently responded to a mounting outcry over the state of the sprawling U.S. immigration-detention system with a series of proposed reforms intended to prevent sexual and physical abuse of immigrant detainees, broaden access to medical care and ensure that immigrants aren't transported to remote facilities far from their families and legal help.
The number of immigrant detainees has grown steadily since Congress passed legislation in 1996 requiring detention for several categories of undocumented immigrants. Nearly 33,000 people were housed in detention facilities on an average day in 2011, up from about 20,000 in 2001.
Advocates have long charged that conditions in the detention facilities are degrading and punitive, pointing to practices such as shackling detainees and the fact immigrants have died after being denied proper medical care. More than 100 immigrants have died in custody since 2003.
In an effort to showcase promised reforms, ICE opened a $32 million detention facility in Karnes City, Texas, earlier this month. Billed as the first-ever designed-and-built civil detention facility in the country, the 608-bed center contains exercise facilities and gives detainees more freedom to move about. Security personnel at the new center won't carry guns or handcuffs.
Republicans assailed the Texas complex, calling it an example of efforts by President Barack Obama's administration to coddle immigrants and appease liberal interest groups. During Wednesday's hearing, Rep. Elton Gallegly, a California Republican who is chairman of the Judiciary subcommittee on immigration, said the new detention guidelines were part of an extensive public relations effort aimed at pro-amnesty advocates.
I have a recommendation to the administration: The best way to help immigrant detainees is not to roll out the welcome mat at the facility, but to minimize their time at detention centers by swiftly deporting them, Gallegly said.
The hearing's title prompted an angry response from Democrats on the committee. Rep. Zoe Lofgren of California said she was deeply disappointed by the suggestion that detained immigrants were being treated leniently. She cited incidents of rape of female detainees, immigrants suffering injuries that went untreated and conditions including cranial bleeding and cancer.
I don't think it's a hospitality guideline to prevent rape of detainees, women who have done nothing wrong, to prevent death and abuse of detainees in custody, Lofgren said.
These new standards will avoid torturing individuals, they'll avoid the $2 million judgments for hurting or killing people and it will also cost us less than half as much, she added, pointing out that housing an immigrant at the Karnes City facility costs less per day than the price of an average civil detainee.
Chris Crane, president of the union that represents ICE enforcement officers, said the process of developing the new guidelines excluded the agency's employees. He also suggested that the model presented in the Karnes City facility is a danger to staff and detainees alike.
Good intentions do not make for sound security and do not create a safe detention setting, Crane said.
Advocates say the reforms don't go far enough. They point out that the proposed guidelines aren't legally binding. In a statement, the group Detention Watch Network faulted Smith for backing the 1996 immigration law, which greatly expanded the number of undocumented immigrants who must be placed in detention.
If Lamar Smith is concerned about taxpayers footing the bill for detention, he should consider dedicating his energies to the repeal of the Illegal Immigration Reform and Immigrant Responsibility Act, said Andrea Black, executive director of Detention Watch Network. As a result of [the 1996 law's] draconian mandatory detention provisions, the government needlessly incarcerates thousands of immigrants every year.
© Copyright IBTimes 2023. All rights reserved.
FOLLOW MORE IBT NEWS ON THE BELOW CHANNELS