Refugee Crisis Coming To The US? Governors' Refusal To Accept Syrian Refugees Won't Stop Asylum Seekers, But It Could Complicate Their Lives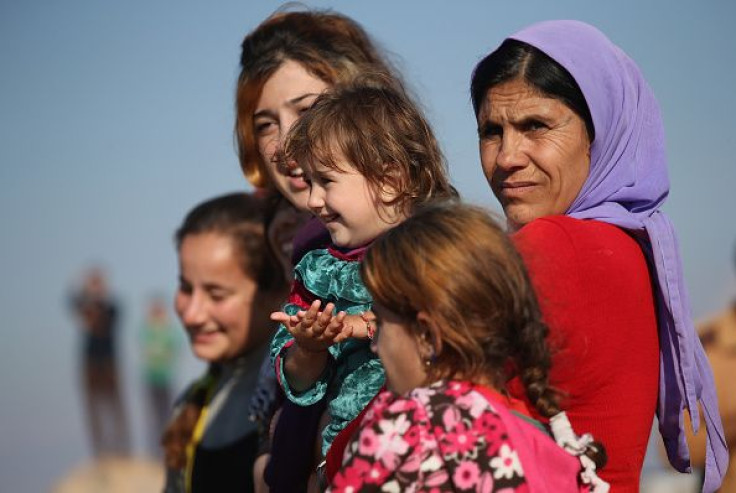 In approximately 18 months, 10,000 Syrian refugees could be moving to the United States, ready to start a new life. But some may find out the governor of the state where they're moving aggressively lobbied for them to stay away. But that won't stop them from coming, unless a growing group of politicians has its way.
Most of the country's governors have openly opposed settling Syrian refugees in their states because of security concerns, especially after it was announced that one of the suicide bombers in Friday's deadly terror attacks in Paris claimed by the Islamic State militant group held a Syrian passport. Republican leaders in Congress have joined the call for a "pause" in admitting those fleeing violence in the war-torn country over fears that ISIS members could sneak in with the refugees due to arrive in the U.S.
State Department officials and immigration experts have emphasized that refugees go through rigorous security measures, and U.S. President Barack Obama's administration reminded states Tuesday that they don't have the authority to block those seeking asylum from living within their borders, as the U.S. refugee program is federally administered.
But while states don't control the bulk of the country's refugee program, they can play an important role in administering federal funds and facilitating certain services refugees need to start their new lives in America. If the standoff between federal and state officials continues, it could complicate the efforts of those trying to help new immigrants land on their feet and potentially create an environment of hostility in places where refugees have typically been welcome.
States "have absolutely no power to keep people from entering their territories because that is exclusively a federal responsibility," said Stephen Legomsky, a Washington University of St. Louis law professor and former chief counsel of U.S. Citizenship and Immigration Services in the Obama administration. "There's no reason to think Syrian refugees are prone to violence more than any other people. The fact that one person out of the millions that have fled to Europe might have had a Syrian passport is no reason for us to turn our backs on them."
States With the Most Syrian Refugees Since 2012 | FindTheBest
Politicians, particularly Republicans, have raised doubts this week about the capabilities of the U.S. to properly screen incoming refugees to weed out potential threats. In addition to governors and Republican presidential candidates, who have been very vocal on the issue, members of Congress have begun to chime in.
"As chairmen of subcommittees on both the Appropriations and Judiciary Committees, we believe it is essential that any government funding bill cancel the president's blank check for refugee resettlement," Sens. Richard Shelby and Jeff Sessions of Alabama said in a statement Tuesday. "Long before the barbaric attacks in Paris, government officials and investigators have stated that we do not have the capacity to effectively screen Syrian refugees. The bloody assaults on the streets of France add new urgency to an already dangerous situation."
The statement said Obama has operated U.S. immigration policy on "autopilot" and called for an end to spending money on refugees instead of Americans.
"After admitting 1.5 million migrants from Muslim countries on lifetime visas since 9/11, it is time to assist in relocating Muslim migrants within their home region rather than relocating large numbers to the United States," the statement continued. "It simply cannot be our policy to encourage a mass migration of entire populations from their homelands, a strategy that will only further destabilize the region and bring threats of terrorism deep inside our shores."
U.S. Attorney General Loretta Lynch told Congress Tuesday that the government has a "significant and robust" process to identify possible terrorists, checking both domestic and foreign databases before allowing refugees to settle in the country.
While politicians at the state level seem concerned about security flaws, those who run organizations that deal directly with refugees say they are confident in American security checks.
"People have been interviewed, scrutinized, they have gone through the most rigorous vetting imaginable when they get here," said Amy Crownover, marketing and communications director at New American Pathways, an Atlanta-based nonprofit that helps resettle refugees in Georgia. Refugees often go through seven different security checks by intelligence agencies before they get to her organization, she said.
Georgia, which takes in about 2,500 refugees per year, according to Crownover, has received just 68 refugees from Syria since 2011 -- and 60 came this year. That is not out of step with what other states experience. Syrian refugees made up 3.5 percent of all refugees coming to the U.S. last month, according to Matthew Soerens, a spokesman for World Relief, a nonprofit organization that works with the State Department to settle refugees.
Asylum-Seekers in United States by Country of Origin in 2015 | FindTheData
Michigan and Georgia are both places that have significant immigrant communities, which can often be a factor in attracting more refugees in the future. When the government decides where to settle refugees, it looks at whether they already have family established in the U.S., according to Crownover.
But while some immigrant communities have flourished -- notably Polish immigrants in Chicago, Bosnians in St. Louis and Muslim immigrants in parts of Michigan -- nonprofits are still wary of the rhetoric politicians have been using to reject Syrian refugees. And these fears may be well founded. A Reuters/Ipsos poll released Monday found that 52 percent of Americans now believe the country is made "less safe" by accepting Syrian refugees.
This seems to be the first time most can remember that governors took an official stand against accepting a specific group of refugees, but it is certainly not the first time refugees coming to the U.S. have faced hostility. Many have compared the situation to what Jewish refugees experienced during World War II, but it is also reminiscent of the treatment Cuban immigrants received when they came to the U.S. in the 1970s and 80s, and of the objections Americans had to Haitian immigrants in the mid-2000s.
While the numbers of Syrian refugees coming to the U.S. are relatively small, people like Crownover and Soerens are worried that so many governors' opposition to the migrants could complicate their work. The federal government pays for most expenses associated with resettling refugees, but some of this funding goes through the states, which often contract out services such as employment training, immigration support, education and medical help to private organizations.
"Even if Gov. [Rick] Snyder says refugees are not welcome, they can still come," said Susan Kragt, the executive director of West Michigan Refugee Education and Cultural Center. "There's nothing legally Gov. Snyder can do." Snyder of Michigan and Gov. Nathan Deal of Georgia are among the state leaders who have said they would reject Syrian refugees.
"But we're waiting to see how this plays out," Kragt added. "Refugees can apply for programs like food stamps -- I don't know how he would get that done, but that's the only area he would have an established legal pipeline for preventing Syrians from getting support."
In other states, initiatives such as English as a Second Language programs or mental health services could potentially be affected, according to Soerens. But even as these concerns weigh on those working with refugees, experts doubted that state governments will get very far.
"First, they would run into problems under equal protection," Legomsky said referencing the 14th Amendment of the Constitution. "And the second would be preemption, since it's up to the federal government to allow refugees in. It's not up to states to go around that decision."
© Copyright IBTimes 2023. All rights reserved.
FOLLOW MORE IBT NEWS ON THE BELOW CHANNELS