Reggie Love: Obama's Departing 'Body Man' Dishes About Being the President's Assistant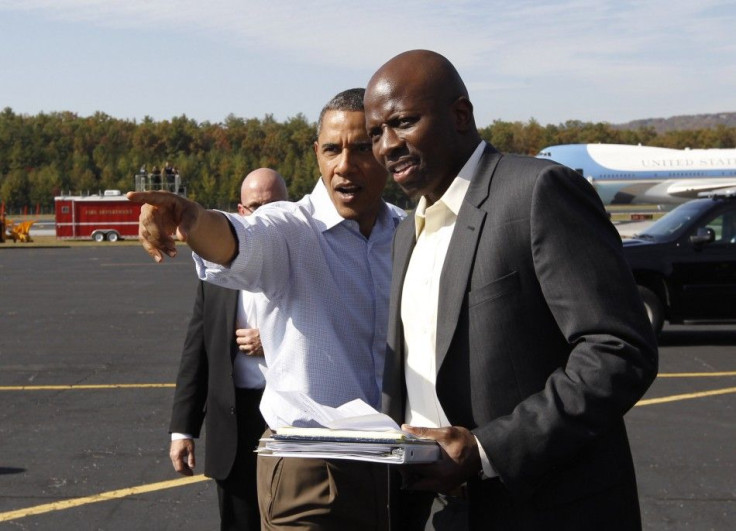 Reggie Love is leaving his post as U.S. President Barack Obama's personal aide and body man to attend business school, but not before dishing about life in the White House.
Earlier this month, 29-year-old Love, once a Duke basketball and football player, announced he would leave the White House to attend the University of Pennsylvania's Wharton School of Business.
Just recently Love, normally discreet, broke his silence for an interview with ESPN's Rachel Nichols and again on ABC Tuesday Night detailing his time, 18 hours per day, he spent as Obama's body man since he began as a mail room clerk in his Senate office in 2006.
As personal assistant to the president, Love told ABC he has traveled 880,780 miles with Obama, catering to his every need. However, his job wasn't all about policy.
Love, in addition to carrying around a personal needs bag for Obama containing collar stays, Tide stain remover and dental products, also acted as a younger brother-type friend.
Along with shooting hoops with the president on the basketball court of the White House, every Sunday, Love taught the president's daughters, Sasha and Malia, how to play basketball and shuttled them back and forth to practice.
I think we did the basketball clinics with them as a result of the president kind of thinking that they weren't getting the full basketball experience that they could be getting from playing up north at Sidwell [their school], Love told ABC. Teach 'em how to do screen-and-rolls.
Love also got to get to know Obama personally, and sometimes almost too personally, as ABC News reported that some days the pair spent nearly the entire duration of a day together. Love even said Obama often went about personal chores of his day with him present, including flossing his teeth.
If he had it his way, I think he'd floss in private, Love said. I think the fact that he was comfortable with me is probably a product of, you know, he's beaten down. I've been around for so long.
The pair, however, did have their differences and according to Love, the only bothersome habit the president has is his preferred temperature while traveling.
The thing that used to kill me is that the guy loves to ride around with the AC off in the summertime, Love told ABC. And I get hot. I start sweating. And I'm like, it's 80 degrees in this car. I'm going to pass out.
Love made an impact on the president, particularly helping his music taste, when he bought Obama an iPod for his birthday, earning the nickname iReggie.
Most importantly, Obama acted as a mentor for Love, as he cleared his decision to attend business school with the president, first.
I said, 'Mister President, I just wanted to get your advice and your opinion on this. I'm thinking that maybe I need to spend more time focusing on school and taking some time off of here,' Love told ABC. And he was very supportive of it. ... He's been like big brother to me, a mentor. I've learned so much about life from him.
While Love learned a lot during his time spent as a body man for Obama, he doesn't quite plan on following in his footsteps. For now, at least.
The unfortunate part of my job is that I know what it takes to win a presidency and to win an election, Love told ABC News. I can't see myself volunteering for that duty. I think public service is great. And hopefully, I can be a public servant again at some point in time. But I think for the time being, politics are tough, man.
Following Love's announcement of his departure, Obama made a statement last week: His ability to juggle so many responsibilities with so little sleep has been an inspiration to watch. He is the master of what he does.
But according to Obama, someday the tables may be turned.
What I am counting on is Reggie making loads of money so that when I am out of politics, I will have someone who can hire me and I can get a corner office and not do much, Obama said during his 2008 campaign.
© Copyright IBTimes 2023. All rights reserved.