Reporter's Tale Of Weathering Sandy's Wrath On The Lower East Side Of Manhattan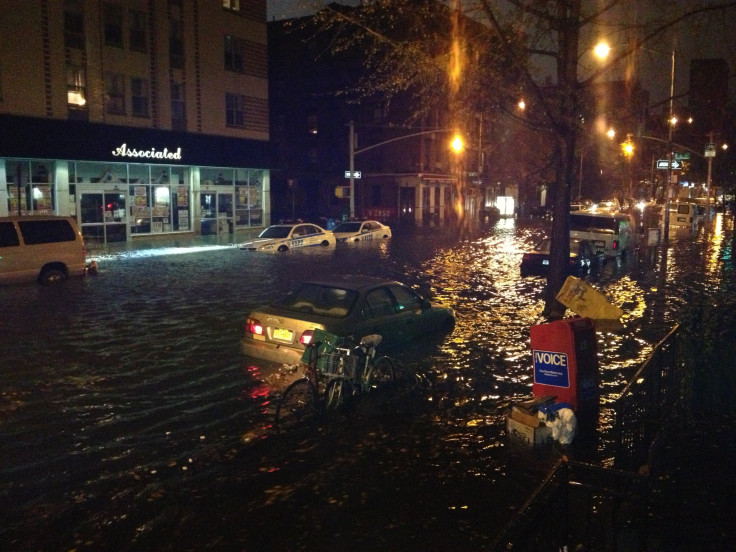 IBTimes reporter Connor Adams Sheets stayed in Manhattan's Lower East Side when Hurricane Sandy hit the Northeast, and remained there without power, heat or hot water through the long days of the storm's aftermath. His block was inundated with thigh-high floodwaters Monday night, and when the 14th Street Con Edison substation exploded shortly thereafter, the neighborhood lost power for four days along with the rest of Lower Manhattan. Join him on a trip into the dark days of Hurricane Sandy and her unrelenting wake, beginning the day before the storm hit and concluding when the power came back on Friday evening.
Sunday
The tub was filled with water. We had a couple of candles and LED flashlights, and I cooked up a Hurricane stir-fry with chicken and couscous. Stephanie, Carina and Seth ate with Mary and me. We drank wine and beer and relaxed, checking news sites intermittently for the latest on the impending storm.
We spent the evening wondering aloud where the storm was, while the reports continued to push back the time it was estimated to hit New York City. We were nervously excited for it to arrive as we huddled together in the living room, mostly out of camaraderie rather than fear.
My apartment is on Avenue C between 7th and 8th in the East Village, Lower East Side, Alphabet City, Loisaida, depending on who you're talking to. D projects a block east, Tompkins Square a block the other way. It's a fifth-floor walkup, a major negative to brokers and when carrying bags of groceries, but the ultimate plus when you're sitting a stone's throw from the East River as a hurricane nears.
I pulled out my guitar and practiced some Mississippi John Hurt while we sat and ate and drank, but mostly we just chatted and waited. Stephanie, Carina and Seth, budding poets that they are, broke into a so-called "academic conference" purportedly on the influence of meteorology on form and topic in ancient and modern poetry. Mary and I lost interest and wandered out into the evening for beers at East Village Social on St. Mark's, and bummed about for a bit outside, checking out the quiet scene. After we got back, everyone headed to bed with high winds on our minds.
Monday
We woke pretty late; the winds had already picked up and rain had started whipping. Mary didn't want to go outside because of the storm, but I knew I had to get some air before battening the hatches for who knew how long.
We grabbed a bite at a Southern eatery by 6th Street and took a quick stroll before heading back in, after the first particularly hard gust sent leaves and trash blowing down Avenue C. It was just Forrest, Mary and I in the apartment by this point; the other three had decamped to our friend Carina's, near 2nd Street and Avenue B. Carina was concerned about her pets and a threatening tree branch near one of her windows. Plus, her place is a bit further from the river and there was probably more wine there. We cracked open the last two bottles of Żubrówka bison-grass and spiced Żołądkowa vodkas I had brought home from the duty-free shop in Poland in September, and I made some strong rickeys, which we we sipped from Manhattan glasses with the last of the ice.
At some point we finished off the rest of the stir-fry while the storm picked up, and we refilled a couple of times as the winds spun the spindly branches of the tall, white-barked birch just beyond the back windows like the rotating bristles of a car wash brush. But the sky hadn't changed to any color stranger than charcoal, and the rain and wind levels didn't suggest hurricane like we'd heard it, either. After Hurricane Irene last year failed to live up to dire predictions, the relative calm left us convinced that the only real danger we faced at that point was the possibility of broken windows.
As the sky grew fully dark, we relaxed in a way similar to watching TV and commenting along, only with a rain-soaked window rather than a glowing screen. Our sense of fear was weak, and lessening with each sip of vodka. We were easing into Sandy as she rolled over the converted tenements of the Lower East Side.
Then came the unexpected. Without warning, a terrifying low boom ruptured the sky, which for a few moments went neon green and white above the trees. The lights buzzed and flickered, though we were already relying mostly on candles. My reporterly instincts kicked in and I grabbed my camera, a pen and a pad, hoping to get a shot of what I figured was just a transformer that had blown nearby. We found out later that it was actually a substantial explosion at the 14th Street Con Ed substation, which contributed greatly to the sweeping power outages soon to follow.
I flew down the five flights to my building's tiled vestibule, and what I saw filled me with a dread I thought I would never have to face in New York. Avenue C had been transformed into a rushing river, brownish-black in color and churning past my stoop, under doors and into basements all along my street. No one had prepared for this, but how could they have? This kind of thing is only supposed to happen to people below the Mason-Dixon. The water was rising before my eyes, engulfing the hoods of police cars parked outside the precinct house on the corner. A dull chorus of horns and car alarms built in strength as vehicles' electrical systems were inundated and drowned.
I stood on my raised perch with other residents of 116 Avenue C, sharing our awe. A woman two doors down tried to shelter a cigarette and yell to us over the din about the water pouring into the basement and lobby of the budget hotel she runs there all alone, and someone said their cat had fled the coop in sheer, fur-raised horror.
I bounded back upstairs and relayed the news hurriedly to my storm-mates, who threw on galoshes and sandals and followed me back down to what we later learned was Ground Zero of Sandy's wrath on the Lower East Side.
We took a round of photos and videos, then Forrest and I made our way out Stephanie's bedroom window and up the slippery fire escape past a candlelit sixth-floor window and onto the roof, where the storm clouds could be seen stretching their whirling fingers over the 360-degree vista, blurred by a cloak of grayish rain. Buoyed by the unyielding blasts of the hurricane, the flood went as far up- and down-town as we could see, and the section of East 8th Street we could glimpse was a moat as well. It was going to be a strange couple of days.
Tuesday
Waking up hungover Tuesday morning, we fully expected to be under murky siege. But when we lumbered back down to the stoop around noon, the street was damp but the waters had miraculously subsided entirely. The river had receded, leaving torn garbage bags, dislodged newspaper stands and odd piles of fetid driftwood marooned in its stead. Most of the refuse had been stacked neatly curbside, and the street was buzzing more frenziedly than I'd ever seen in this far reach of Alphabet City. Clean-up was already getting underway, the grocery store across the street was clearing out what looked to be tons of flood-damaged merchandise, and gas-powered pumps were gurgling as they began to suck the sludge from basements all along the water-logged block.
But it was the tourists that were the most shocking to those of us who weathered the previous night. Throngs of people on bikes, scooters and foot who had come to gawk at the wreckage that remained of so many lives and livelihoods. With paper cups of coffee in hand from far-off coffeehouses where espresso machines still whined, they were here for the spectacle that was to be our existence for the next several days, and likely weeks and months.
And so the anger started to simmer, the Us versus Them mentality that emerged among those of us who would spend the better part of the next week in utter darkness, shivering without heat, buying price-gouged candles and eating raw ramen by flashlight. On Thursday, I overheard a guy likening it to a civil war, and my friend Jesse took to comparing the light-dark divide to the Mexican border: downtown was Tijuana, uptown was San Diego. Divisive graffiti slowly cropped up around SoPo (South of Power – the moniker quickly coined for what I called the Dead Zone), and even the most conciliatory of us banded together as a tribe, like English football supporters when a rival club is in town.
Nothing at all was open at first. But a few determined business owners un-shuttered their shops and started hawking anything they could. Boxes of candles held up signs advertising dollar cups of hot coffee on the sidewalks, and the bodegas that came back to life in time offered soupy Ben & Jerry pints for a buck a piece.
Mary and I split north, and each block had its share of tragedies and triumphs. Food was already being handed out by selfless folks in Union Square, and trees were down throughout Gramercy and Murray Hill. The day was still young, but the 39th Street dividing line was made clear by the resumption of working traffic signals, commerce and general normalcy above it. We hoped to walk through Grand Central Terminal, but it was shut down, no longer a frenetic hub, but instead a deserted memorial to all that the city had lost, and would lose yet, at the hands of the storm.
I got a concerned text – one of dozens in that early period when our phones weren't constantly starved for charge – from my friend Bob, inviting us to his Upper West Side apartment. We made it across town, past the untouched Hell's Kitchen restaurant strip and the still-chugging Times Square displays and at last arrived at his place on West 68th. The big-screen was blaring, he had just finished some glorious takeout, and his block was pristine as usual. He said it seemed like nothing more than a normal rainstorm from his second-floor windows a block from Central Park.
He opened his home, as so many New Yorkers did for their less fortunate friends and loved ones as the recovery dragged. We charged our phones and had a couple icy Sierra Nevadas, but passed up the precious chance to shower, not yet understanding the hand we had been dealt. We hung out for a couple of hours, unsure what would await us when we returned home, and ate sandwiches at a diner on 72nd before springing for a cab downtown into the abyss that was our neighborhood.
We stayed in until after midnight, then ventured out onto the street to soak in the eerie moonscape that was post-Sandy downtown in those first crazy days. Police car lights were the only illumination beyond our weak flashlights; the city was dead. Post-apocalyptic, many called it, and even that doesn't do it justice. As one friend put it, The City That Never Sleeps had been forced to sleep.
Wednesday
We woke up in the early afternoon of Halloween day, though you would have never known it was a holiday by the wearying looks on the two-day-shadowed faces of the unwashed stalwarts who had resolved themselves to riding out the blackout downtown. We had heard that the buses were back online, so we stuffed our laptops, phones and chargers into shoulder bags and stood at the M15 stop on First Ave. near Mary's apartment, where she had changed clothes and tied up some loose ends.
The bus took 30 minutes to come and was packed to the gills, but it made its way slowly uptown, where we hoped to charge our electronics and get some remote work done in a coffee shop, Barnes & Noble, or whatever warm hole we could find with electrical outlets, WiFi and space to sit on the floor. After three hours of traipsing through Midtown, shot down at every promising cafe and store, we gave up and realized we were in dire need of a bath. My friend Sarah had extended an open invitation the day before to make full use of her South Williamsburg amenities, so we decided to trek out there by cab, at that point still the only option we knew of for getting to Brooklyn that didn't involve another punishing trek and a bridge crossing on foot.
Again, the generosity of New Yorkers came through for us. She forced us to take an overflowing bag of food, and we showered before heading up to the roof to look out and see firsthand the black hole formerly known as the Lower Manhattan skyline. From Battery Park past the lonely gleaming spire of the still-lit Empire State Building, all was dark, and would be for two more days.
Cabbing back to the city, the bedimmed Lower East Side housing projects north of the Williamsburg Bridge stared down like Cimmerian sentinels, welcoming us back to the Twilight Zone. Gloom had set in to replace what would have been an evening of costumed, drunken revelry. The occasional stray face appeared in the headlights as the driver blew past stop signs and traffic lights, hardly braking. A look of faint apprehension was in his eyes when he told us the fare in front of my building, and his tires squealed as he made his way back uptown to where the storm was already forgotten.
Mary and I decided to take out the flashlights again and search for one of the candlelit bars we had heard hushed rumors of in the days since the deluge. Horseshoe Bar was open just a block away, and there we found an imposing bouncer checking IDs in the heart of what was by then a federal disaster area. I figured he was there as much for the muscle as for his efficacy at keeping out thirsty teens.
The bar and tables were strewn with various candles and votives, and about a dozen brave souls had found their way to stools before we arrived, sipping Bud Light bottles – the draft machines were down – and stiff mixed drinks. The only conversation topic was Sandy and her aftermath, and the bartender quickly served us a couple Yuenglings before asking how we were faring. The whole story poured out of me, and it turned out he lived just a couple blocks down from me on C. He commiserated with us and poured us free shots of Jameson's, and one for himself, then another round after I showed him the pictures and videos from Monday night. Shared misery breeds quick friendships, but we were too beat to linger. I settled up, put $10 on the counter for tip, and we retired for the night.
Thursday
We wanted to try and get some work done Thursday – I was itching to get writing, but again fate and circumstance didn't allow it. The day was a slog yet again, with lines for uptown buses having ballooned over the past 24 hours. We finally squeezed our way back onto the M15, but the stench of humanity was thick and claustrophobia set in, so we got off somewhere in the high twenties and hoofed it uptown in search of that elusive island of modernity that never materialized. We stopped by two "co-working spaces" a Brooklyn friend with a Web connection had told us about, but they were jammed worse than the buses, with every outlet, seat and section of floor occupied and long lines out the doors.
Thwarted again, we set up shop in an Irish bar off Midtown – the best place we could find – and sipped unwanted Sam Adams drafts as our phones slowly came back to life. We responded to emails and texts, and a few minutes later Jesse told us to come up to our friend R.J.'s in Hell's Kitchen if we needed anything.
Jesse greeted us on the street and within 30 minutes everyone was showered, the phones were successfully plugged in, and R.J.'s couches were filled with the worn bodies of us downtowners. We had to kill some time as our batteries slowly inched toward 100%, so we grabbed some tacos nearby and chatted about our respective experiences and plans.
The day was a wash – storm fatigue had rendered us useless, practically catatonic – but eventually we bid adieu to R.J., thanking him profusely for his hospitality, and headed to 9th Avenue, where we caught a much-less-packed bus downtown. Daylight was already waning, and we we were floored when the driver stopped at 34th Street and told everyone to get off. The NYPD wasn't allowing buses to go any further. The reason: it was too dangerous to ask them to go into the storm zone.
The bus emptied amid the vocal protests of its riders, and we were stopped by a cop as we attempted to walk past the roadblock. If we didn't have ID with a Lower Manhattan address, we couldn't pass. My license still bears my Brooklyn address from two years ago, and Mary's still says Chicago (she moved here in January), so we were denied passage. Never mind that we could have been going to visit an elderly mother or to bring supplies to a stranded friend – we could go no further. So, despite our rapidly-dwindling bank accounts, we again had to take a taxi back home. Our city had turned on us, it seemed, but at least we had some means to survive. All that was left to do was wait.
Friday
Friday morning the bus queues had become massive crowds, and a northward trek seemed like too much hassle. Many more shops had set up makeshift operations, and we bought coffee on First Avenue to try to stir up some deep reserve of energy. We wandered the East Village with no real alternative source of distraction, hoping to kill some time and get the word on the street. Power was still not expected to return until at least the following night, and our spirits were souring despite our best efforts to remain positive.
On East 9th we found a stoop with a gas-powered generator hooked to three power strips surrounded by a gaggle of people shooting the breeze in the chilly air while their phones juiced up. We hooked ours up next to theirs and joined the neighborly discourse. A girl from the Avenue D projects told us about her enfeebled grandmother who was having trouble making it through the cold nights without heat on an upper floor. A woman in her fifties told us the East Village was the very last neighborhood to see its power restored during the 2003 blackout, and said she had recently spotted the frontman of the New York Dolls on a nearby street. A fifty-something man regaled us with tales of working for Pan-Am and running gay clubs in the Village, and how much he was kicking himself for having left all his hurricane supplies stashed at his vacation house upstate. It was a huddle of the dejected, but it reinvigorated us as we faced the prospect of another long, cold night without lights or heat, wearing our coats to bed under piles of blankets.
We picked up some veggies and cheese at an open bodega nearby and went back to Mary's to cook a casserole in the gas stove, which thankfully never gave way and which we even used one night as a last-ditch heat source. As we were cutting the vegetables for our dinner, the moment we had begun to think may never come finally arrived in the form of a quick burst of fluorescence from the overhead kitchen light: the power was back on. So many in the region have lost so much, and as of Sunday evening my building on Avenue C, which sustained electrical system damage due to the flooding, was still dark, but we yelped with glee, and cheers could be heard from every direction as the majority of Lower Manhattan lit up.
We had weathered the storm, and the after-storm, and we were thrown back into the world, lights shining brightly to lead the way.
© Copyright IBTimes 2023. All rights reserved.