Republican Presidential CNBC Debate 2015: Full List Of GOP Candidates Participating In Colorado Event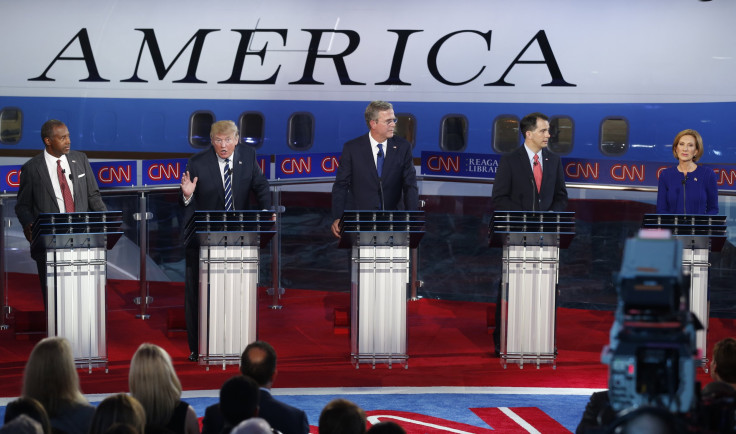 It's time for the third Republican presidential debate, and this time, it's with the theme: "Your Money, Your Vote." With so many candidates still running for office, Wednesday night's event has been split into two parts with a 6 p.m. EST debate and an 8 p.m. EST debate. Economic issues will be the key topics with questions on tax policy and American job creation likely.
The debate was scheduled to run for two hours, after candidates complained about the length of last debate. It will take place at the Coors Events Center at the University of Colorado at Boulder and will be broadcast on CNBC.
The underdog debate that begins at 6 p.m. will feature four candidates: Louisiana Gov. Bobby Jindal, former New York Gov. George Pataki, former Pennsylvania Sen. Rick Santorum and South Carolina Sen. Lindsey Graham. All of these candidates are polling below 3 percent, CNBC reported.
"On our side, you've got the No. 2 guy [who] tried to kill someone at 14, and the No. 1 is high-energy and crazy as hell. How am I losing to these people?" asked Graham on MSNBC's "Morning Joe" Monday. He was referring to former neurosurgeon Ben Carson and real estate mogul Donald Trump, who are leading the crowd of Republican candidates.
Polls have shown that voters are disappointed with the performances of longtime Republican establishment candidates. Fifty-seven percent of likely caucusgoers polled in Iowa said they were unhappy with how the Republican Party had been representing them.
The 8 p.m. debate will feature the top 10 candidates: Trump, Carson, former Florida Gov. Jeb Bush, Florida Sen. Marco Rubio, Texas Sen. Ted Cruz, former Arkansas Gov. Mike Huckabee, Kentucky Sen. Rand Paul, former Hewlett-Packard CEO Carly Fiorina, New Jersey Gov. Chris Christie and Ohio Gov. John Kasich.
Carson has surpassed Trump in recent polls to take the lead in the crowded Republican field. The most recent Monmouth University poll shows Carson with a 14-point lead over Trump.
The next Republican debate was scheduled for Nov. 10.
© Copyright IBTimes 2023. All rights reserved.
FOLLOW MORE IBT NEWS ON THE BELOW CHANNELS