Ben Carson Winning Iowa? Donald Trump Falls Hard In New Poll Ahead Of Debate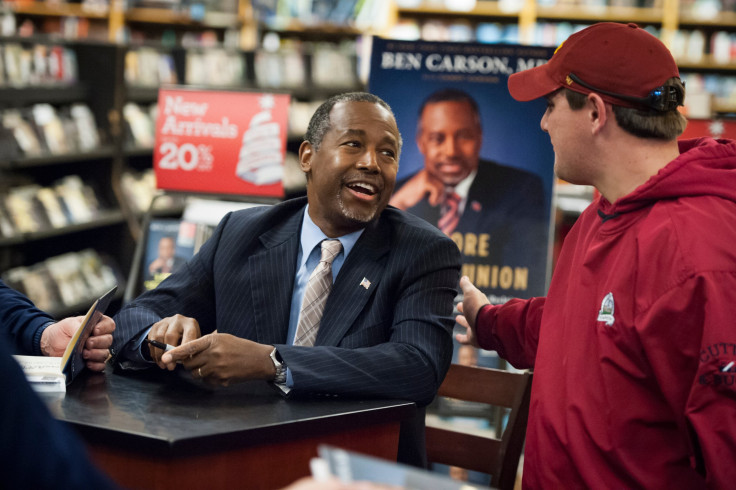 Ahead of Wednesday's Republican presidential debate, former neurosurgeon Ben Carson has passed real estate mogul Donald Trump in the most recent poll by Monmouth University. The new poll of likely caucusgoers in Iowa, released Monday, shows Carson with a 14-percentage-point lead over Trump.
The poll revealed that 32 percent of likely caucusgoers would support Carson, followed by Trump at 18 percent. Following both Carson and Trump were Texas Sen. Ted Cruz at 10 percent, Florida Sen. Marco Rubio at 10 percent and former Florida Gov. Jeb Bush at 8 percent. The only female candidate in the crowded GOP field, former Hewlett-Packard CEO Carly Fiorina, polled at only 5 percent.
Only two months ago Carson and Trump were polling with similar numbers. Carson has increased his lead among all ideological groups, with support among very conservative voters rising to 31 percent.
Among evangelical Christian voters, Carson leads with 36 percent compared with Trump's 18 percent. Carson also led Trump among female voters, 30 percent to 19 percent. Only 19 percent of those polled said they had finalized their voting decision.
"Trump's support has eroded in a number of key areas, with the beneficiary being another outside candidate," wrote Patrick Murray, director of the independent Monmouth University Polling Institute in West Long Branch, New Jersey, in a news release. "One question is how secure Carson's new found support really is."
The most recent polling result comes after both a Quinnipiac University poll and a Bloomberg Politics/Des Moines Register poll showed Trump coming in second to Carson in Iowa last week.
"I don't believe those polls, by the way, because both of those pollsters don't like me," Trump said Friday, according to Politico.
As candidates outside of the traditional Republican political establishment, Carson and Trump reflect the unhappiness of average Americans, with 57 percent of those polled saying the Republican Party has done a bad job representing their concerns. Of all the candidates, Carson held the highest favorability rating, with 84 percent.
The Monmouth University poll was conducted from Oct. 22-25 and surveyed 400 likely caucusgoers.
© Copyright IBTimes 2023. All rights reserved.
FOLLOW MORE IBT NEWS ON THE BELOW CHANNELS