Republican Presidential Debate 2015: Full List Of GOP Candidates Participating In Cleveland, With Trump, Bush, Walker Leading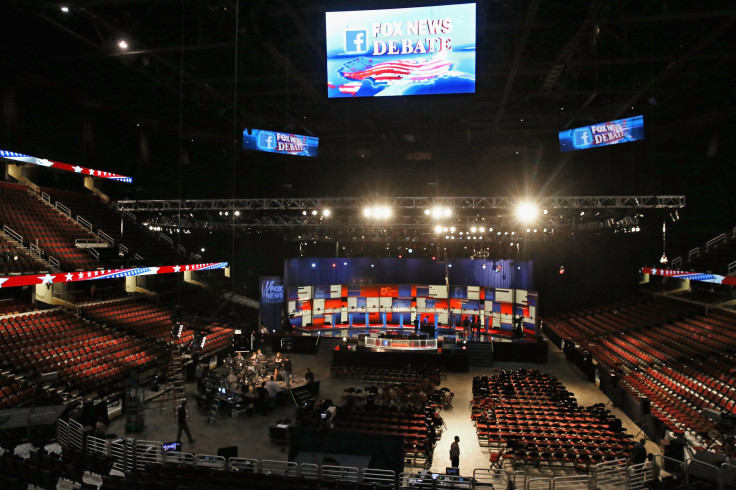 The stage in Cleveland will be crowded Thursday night, as 10 Republican candidates for president face off in the first GOP debate of the 2016 season, scheduled for 9 p.m. EST and hosted by Fox News. Aside from the party's perhaps best-known -- if reviled -- candidate, businessman Donald Trump, who else made the cut?
Former Florida Gov. Jeb Bush and Wisconsin Gov. Scott Walker are most closely trailing Trump in the GOP race to the primaries, an averaging of five of the most recent national polls showed. The seven others who will participate in Thursday's primetime debate are Florida Sen. Marco Rubio, former Arkansas Gov. Mike Huckabee, Texas Sen. Ted Cruz, Kentucky Sen. Rand Paul, neurosurgeon Ben Carson, New Jersey Gov. Chris Christie and Ohio Gov. John Kasich.
Recent verbal blunders by Bush have prompted some to wonder how he will fare Thursday night. "I'm not sure we need half a billion dollars for women's health issues," Bush said Tuesday, in discussing the women's health group Planned Parenthood. He subsequently said he had misspoken. How Bush and Walker will engage with Trump Thursday night is also fueling questions and speculation.
Many others are eager to hear, or see, what the controversial Trump will say or do in the debate. He has been dubbed a clown, albeit one who is leading the Republican polls, and has made numerous incendiary, offensive or outrageous remarks that have ultimately served to drive more attention to his campaign. Indeed, Trump will take center stage, literally, Thursday night because of high poll numbers.
But not everyone sees Thursday's debate as significant or indicative of how candidates will fare in 2016. "It guarantees nothing but some publicity for a day unless a candidate makes a major mistake or slip of tongue," James Thurber, head of American University's Center for Congressional and Presidential Studies, told the Wall Street Journal.
Seven Republican candidates didn't make the list for Thursday's prime debate: Texas Gov. Rick Perry, former Pennsylvania Sen. Rick Santorum, Louisiana Gov. Bobby Jindal, South Carolina Sen. Lindsey Graham, former Hewlett-Packard CEO Carly Fiorina, former New York Gov. George Pataki and former Virginia Gov. Jim Gilmore. They have been relegated to a non-prime time debate, scheduled for 5 p.m. local time Thursday.
© Copyright IBTimes 2023. All rights reserved.