Republican Presidential Debate 2015: Start Time, TV Channel, Radio Info For First GOP Debate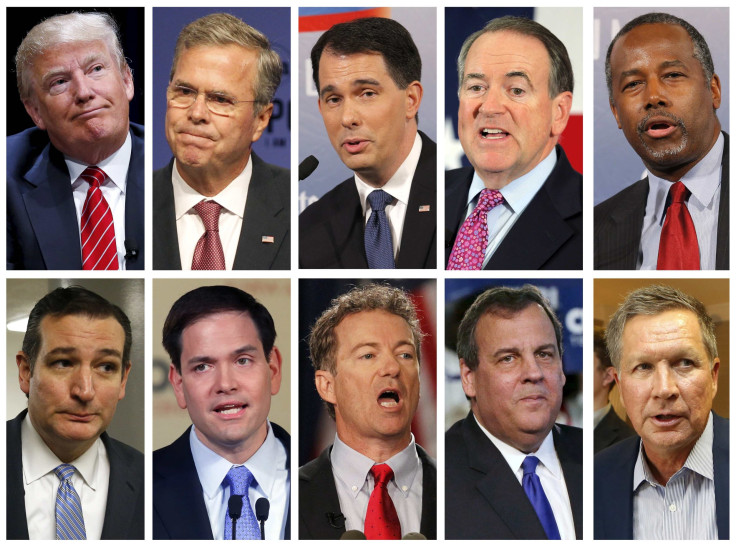 The first primary debate for the 2016 election is set to take place Thursday night when the Republican Party will see its top 10 presidential candidates square off in Cleveland, Ohio. Going into the Aug. 6 debate, the polls had brash real estate mogul Donald Trump as the front-runner for the GOP nomination.
Fox News, the host of the debate, limited the field in its main event to just the 10 participants who led in several recent polls. The biggest draw was expected to be the outspoken and controversial Trump, along with the more moderate Jeb Bush, former Florida governor, and Wisconsin Gov. Scott Walker. Most polls had Trump up by double-digit percentage points over second-place Bush.
The main debate on Thursday is scheduled to last two hours and will feature three Fox News hosts asking questions to the candidates. The May press release announcing the debate said it would be moderated by "Special Report" host Bret Baier, "The Kelly File" anchor Megyn Kelly and "Fox News Sunday" host Chris Wallace. As the debate progresses, data from debate co-sponsor and partner Facebook will "illustrate how the issues of the day are resonating with people," and the social media site will allow users to submit questions, the statement said.
2016 Republican Candidates | InsideGov
Kelly said that Trump would likely drive strong interest in the event. "Trump is going to be front and center," she told USA Today. "Good or bad, he's fascinating. He's going to drive huge eyeballs to the debate. He's a true celebrity. He commands an audience, for whatever reason. He's interesting. He just is. Trump may be peaking early. Or it may be the beginning of something unstoppable."
Others said Trump might need to show more substance and policy positions Thursday by backing up his often strongly worded statements. "I think what people like about him is Donald Trump is willing to talk about issues that a lot of the Republicans don't want to," said Michelle Fields, a Fox News contributor. "He needs policy proposals. He needs more substance. I think if he does that, he's going to be fine. He's a star."
The debate will be hosted in Quicken Loans Arena, where the NBA's Cleveland Cavaliers play. See below for the start time, TV channel and other pertinent information to view the debate on Thursday.
Main Debate (with top 10 candidates):
Start Time: 9 p.m. ET
End Time: 11 p.m. ET
TV Channel: Fox News Channel
Radio: Fox News Radio
Early Debate
Start Time: 5 p.m.
TV Channel: Fox News Channel
© Copyright IBTimes 2023. All rights reserved.
FOLLOW MORE IBT NEWS ON THE BELOW CHANNELS