Republican Rivals Go for the Jugular at South Carolina Debate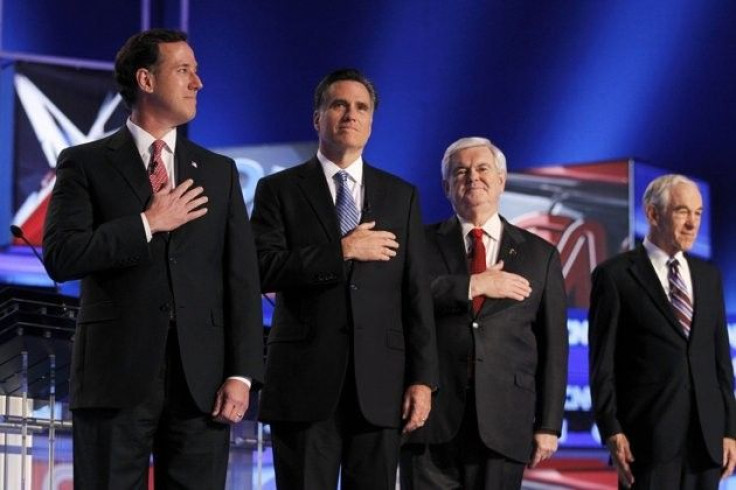 The CNN-Republican campaign debate Thursday saw fiery moments as all the candidates attempted to rip one another in order to take most advantage of the final debate, before the South Carolina primary.
The debate, moderated by John King of CNN, began just hours after the news of Rick Santorum replacing Mitt Romney as Iowa winner and Rick Perry's announcement of dropping out of the race- supporting Newt Gingrich came out. The debate reflected the uncertainty in Republican poll scenario on the right presidential candidate.
Gingrich was annoyed as the very first question in the debate, directed to him, was over his ex-wife's allegations that he had sought an open marriage. An angry Gingrich denounced the media and said that the negativity of the media had made this country a worse place to live.
I am appalled that you would begin a presidential debate on a topic like that, he said to King and got a Standing ovation from the audience. Even other candidates were not too interested in continuing with the issue.
Gingrich was at his fiery best and defended himself on his moral and personal records throughout the debate while trying to attack Romney, who appeared struggling to come out unscathed from his tax return woes.
Gingrich proudly released his latest tax returns, which in-turn forced Romney to pledge that he would release his tax returns in April. But audience was not impressed at the promise and Romney was booed down.
Romney defended his corporate record and said he was not going to apologize for being successful and said there was nothing wrong with capitalism and profit as it created jobs and strengthened the country.
Santorum, who found out Thursday that he had won the Iowa caucuses, thanked the citizens for their support. He appeared confident from his victory and attacked front runners Gingrich and Romney. He criticized Gingrich for his erratic statements and personal record and called him grandiose. He said that Gingrich lacked the discipline to put his ideas in to practice. While Gingrich accused that Santorum didn't have any of the knowledge required to be president.
Paul reiterated his commitment towards non-interventional foreign policy and federal cuts and got applause for the same. Paul mentioned his budget plan to cut $1 trillion in the first year, and added that cutting our overseas budget would free up more money for programs at home, and the audience in Charleston applauded in agreement, unlike in Monday's Myrtle Beach debate where he got booed.
Each candidate questioned his opponents' position on the abortion issue and projected himself as pro-life. In fact, Romney had a tough time defending his earlier moderate stand on the issue. He refused to give details on the millions of dollars he had reportedly invested in the Cayman Islands.
The debate also saw discussions on Obama-health care and immigration issues, the SOPA and out sourcing on which the candidates more or less agreed but had their own arguments and methods to address the issue.
© Copyright IBTimes 2023. All rights reserved.