Researchers Link Growing Local Food Movement To Personal Values, Education Levels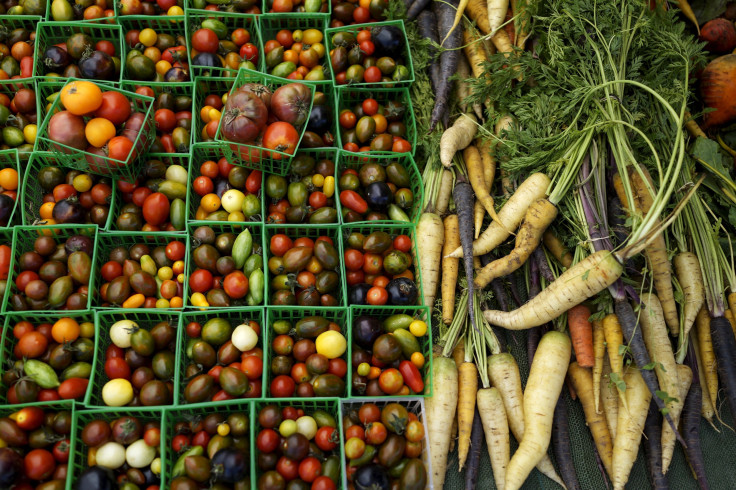 If supporting your local farmers market or food coop already made you feel good about yourself, academics at the University of Iowa said Saturday you are not alone. Their research links the sharp rise in "locavore"-friendly shopping options to strong beliefs about civic duty.
"It's about valuing the relationship with the farmers and people who produce the food and believing that how they produce the food aligns with your personal values," the study's co-author and University of Iowa professor Ion Vasi said in a release describing the results. Local food markets, he said, are "moralized markets" where consumers bring these values to bear on what they buy.
Vasi presented the findings from the paper -- "The Resurgence of the Locavore: The Growth of Local Food Markets in the United States" -- at the American Sociology Association Annual meeting in Chicago.
The research highlights the sharp contrast between dour trends of the mid-20th century, and the more recent resurgence in the local food movement. Small and midsize farms struggling to stay in business shuttered at warp speed during the 1950s, '60s and '70s. Only about 340 farmers markets remained open by 1970. The following year, geographer Jane Pyle, in an article for the Geographical Review, surmised such markets were "doomed by a changing society."
Times have changed -- and farmers markets have made a comeback. In the past decade, the researchers said, their numbers more than doubled, from 3,706 in 2004 to 8,268 in 2014, the USDA's farmers markets directory shows.
The researchers found "buy local" campaigns, in response to the rise of big-box stores in the 1990s, fueled the uptick. "A growing number of communities have attempted to gain control of their own economies by encouraging civic engagement that supports investing in locally owned businesses instead of outside companies," the study says.
They also found that farmers markets and food coops are more likely to take root in localities with higher levels of education and income, and that are home to more colleges and universities.
"Education is likely to facilitate knowledge about such things as links between the way products are produced and their environmental and health impacts," co-author Sara Rynes, a fellow UI academic, said in a statement. "And universities sometimes get involved in helping local farmers and individuals who are struggling to make a living, particularly through extension efforts."
© Copyright IBTimes 2023. All rights reserved.