Retail Revival: Walmart, Home Depot, Macy's Release Strong Earnings Reports
Retail is on the rise, with Walmart (WMT), Home Depot (HD), and Macy's (M) all reporting strong earnings on Tuesday, giving a glimmer of hope that that industry is turning the corner and signaling that shoppers may be ready to return in masses now that the COVID vaccine is readily available to all.
Walmart
Walmart reported its Q1 fiscal 2022 earnings early Tuesday morning. Total revenue for the retail giant was $138.3 billion, up $3.7 billion or 2.7% from the previous year.
"This was a strong quarter," Doug McMillon, President and CEO at Walmart, said in a statement. "Every segment performed well, and we're encouraged by traffic and grocery market share trends. Our optimism is higher than it was at the beginning of the year.
"In the U.S., customers clearly want to get out and shop. We have a strong position as our store environment improves and ecommerce continues to grow. Stimulus in the U.S. had an impact, and the second half has more uncertainty than a typical year. We anticipate continued pent-up demand throughout 2021. Our results reflect the continued hard work and commitment our associates have shown throughout the pandemic — serving others and helping provide vaccines — and we're grateful to them," he added.
Walmart U.S. comparable rose by 6% with gains in the grocery segment while it saw its e-commerce sales increase 37% across all channels, more than doubling sales over the last two years.
Walmart's Sam's Club also fared well, with comparable sales growing 7.2% for the quarter and e-commerce sales increasing 47%. Sam's Club memberships were also up 12.7%.
Internationally, Walmart net sales were $27.3 billion, down $2.5 billion or 8.3%, while e-commerce sales rose 49%.
Home Depot
Walmart wasn't the only winner on Tuesday, as Home Depot reported significant earnings for Q1 2021.
Sales for the home improvement retailer reached $37.5 billion, up $9.2 billion or 32.7% for the quarter compared to a year earlier. Comparable sales were also up 31% over a year ago, and comparable U.S. sales increased 29.9% from the previous year.
Net earnings for the quarter were $4.1 billion compared to $2.2 billion in Q1 2020.
Craig Menear, Chairman and CEO at Home Depot, said in a statement, "Fiscal 2021 is off to a strong start as we continue to build on the momentum from our strategic investments and effectively manage the unprecedented demand for home improvement projects.
"I am proud of the resilience and strength our associates have continued to demonstrate, and I would like to thank them and our supplier partners for their hard work and dedication to our customers."
Macy's
Department store retailer Macy's is also in an upswing, as the company reported its Q1 2021 earnings Tuesday, with comparable sales up 62.5% on an owned basis and up 63.9% on an owned plus licensed basis compared to 2020.
Digital sales were a bright spot for Macy's, which saw a 34% growth over Q1 2020. Loyalty memberships also increased for its rewards program by 10% from the previous year, and net credit card revenue was $159 million, up $28 million from the first quarter of 2020.
Inventory was also down for the retailer, a major issue for many stores going into the pandemic. Macy's said inventory was down 23.1% from Q1 2019.
Macy's also said it had about $1.8 billion in cash on hand at the end of the first quarter due to the strong performance and better efficiencies of capital.
As a result, the company raised its 2021 full-year guidance.
Adrian Mitchell, Chief Financial Officer of Macy's, saying, "Our achievements in the first quarter, combined with the faster than anticipated economic recovery, give us the confidence to update our full-year 2021 guidance. The momentum and strength of our digital business is reshaping how we engage with customers as an omnichannel retailer. As we execute the Polaris strategy, Macy's, Inc. is well-positioned for long-term, profitable growth."
Shares of Walmart were trading at $141.47 as of 11:17 a.m EDT on Tuesday, up $2.58, or 1.86%, while shares of Home Depot were trading at $318.89, down $1.12, or 0.35% at the same time. Shares of Macy's were trading at $19.36, up 20 cents, or 1.05%, also at the same time.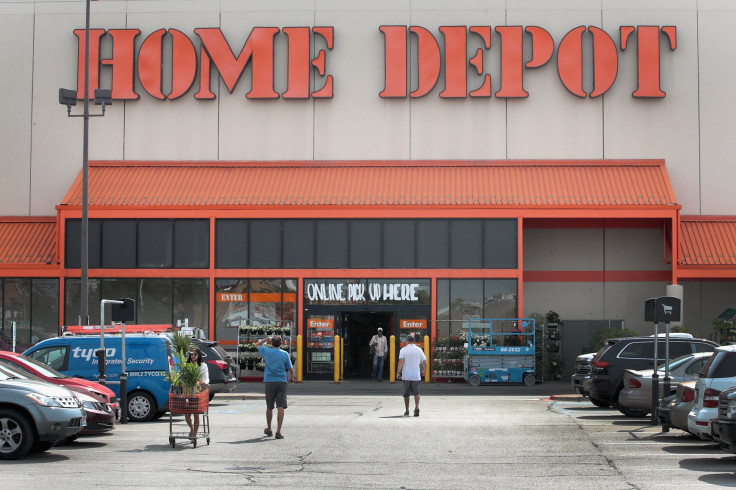 © Copyright IBTimes 2023. All rights reserved.