Rick Perry 2012: Texas Governor Opens Double Digit Lead in Newest Poll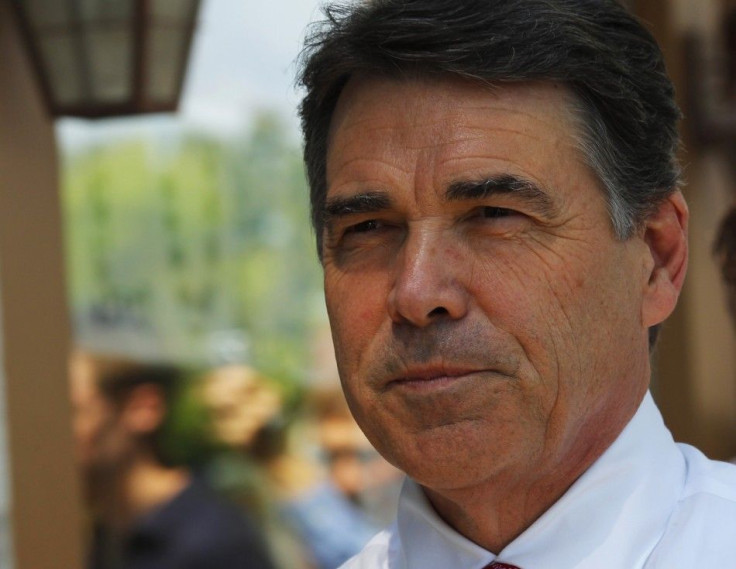 Freshly announced Republican presidential candidate Rick Perry is already showing signs of vaulting to the top of the GOP field, with a new national poll registering a double digit lead for the Texas governor.
Public Policy Polling, a national public opinion polling firm, has been hinting on Twitter that a poll to be released tomorrow reflects Perry's swift ascencion to frontrunner status. He has supplanted Mitt Romney, the former frontrunner, with potential voters choosing Perry over Romney in a head to head matchup by a margin of 52 to 36, according to one tweet.
If Perry is the flavor of the month, he is at least the strongest flavor of the month yet, one tweet said. Worst case he looks like co-front runner now.
Those numbers build on Perry's finishing first in a Public Polic Polling survey of Iowa voters. The state's role as an early voting caucus with a large bloc of socially conservative voters makes it a crucial bellwether for Republican candidates, and Perry benefited from his credentials as a devout Christian and a Tea Party favorite.
Only 33% of Republican voters in Iowa identify themselves as members of the Tea Party but a broad advantage with them is driving Perry's lead, the poll's authors noted.
Perry's surge to the top of the of the polls also imperils the candidacy of Michele Bachmann, as he appears poised to capture the Tea Party voters and evangelicals who had been a central bastion of support for Bachmann. While Bachmann won the closely watched Ames Straw Pol in Iowa, Perry announced his candidacy soon after and Bachmann has faced dwindling numbers ever since.
© Copyright IBTimes 2023. All rights reserved.