Rick Perry Risks Scaring Wall Street Republicans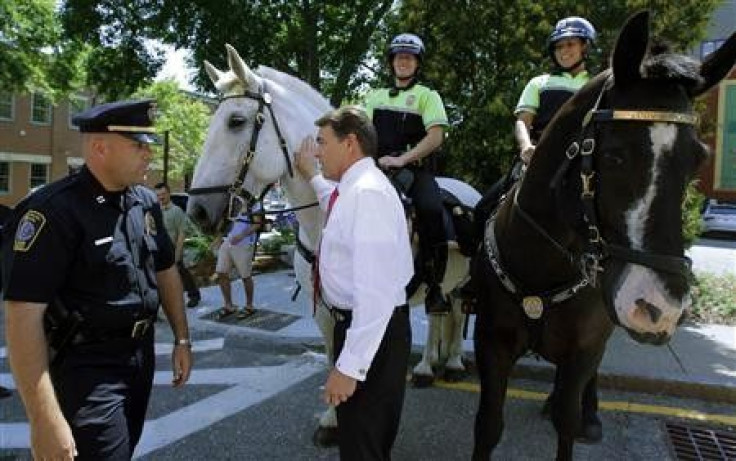 Presidential hopeful Rick Perry's brash appeal to the Republican Party's fiscally conservative base may fall flat with big donors who favor a more moderate candidate to challenge President Barack Obama in the 2012 election.
The Texas governor's rhetoric, such as his harsh criticism of Federal Reserve Chairman Ben Bernanke this week, risks scaring off financial backers who otherwise share his passion for low taxes and less regulation.
Mitt Romney, to whom Perry is catching up in national polls, had been the presumed frontrunner for months. The former Massachusetts governor and co-founder of private equity firm Bain Capital is seen as a safer, more traditional candidate.
Much of Romney's financial support comes from Wall Street, with executives and others with ties to investment bank Goldman Sachs among his big donors. Perry has not yet shown he can raise significant amounts of money outside of Texas.
Only half a million dollars Perry has raised over the past decade has come from New York, according to Texans for Public Justice, which tracks his campaigns.
The professional investor, the Wall Street force, is much more comfortable with an establishment candidate, said billionaire investor Ken Fisher, chief executive of Fisher Investments in Woodside, California.
Fisher expects they would eventually back Perry or any nominee who emerges with a good chance of defeating Obama, who is seen by many in the business community as unfriendly to the investor community and too pro-regulation.
Northeastern button-down country club Wall Street Republicans who feel uncomfortable with their feet in the mud or the dust probably look at Perry as a wild man, and yet they probably come to change their view if Perry succeeds in the process in the same way that they always have, Fisher said.
Stubbornly high unemployment and financial instability are Obama's biggest weaknesses heading into the 2012 election and approval of the Democratic president's handling of the economy has plunged to just 26 percent. But fears of another recession also make Perry's boldness more worrisome, said Willis Sparks, who analyzes elections at the Eurasia Group consulting firm.
His issue is -- does he have the self-discipline to stick to a script that reassures people that he would be a steady hand in a time of crisis? Sparks said. Romney is a much more reassuring figure.
Perry drew criticism even from many Republicans when he blasted Bernanke personally, saying we would treat him pretty ugly down in Texas if he authorized more monetary stimulus.
I'd say the majority of professional investors are fans of Bernanke and I think there's an unwritten rule that you don't publicly criticize him the way he did, said Greg Valliere, chief political strategist at the Potomac Research Group, a Washington-based firm that advises institutional investors.
Perry has not repeated the comment -- and even Obama said he would chalk up early brashness to inexperience on the national stage. And many Republicans agree with Perry's opposition to a loose-money policy, arguing that it hurts the U.S. dollar.
STRONG CURRENCY
I don't place a lot of weight on that kind of fiery talk and fighting words, said Dan Ripp, president of Bradley Woods & Co. in New York, who advises investors on government policy. That comment about Bernanke, it's not a stupid comment. ... There's an awful lot to be said for a strong currency.
Romney has the clear advantage with the Republican business class out of the gate, given his business pedigree.
There are ...investors in the private equity world, and others, who will certainly look at Mitt Romney as someone who understands their industry and would have a pretty vetted position relative to issues, said Tom Reynolds, a former Republican New York congressman who now advises businesses.
Minnesota congresswoman Michele Bachmann, who is also running for the Republican presidential nomination, has raised most of her money from small donors, not traditional large givers.
A favorite of social conservatives, she has not yet convinced the Republican establishment that she is a viable candidate, despite placing third among declared Republican candidates in public opinion polls.
Perry, a three-term Texas governor, will need to make inroads elsewhere to finance a national campaign. In 2008, candidates raised the most money from California at $153 million, followed by $114 million from New York and about $59 million from Texas, according to the Center for Responsive Politics.
Perry should be helped in New York by his ties to Rudy Giuliani, whom he backed when Giuliani ran for president in 2008. A strong fundraiser, the former Republican New York mayor pulled in $55 million before his campaign fizzled.
And Perry could benefit from the party's favoritism toward candidates from southern states and take comfort from former U.S. Presidents Ronald Reagan and George W. Bush, both of whom were initially seen as outsiders by establishment Republicans.
Both became two-term presidents.
© Copyright Thomson Reuters 2023. All rights reserved.