Rick Ross Hits No. 1 For Fourth Straight Time With 'God Forgives, I Don't,' Celebrates Exactly The Way Rick Ross Would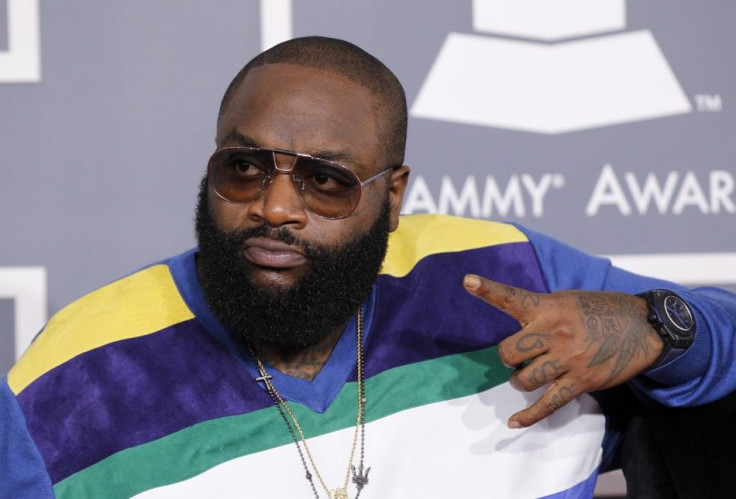 Veteran Miami rapper Rick Ross has done it again, debuting his new album "God Forgives, I Don't" at the top of the pop charts in its first week, according to a Billboard breakdown of current music sales.
Even an early leak of the album was not enough to stop The Boss from continuing his commercial reign over hip-hop. Selling 218,000 copies in a week of admittedly slow sales, the album was nevertheless the strongest performing of all Ross's No. 1 hits—2006's "Port of Miami," 2008's "Trilla," and 2009's "Deeper Than Rap."
"It's official!!!" Ross tweeted upon hearing the news, adding the decisive hashtag "#wellorchestrated." Never a stranger to self-promotion, he quickly returned to messaging about #GFID shortly after thanking his fans for their support.
Critically speaking, "God Forgives, I Don't" was well received as well, averaging a score of 75 on the review-aggregation site Metacritic. Allmusic and Rolling Stone both gave the album 4 out of 5 stars, but some smaller sites were more trenchant in their reviews, seeing Ross' relaxed attitude as a sign that he simply wasn't trying anymore.
"Though it's solid enough to maintain Ross' reputation as one of commercial rap's most reliable album artists," Evan Rytlewski wrote in the A.V. Club, "'God Forgives' rarely feels like an event, and by the standards of a rapper who once threw a press conference in his own honor, that makes it a minor disappointment." Always the hyper-critical voice of record reviews, Pitchfork said, "'God Forgives, I Don't' doesn't feel good enough, or big enough, to be what it is: The victory lap crowning Rick Ross' four-year rise to dominance, beginning with 2009's 'Deeper Than Rap.'"
Often called untouchable by Ross himself in songs like "MMG Untouchable," his fledgling record label Maybach Music Group can only stand to benefit from the 36-year-old rapper's good news.
© Copyright IBTimes 2023. All rights reserved.