Rift in Iraq: Maliki Demands Kurds Hand Over Hashemi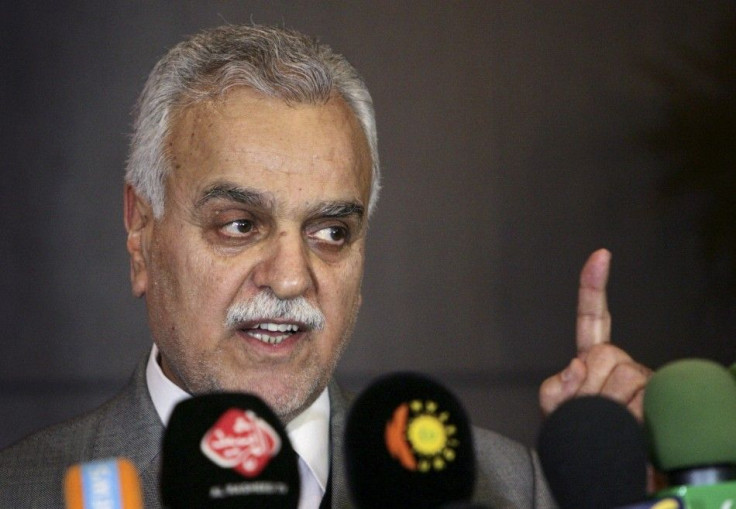 The rift between Iraq's prime minister and vice president is deepening and threatens to harm the fragile unity government in the country just days following the departure of the last U.S. troops.
Prime Minister Nouri al-Maliki has asked authorities in the autonomous Kurdish region in northern Iraq to hand over Tariq al-Hashemi, the country's vice president, who is under arrest on charges of terrorism.
We call for the government of the Kurdistan region to take its responsibility and hand over Hashemi to the justice system, Maliki declared at a news conference in Baghdad on Wednesday.
We do not accept any interference in Iraqi justice. We gave Saddam [Hussein] a fair trial, and we will give Hashemi a fair trial too.
In addition, Maliki rejected a proposal by Hashemi to have officials of the Arab League monitor any investigations conducted on him.
This is a criminal case, and there is no need for the Arab League and the world to have a role in this, Maliki scoffed.
Hashemi is forbidden to leave the country.
The charges against the vice president relate to incidents in 2006 and 2007 during the height of the insurgency in Iraq when he is alleged to have operated a death squad as Baghdad descended into sectarian violence between Shia and Sunni Muslims.
Maliki is Shia, while Hashemi is Sunni. While Iraq is dominated by Shias, there are large swathes of the country where Sunnis are the majority.
Speculation is rising that Maliki ordered Hashemi's detention in order to increase his hold on the government.
Allegedly, two of Hashemi's bodyguards "confessed" that they committed murders for their boss in exchange for weekly payments of $3000.
Hashemi, who is unlikely to be handed over by Kurd authorities, denied charges against him at a press conference in the Kurdish city of Erbil.
I swear to God that Hashemi didn't commit any sin or do anything wrong against any Iraqi either now or in the future and this is my pledge to God, he said.
He added: Maliki is behind the whole issue. The country is in the hands of Maliki. All the efforts that have been exerted to reach national reconciliation and to unite Iraq are now gone. So yes, I blame Maliki."
Omar al-Saleh, a correspondent for Al-Jazeera in Iraq, wrote: Kurdish officials in the region said that they will never hand the vice president back to Baghdad because as things stand now he is a suspect and he's not convicted of any crime; and he came in his capacity as vice president of this country, so he is a guest in other words."
Separately, Maliki also warned that he will dismiss government ministers belonging to a secular, Sunni-dominated political group called al-Iraqiyya who are boycotting parliament and the cabinet to protest against Maliki's heavy-handed behavior as well as Hashemi's arrest.
Jim Muir, a BBC correspondent in Iraq, commented on the dangerous rumblings in Iraq.
"Barely had the last American soldier stepped across the border into Kuwait than the fragile Iraqi political structure the US military left behind began to fall dangerously apart, as long-standing tensions between Shia and Sunni political leaders came to a head," he wrote.
"Iraq's most senior Sunni Arab politician, Tariq al-Hashemi, is effectively a fugitive. While he hides out under Kurdish protection in the north, the entire al-Iraqiyya political bloc to which he belongs has pulled out of both parliament and the cabinet. That paralyses Sunni participation in the hard-won power-sharing deal that underpins a year-old national unity government which has rarely pulled together. Frantic efforts are now under way to try to hold that structure together."
Muir added: "The alternative, at its direst, could be the country's de facto partition, as part of a wider regional Balkanization along sectarian lines."
The U.S. is greatly concerned about the potential for more violence in Iraq in it absence. In a statement, the White House said: Vice president [Joe Biden]… stressed the urgent need for the prime minister [Maliki] and the leaders of the other major blocs to meet and work through their differences together."
© Copyright IBTimes 2023. All rights reserved.
FOLLOW MORE IBT NEWS ON THE BELOW CHANNELS