Rio Olympic Golf Problems 2016: Capybaras, Crocodiles, Sloths All Over The Course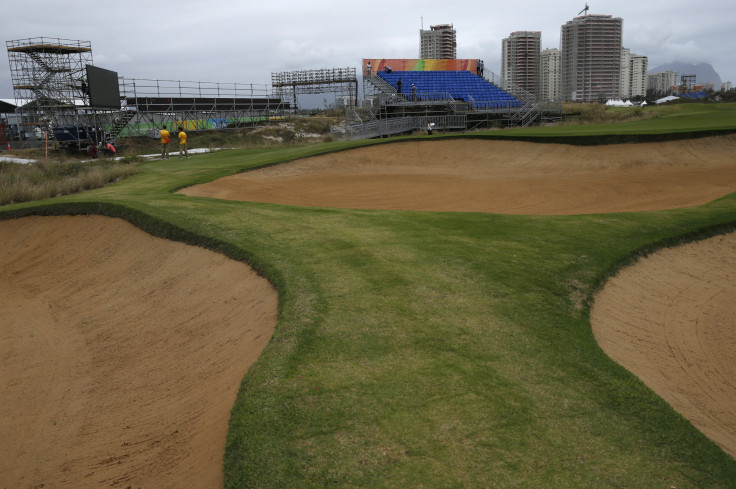 After a 112-year absence from the Olympics, golf's return to the world's biggest sporting stage at the Rio games has hit a number of speed bumps. The latest trouble: the golf course is "overrun with wildlife," as People Magazine put it in a report Tuesday night.
The list of critters spotted thus far on the course is impressive. It includes sloths, mini crocodiles, boa constrictors, mico monkeys, burrowing owls and dozens of capybaras, the world's largest rodent.
In a video posted by Golf Channel, analyst Frank Nobilo said the capybara looks like it's a "cross between a donkey and a pig," which seems like a fair assessment.
Capybaras weigh some 150 pounds and are native to the area. They do present a challenge for the folks in charge of maintaining the course. "They chew down on the grass at night," Mark Johnson, director of international agronomy for the PGA Tour, told the National Post. "There are about 30-40 of them inside the course perimeter, but they live here and we play golf here, we co-exist."
The Rio course was built in the Barra da Tijuca neighborhood in western Rio on a nature preserve of sorts, which sparked protests among some locals who felt the luxury venue hurt the ecosystem and unnecessarily used too much water. Brazilian Golf Confederation President Paulo Cezar Pacheco, in a May report by International Business Times, pointed to a government study in response that found the course contributed to vegetation growth and helped wildlife.
Golf has largely limped toward its Olympic return over the past few months. Top players like the U.S.'s Jordan Spieth and Dustin Johnson, Australia's Jason Day and Adam Scott and Northern Ireland's Rory McIlroy all opted to skip the event. Some cited or alluded to the threat of the Zika virus spread by mosquitos, a particular concern for golfers who spend time near standing water on the course.
The International Olympic Committee said it will do its best to assure players don't have to fend off crocodiles — a smaller five-foot variety called a caiman — while they play. It has hired a team of five biologist handlers that will transport the potentially dangerous animals away from the golfers if needed, according to Brazilian newspaper Folha de Sao Paulo.
© Copyright IBTimes 2022. All rights reserved.
FOLLOW MORE IBT NEWS ON THE BELOW CHANNELS