Risky Maneuver: PLA Sends Junior Pilots On Combat-Ready Patrol Against Spy Planes
KEY POINTS
In 2022, the U.S. flew about 680 sorties to conduct close-in intelligence gathering flights in the South China Sea
There is a growing risk of confrontation spiraling into conflict in a region where tensions have peaked in recent months
China is struggling to find enough trained pilots, forcing the PLA to offer generous incentives to recruit Western pilots
Amid growing tensions in the South China Sea region, a junior Chinese fighter pilot who flew his first combat-ready patrol mission has claimed that his J-16 fighter jet was "targeted" by an air-to-air missile of a foreign aircraft.
While the reported incident did not escalate, the event highlights that faced with a shortage of well-trained pilots, China is pushing inexperienced pilots, fresh out of training college, to carry out dangerous combat-ready patrol missions against spying flights by foreign planes, the state media reported.
"It was my first combat task, which required me to immediately transition from a training situation to a combat-ready air patrol," Song Zihao, a 24-year-old J-16 fighter-bomber pilot, told Chinese state broadcaster CCTV, according to a South China Morning Post (SCMP) report Tuesday.
Ordered into frontline action just one month after completing the postgraduate training, Song told CCTV, which broadcast the program Saturday, that he was sent because his jet was the closest to the scene.
"I received radar warnings from foreign aircraft soon after heading to the scene, meaning my aircraft was targeted [by air-to-air missiles]," Song told CCTV, according to the SCMP report, which did not specify when the incident occurred or which country the foreign aircraft belonged to.
Song said he was not nervous and responded with reciprocal countermeasures, pushing the foreign aircraft to leave the airspace.
"I remained calm because I had faced similar scenarios on the first day of my training, seeing how senior pilots dealt with intruding foreign warplanes every day," Song added.
While the SCMP report did not provide further details, a report in China Times which shared supposed footage of the CCTV program, quoted Song elaborating that, as soon as he flew to the scene, he received a radar warning.
"This means that the foreign military plane has turned on the radar and scanned us in advance. Reciprocal countermeasures, he left not long after," Song was quoted as saying in the China Times report.
While the occurrence by itself may be routine, the episode underscores the growing risk of confrontation spiraling into conflict in a region where tensions have peaked in recent months.
With Beijing's claims over self-ruled Taiwan and its aggressive posturing in the South and East China Sea region, surveillance and reconnaissance activities by the U.S. and allied forces have increased in recent years.
In 2022, the U.S. flew about 680 sorties to conduct close-in intelligence gathering flights in the South China Sea, of which 68 were conducted in December alone, according to the Beijing-based think tank, the South China Sea Strategic Situation Probing Initiative.
Given the shortage of experienced personnel, the PLA is sending junior pilots on combat-ready patrol missions to the East and South China seas a little over a month after they have finished their training course, according to the CCTV report.
The PLA believes that its intensive training program allows junior pilots to learn practical air combat skills and countermeasures in a short time. However, the risk of confrontation turning into a war remains high.
On Dec. 21, a Chinese J-11 fighter pilot performed an "unsafe" maneuver during an intercept of a US Air Force RC-135 aircraft. Earlier in Nov. 2022, Defense Secretary Lloyd Austin, in a meeting with his Chinese counterpart, had raised concerns about "increasingly dangerous" behavior by PLA military aircraft.
Recent reports have shown that China is struggling to find enough trained pilots, forcing the PLA to offer generous incentives to recruit Western pilots to train its forces and speed up the pilot training program.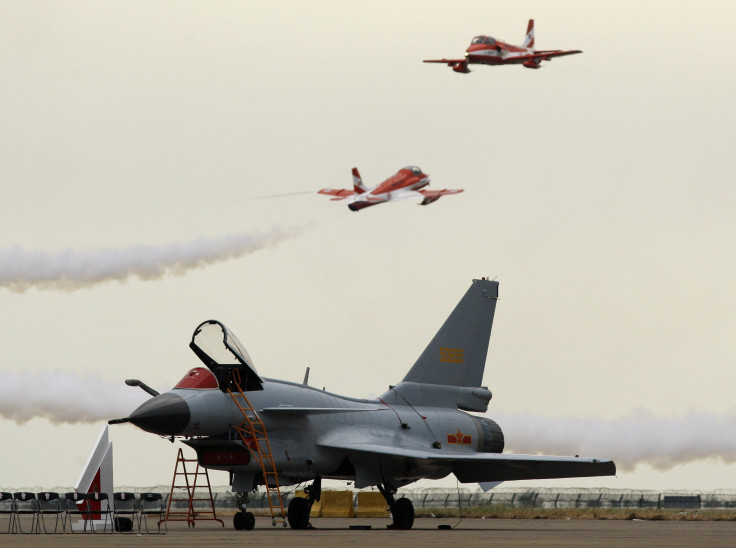 © Copyright IBTimes 2023. All rights reserved.