Ro Khanna's Uphill Climb: Beat A Strong Incumbent, Then Get Congress To Work Together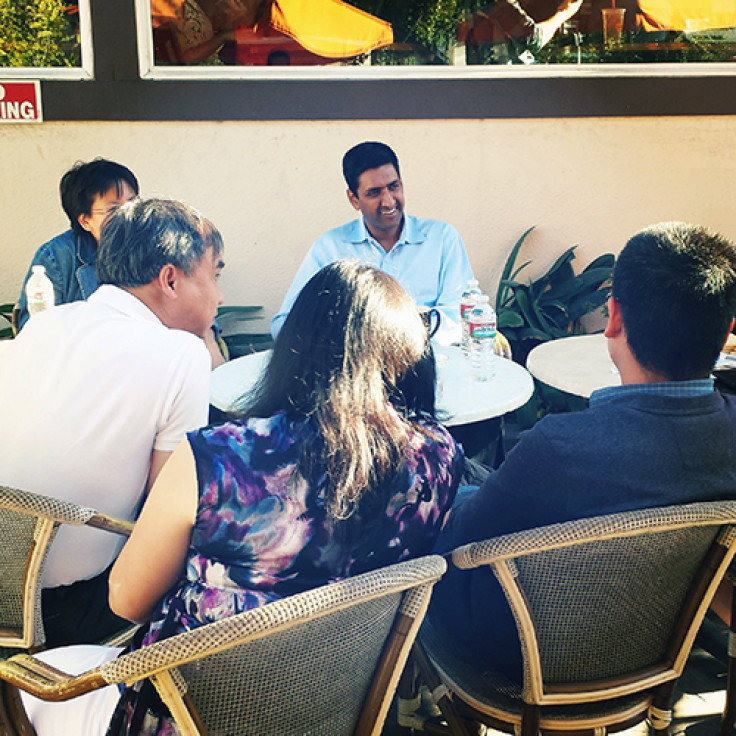 Congressional candidate Ro Khanna says he's running on a new economic platform, based on his district in the heart of Silicon Valley, and he boasts the backing of tech superstars like Marissa Mayer, president and CEO of Yahoo, and Sheryl Sandberg, Facebook's chief operating officer. But his message sounds a bit familiar.
In January 2011, two months after Republicans took over the House of Representatives in a wave election, President Obama gave a State of the Union speech about "winning the future," hoping to rally political support behind strategic spending on infrastructure, education and research and development. More than two years later, the president is still waiting for that message to break through. Meanwhile, partisan tensions culminated this week in a government shutdown; spending levels on things like science and research are at desperate lows under sequestration spending cuts that Republicans have embraced. But that isn't keeping Khanna from reviving Obama's tactic.
In California's 17th district, a blue district in the South San Francisco Bay Area, Khanna, a Democrat, is mounting a primary campaign against incumbent Democrat Rep. Mike Honda. His rhetoric is strikingly similar to Obama's in 2011, but he insists his can rally support from both sides of the aisle.
"There has always been a role for government investment in infrastructure, in education, in the National Science Foundation, the National Institutes of Health, that have been critical toward being an economic superpower, critical to our economic competitiveness," Khanna said during a phone interview this week. "I think that that argument can get through and get past the sort of obstructionism because it's hurting our ability to compete in the 21st century."
This platform, influenced by his district, which houses tech giants like Yahoo (NASDAQ:YHOO) and Apple Corp. (NASDAQ:AAPL), seems particularly attuned to the needs of tech and startups. It includes provisions like giving startups access to research and development tax credits, and allowing them to raise capital through crowdfunding, as well as more traditional investment in infrastructure and clean energy.
Khanna's says his economic message, the raison d'etre of his campaign, has been inspired by conversations with the tech industry and small businesses in his district. This includes an emphasis on bringing women into the tech field, which is notorious for having low levels of female employees as developers and engineers and in leadership positions. "There's no question that the tech community has to do better at being more diverse when it comes to opportunities for women and when it comes to opportunities for minorities; I mean, African Americans and Latino Americans are underrepresented," he said. This fact, he said, will only exacerbate current income inequality as well as endanger American competitiveness globally. "China has a billion people," he said. "We don't have a person to waste in this country."
Khanna, 36, the son of immigrants from India, formerly worked as an intellectual property lawyer in the Bay Area. In 2009, he joined the Department of Commerce as deputy assistant secretary. He left the administration in 2011, wrote a book, Entrepreneurial Nation: Why Manufacturing Is Still Key to America's Future, returned to practicing law representing tech firms back in California, and began mulling a campaign of his own. Now, in challenging Honda, he's fashioned a campaign platform based on the economic message of investing in a 21st century economy.
Khanna's campaign has gotten attention for its surprisingly large war chest, raising more than $1 million in the second quarter and ending June with $1.7 million cash on hand. By comparison, Honda raised $400,000 in the second quarter.
His campaign is also pitting much of the tech industry in Silicon Valley against the Democratic establishment. Khanna boasts the support of many in the tech industry, his website highlights the support of "over 100 Technology leaders," including Sandberg and Mayer. But incumbent Rep. Honda has the party leadership on his side at the state and national levels, including endorsements from President Obama and Nancy Pelosi. So far the poll numbers are on his side too. A poll in late August showed Honda leading 49 percent to 15 percent. But due to California's new primary system, in which the top two candidates proceed to the general election regardless of party, Khanna could make his battle against Honda stretch all the way to next November.
"We feel for a long time that Silicon Valley hasn't been represented at the federal level," said Sean Parker, former Facebook president and co-founder of Napster, at a Khanna fundraiser, according to Politico. "We haven't had the young, dynamic, hard-driving candidate who understands the unique issues facing Silicon Valley right now … To a certain extent we are starting to come into a realization of our own power, and our own capability, not just as innovators and technology pioneers but also in a political sense."
Honda, one of the most liberal members of Congress, has a reputation as a defender of programs like Social Security. But he has also reached out to the tech industry in recent months, backing policies important to the industry, such as STEM education and increased funding for the U.S. Patent and Trademark Office -- two items also on Khanna's agenda. Honda's campaign did not respond immediately to a request for comment on the election.
FOR FREE to continue reading
✔️ Unlock the full content of International Business Times UK for free
offer available for a limited time only
✔️ Easily manage your Newsletters subscriptions and save your favourite articles
✔️ No payment method required
Already have an account?
Log in
© Copyright IBTimes 2023. All rights reserved.