Road Conditions In New York, New Jersey, Mass., Conn.: How To Check Highway Closure Updates During Blizzard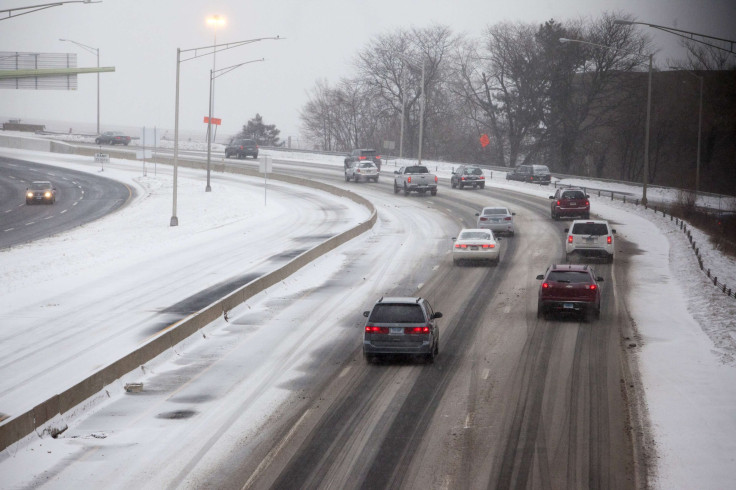 The worsening winter storm currently bearing down on the U.S. East Coast is already halting travel plans and disrupting major transportation systems for Monday and Tuesday. State officials in New York, New Jersey, Connecticut and Massachusetts have urged all non-essential motorists to stay off the road as the blizzard, touted as one of the biggest storms ever to hit the region, imperils road conditions across the Northeast.
"Do not plan on traveling unless absolutely necessary from Monday evening through the duration of the storm," Connecticut Gov. Dannel P. Malloy said at a press conference on Monday. Travel bans were scheduled to go into effect on major highways in the Northeast late Monday evening.
Officials in Connecticut issued a statewide travel ban beginning at 9 p.m. EST Monday. New York City Mayor Bill de Blasio said Monday that city streets would be cut off to non-emergency vehicles starting at 11 p.m. "Whatever safety precautions you take in advance of a storm take, even more, be even more cautious," de Blasio said Monday, warning city residents not to underestimate the storm. "Expect a lot of challenges and delays."
Here's how to check road conditions and highway closures in New York, New Jersey, Massachusetts and Connecticut during the storm.
New York. To check road conditions, visit 511ny.org's "highway route planner." The site maintains an update of weather travel alerts for the area. Drivers can also dial 5-1-1, or 800-847-8929 for travel updates specific to the New York Thruway.
New Jersey. New Jersey's road conditions can be viewed in real time through 511nj.org's traffic map. You can also check the New Jersey Turnpike Authority for updates or dial 5-1-1 from any phone. Information specific to the New Jersey Turnpike travelers can also be reached by calling 800-336-5875.
Massachusetts. Travelers can dial 5-1-1 for the latest highway travel information. They can also call 617-986-5511 for conditions and closures specific to the Boston area, 508-499-5511 for central Massachusetts and 413-754-5511 for western Massachusetts. The state's traffic map can be found here.
Connecticut. Connecticut's interactive travel map, which includes live highway video feeds, can be found here. Travelers can also call the state Department of Transportation at 800-443-6817.
© Copyright IBTimes 2023. All rights reserved.