Rocket Firing In Donetsk Kills 13 While MH17 Investigators Make Another Attempt To Reach Crash Site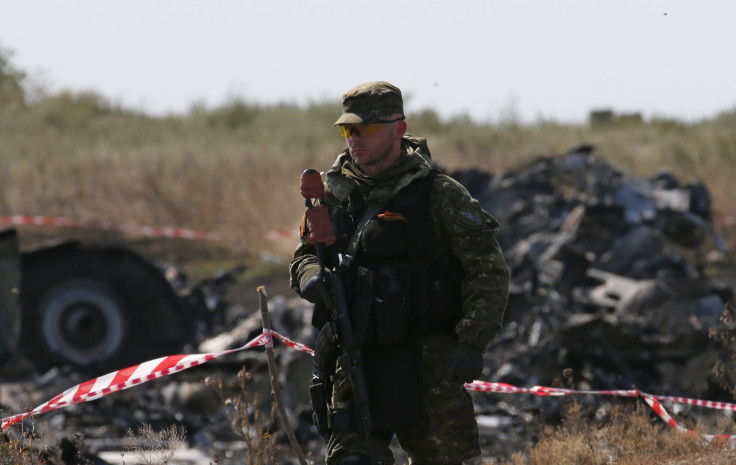 At least 13 people, including two children, were killed Sunday after rockets were fired in the Donetsk region of eastern Ukraine, even as an international team of investigators made another attempt to reach the crash site of Malaysia Airlines Flight MH17.
The attack came in the form of rockets and artillery shells, and civilian casualties are expected to rise up to 30, Interfax-Ukraine, a local news agency reported, citing local officials. Donetsk's regional administration said that the rockets were fired using multiple rocket launchers. And, according to local officials, a facility belonging to Donbasenergo, a state-owned energy company, was on fire from the attack, which followed the National Guard of Ukraine's efforts to take back the city of Shakhtarsk in Donetsk Oblast from pro-Russia rebels.
"The local maternity hospital was presumably damaged in an artillery attack. Windows were blown out when a drug rehabilitation clinic was hit by artillery fire. A rocket was fired at Hospital No.2, presumably the obstetric department, at about 1300. I can't provide more accurate information about casualties and destruction as I am only approaching the territory," Oleksandr Prosianyk, a health official, told Interfax-Ukraine.
An international team of investigators, whose earlier attempts to reach Flight MH17's crash site over the weekend were thwarted by fighting between rebels and government forces in the region, will now try to reach the spot Monday, CNN reported.
Apartments and supermarkets in the region too were reportedly damaged in the attack, and the Horlivka railway terminal was also ablaze from the rocket attacks while firefighters rushed to douse the flames, the Interfax-Ukraine report said.
"Donbasenergo is ablaze, roofs were holed in several buildings, ambulances are busy doing running calls, the windows in the TSUM department store and Ukrtelecom were blown out," the Horlivka Self Defense Group said, according to Interfax Ukraine.
Pro-Moscow rebels and Ukraine's government forces had agreed to a three-day cease-fire following the downing of Flight MH17, to assist in the recovery and investigation of the crashed plane. However, fighting has continued in the region even as reports emerged of Russia building up forces on the Ukrainian border and supplying separatists with tanks and armored vehicles.
© Copyright IBTimes 2023. All rights reserved.