Rodrigo Duterte Quotes: Philippine President Threatens To Eat The Livers Of Terrorists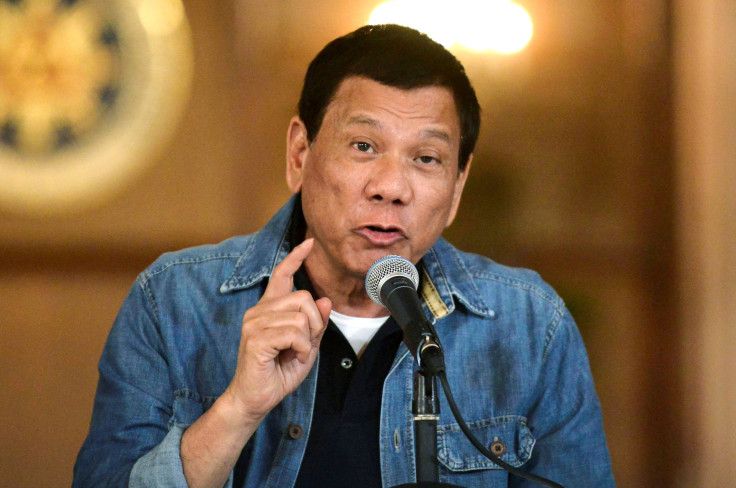 Philippine President Rodrigo Duterte has some choice words for terrorists.
Duterte, who is known for his strict rule and for carrying out draconian punishments against drug suspects and affiliates, attempted to drive home just how violent he could really be during a speech for a local sports event, according to reports Monday.
"If you want me to be an animal, I'm also used to that. We're just the same," the Philippine president boasted during the speech when he discussed how he would respond to terrorists that had participated in similarly brutal attacks. "I can dish out, go down what you can 50 times over."
READ: Duterte War On Drugs: Philippines Police Plant Drugs And Weapons On Victims To Justify Extrajudicial Killings, Says Report
Duterte even went so far as to say he would quite literally consume a terrorist if one was produced and he was in a bad mood, stating, "give me salt and vinegar and I'll eat his liver."
Since his election almost a year ago, Duterte has garnered a reputation for his ruthless dealings with drug traffickers and those suspected of involvement. Thousands have died in the wake of the Duterte's brutal drug-busting, which he was said to have begun before taking office.
A lawyer, Jude Josue Sabio, asked the International Criminal Court Monday to charge Duterte and nearly a dozen of his officials for mass murder crimes over the past three decades, the New York Times reported. In his filed complaint, Sabio said that Duterte was behind the killings of over 9,400 people since the late 1980s. Sabio is representing two men that claimed they were paid assassins for the president when he acted as mayor of Davao City.
Duterte was elected president in May of 2016.
"The situation in the Philippines reveals a terrifying, gruesome and disastrous continuing commission of extrajudicial executions or mass murder from the time President Duterte was the mayor of Davao City," the complaint said via the Times.
© Copyright IBTimes 2022. All rights reserved.
FOLLOW MORE IBT NEWS ON THE BELOW CHANNELS