Roger Federer And The RF Logo: Nike Holds Legal Advantage, Expert Says
Roger Federer ended his 20-year professional relationship with Nike earlier this year and for the first time in two decades stepped on court without the Swoosh emblazoned on his headband, t-shirt, shorts and socks.
The Swiss ace recently signed a long-term deal with Japanese apparel manufacturer Uniqlo. It is suggested that he will earn around $30 million per annum over the next ten years — which increases his earnings by 300 percent.
Despite ending his relationship with Nike on good terms, the greatest tennis player in history and the world's foremost sports shoes and apparel supplier are embroiled in a legal tussle over the famed RF monogram.
The story behind the RF Logo
Nike created the RF — Roger Federer — logo, which was first introduced in 2006, but it only became popular around 2009 when it was seen in everything Federer wore. The Swiss tennis legend's t-shirts, shoes, jackets and even the packets that held his new Wilson rackets had the logo emblazoned on them.
The idea for the monogram supposedly came from the logo that Mirka Vavrinec, Federer's wife, and her father developed for his fragrance, RF-Roger Federer, introduced in 2003. The 36-year-old is said to have liked the approach and then told Nike to come up with a strategy along the same lines.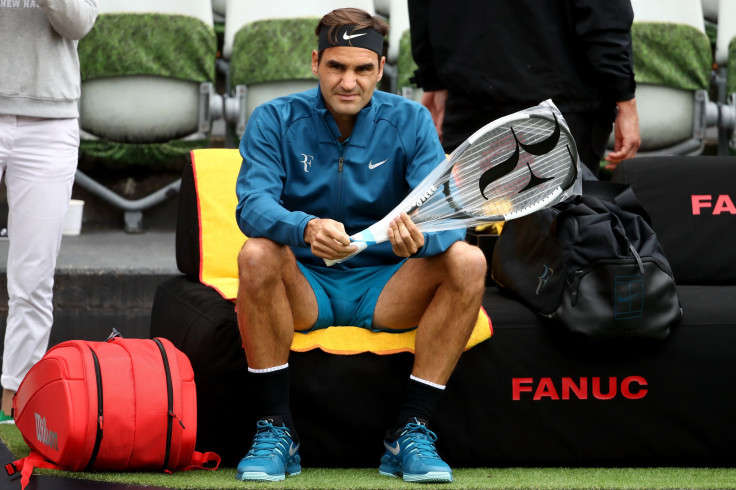 The RF logo is the most popular monogram in tennis and it became a must-have for tennis fans. It was common to spot Nike apparel with the monogram at tournaments regardless of Federer's presence.
Federer was happy with the outcome and admitted it was important for him that a fan can have something related to him to show their support: "For me, it's important that a fan can buy something that is related to me," the Swiss ace said in 2009, according to the New York Times. "Like in soccer, you buy a shirt and it's got somebody's name on the back. That's kind of a cool thing."
The legal battle
Federer has now switched apparel partners and is currently with Uniqlo, but the RF logo is owned by Nike and they are currently negotiating a way for him to take ownership of the same.
The 20-time men's singles Grand Slam champion made it clear that he wants the monogram, especially since it spells out his name. He also revealed that while Nike do own it at the moment, it is not forever and indicated that there is a deal to transfer it to him at some point in the future.
But it also sounded like, it will not occur anytime soon, as he pleaded with Nike to be nice and give him ownership of the RF logo at the earliest. The American sports apparel and equipment manufacturer can currently continue to use to sell their products despite not holding a contract with Federer.
Moreover, a legal expert who specializes in Intellectual Property (IP) recently revealed that Nike is in a strong legal position to retain the ownership of the logo. But admitted that it could be bad in terms of public relations for the brand as using the monogram after terminating their contract with Federer could alienate his loyal fan base.
"Nike has a potentially difficult PR path to navigate: retaining legal control of the RF brand may be a Pyrrhic victory if it means alienating Federer's passionate and loyal fanbase on whom the value of the brand presumably rests," Jacqueline Pang, a trademark attorney at specialist IP Mewburn Ellis, told Tennis World USA.
"It owns a number of trade mark registrations around the world for the RF logo and presumably also owns the copyright. Barring anything in the contract to the contrary, it could retain ownership of the brand and continue to exploit it," Ellis said.
"In that case, it would also be in a position to prevent Federer or any third parties (like Uniqlo) from using the RF logo or anything similar for clothing and related goods," she explained.
© Copyright IBTimes 2022. All rights reserved.
FOLLOW MORE IBT NEWS ON THE BELOW CHANNELS