Roger Goodell To Review Ray Rice Elevator Video, NFL Didn't See Punch Footage Before Suspension: Report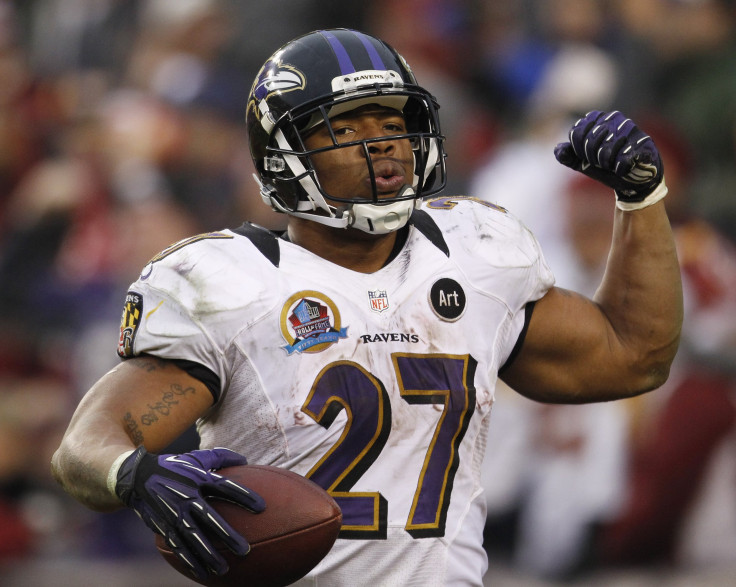 National Football League Commissioner Roger Goodell is reviewing the league's case against Ray Rice in light of a newly released video that shows the Baltimore Ravens running back knocking then-fiancée Janay Palmer unconscious in an Atlantic City casino elevator in February. League officials said they hadn't seen the surveillance footage in July when they suspended Rice without pay for two games.
The NFL was never given access to the video, despite requests to law enforcement officials, a source told ESPN's Chris Mortensen. It's unclear if Goodell or any other member of the NFL league office was given a full account of Rice's actions. However, Rice gave an accurate description of the domestic violence incident to Ravens officials, CBS Sports' Jason La Canfora reports.
Goodell is reviewing the new evidence, the New York Daily News reports. It's unclear whether the commissioner will attempt to lengthen Rice's suspension.
"We requested from law enforcement any and all information about the incident, including the video from inside the elevator," the NFL said in a statement, via CBS New York. "That video was not made available to us and no one in our office has seen it until today."
Critics of the NFL's decision noted that Rice's two-game suspension was light compared to the manner in which Goodell's office had punished other players for in-game violence and drug use. The outrage was so expansive that Goodell said in August that the NFL would revamp its disciplinary policy regarding domestic violence.
"My disciplinary decision led the public to question our sincerity, our commitment, and whether we understood the toll that domestic violence inflicts on so many families," he said in a letter to team owners. "I take responsibility both for the decision and for ensuring that our actions in the future properly reflect our values. I didn't get it right. Simply put, we have to do better. And we will."
In the elevator video, a scuffle between Rice, 27, and Palmer, 26, at Atlantic City's Revel Casino Hotel ended when the Ravens running back punched her in the head; Palmer was knocked unconscious. Then, Rice dragged her motionless body out of the elevator, where he was confronted by security.
At the time, both Rice and Palmer were arrested and charged with domestic assault. Later, Rice pleaded not guilty to aggravated assault in the third degree; he avoided trial by agreeing to enter an intervention program.
© Copyright IBTimes 2023. All rights reserved.
FOLLOW MORE IBT NEWS ON THE BELOW CHANNELS