Romania Fined for 'Free Mladic' Soccer Banner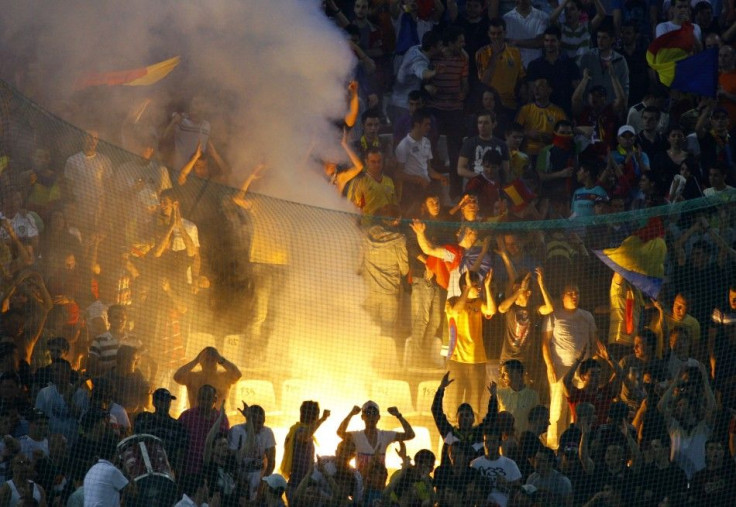 UEFA has fined the Romanian football federation $21,000 (15,000 euros) over an incident at a match against Bosnia-Herzegovina, when Romanian fans taunted the opposition with a banner supporting alleged war criminal Ratko Mladic.
Romanians displayed their slogan "Free Mladic" to Bosnian fans, some of whom then ripped out seats at Giulesti Stadium. Bosnia's football association has been fined $21,000 as well.
Mladic is the former Bosnian Serb general who has been charged with genocide and 10 other war crimes by a U.N. court. His trial is currently on hold, but will resume in the next few months. Mladic fought in the Bosnian war of the early 1990s, during which some 100,000 people were killed.
Mladic is said to be responsible for the Srebenica Massacre -- the single biggest mass killing since World War Two. Under Mladic's command, Bosnian Serb forces killed more than 8,000 Bosnian Muslims in Bosnia and Herzegovina in just 11 days in 1995.
Soccer fans are known for their passion, which is sometimes taken to an extreme. Hooliganism in England is just one facet of this violent passion, as demonstrated by the June Romania-Bosnia match. In 2007, for example, a police officer died during a soccer riot in southern Italy, where barbed wire often separates rival fans from each other and from the field.
But the prevalence of fanaticism will never excuse such a tasteless act as displaying a "Free Mladic" banner to opposing fans, many of whom likely remember the Balkan wars that destroyed their homeland for nearly a decade.
UEFA, the European soccer governing body, prohibits political demonstrations from matches.
Romania beat Bosnia-Herzegovina 3-0.
© Copyright IBTimes 2023. All rights reserved.