Romney Campaigns in Colorado, Faces Threat from Santorum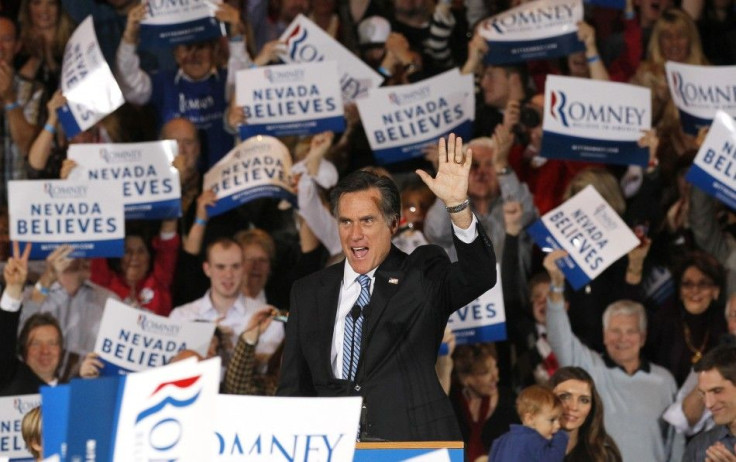 (Reuters) -- Mitt Romney on Monday focused his campaign's firepower on Rick Santorum to head off the former senator's surge in two of three states with nominating contests this week.
Coming off a runaway victory in Nevada on Saturday, Romney hopes to cement his front-runner status in caucuses and primaries in Colorado, Minnesota and Missouri on Tuesday - the next battlegrounds in the state-by-state fight to pick a Republican challenger to face Democratic President Barack Obama in the Nov. 6 election.
Romney's attention has been focused heavily on former House Speaker Newt Gingrich, but he is not a threat in this week's contests.
Instead, the focus of Romney's well-funded attack machine turned to Santorum, a former U.S. senator from Pennsylvania who pipped Romney in the first contest of the 2012 Republican campaign in Iowa but has since faded from view.
Pollsters said Santorum, who has been vying with Gingrich to be the conservative alternative to the more moderate Romney, was leading in Minnesota and was second to Romney in Colorado.
Santorum also has a good chance in Missouri, where Gingrich is not even on the ballot, although the non-binding vote there is just symbolic because there are no delegates up for grabs. Missouri delegates will be won in mid-March in the binding portion of a two-step process caused by changes in the Republican primary calendar as states competed with one another to hold early nominating contests.
Wins for Santorum in Minnesota and Missouri would make it clear he's a more viable alternative to Romney than Gingrich and give him a lot of momentum for the road ahead, said Dean Debnam, president of Public Policy Polling.
Underscoring his role as the current threat to Romney, Santorum was second favorite on the Intrade prediction market to win the Republican nomination, just ahead of Gingrich. But Romney is by far the favorite, with an 86.7 percent chance, according to Intrade.
Former Minnesota Governor Tim Pawlenty, a former presidential candidate and now the co-chairman of Romney's campaign, criticized Santorum's record in Congress and questioned his conservatism.
He has held himself out by saying he's the 'true conservative,' Pawlenty told a conference call with reporters. He's held himself out as the perfect or near perfect conservative when in fact, that's not his record.
We need a next president who's been strong and proven in fiscal and spending matters, said Pawlenty, noting that while Santorum was in Congress he voted several times to raise the debt ceiling. He clearly has been part of the big spending establishment in Congress and in the influence peddling industry that surrounds Congress.
ATTACK MACHINE
Santorum's campaign responded to Pawlenty's statement to reporters and other recent attacks by Romney saying the former Massachusetts governor should run on his record and vision for the future instead of just criticizing his opponents.
But Governor Romney does what he always does and directs his well-funded attack machine to destroy the opponent, said Santorum spokesman Hogan Gidley. Mitt Romney's act is tired, old and wearing thin with voters. ... Romney never touts his own record because it's abysmal.
Gidley said Romney's attack and smear campaign is just a way of avoiding his liberal record.
Romney, who flew to Grand Junction for two days of campaign events in Colorado, tried to stay above the fray as the campaigns sent out dueling news releases.
He kept his sights on Obama, not mentioning his Republican rivals.
At an evening event in Centennial, Romney attacked Obama for a new rule based on his healthcare overhaul that will force Catholic schools, hospitals and charities to provide insurance for their employees covering contraception even if though it violates the church's teachings.
This is a violation of conscience. We must have a president who is willing to respect America's first right, our right to worship God, Romney told a large crowd at Arapahoe High School.
Although Romney did not mention Santorum, his surrogates did. Asked by reporters if the new attacks on Santorum meant that the Romney campaign now saw him as the biggest threat to the nomination, Pawlenty noted the former senator was poised to do well in the upcoming states.
He's a credible candidate. He deserves to be right in the middle of the back and forth between the campaigns and I think that's what you see happening, Pawlenty said.
But in what seemed to be an effort to already lower expectations for Tuesday, Pawlenty said the Minnesota caucus was generally sparsely attended and those who did show up tended to support the most conservative candidate.
A poll on Monday showed Obama would win in a matchup against either Romney or Gingrich. The Washington Post-ABC news survey of 1,000 adults found that Obama's prospects have brightened amid a stronger economic outlook and recent job growth.
It said if the election were held now Obama would win 51 percent of the vote compared to 45 percent for Romney. He would win with 54 percent compared to 43 percent for Gingrich, according to the poll, which had an error margin of 4 points.
(Writing by Deborah Charles; Editing by Cynthia Osterman and Doina Chiacu)
© Copyright Thomson Reuters 2023. All rights reserved.