Romney's Mexican Family: Gingrich Florida Debate Immigration Showdown Gets Personal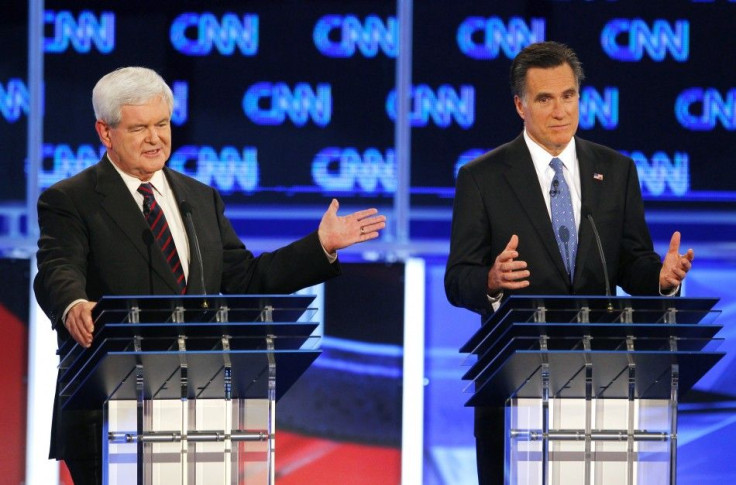 Mitt Romney brought up his Mexican background when going on a immigration tirade against Newt Gingrich at the Florida Republican presidential debate Thursday, blasting the former speaker for toxic rhetoric and demanding he apologize for calling him anti-immigration.
After a weak performance at Monday's debate in Tampa, Romney put up his strongest offense in the election season so far by bringing up his seldom-mentioned Mexican family. After Gingrich called Romney the most anti-immigration of the candidates for supporting self-deportation, the former Massachusetts governor said the claim was repulsive.
I actually agree that self-deportation will occur if you're single, if you've only been here for a relatively short period of time, said Gingrich, referring to the concept in which illegal immigrants will leave on their own if citizenship laws and restrictions are enforced. I don't think grandmothers and grandfathers will self-deport, he says.
That's simply inexcusable, Romney said of the attack. I'm not anti-immigrant. My father was born in Mexico. My wife's father was born in Wales. They came to this country. The idea that i'm anti-immigrant is repulsive. ... I'm not going around and rounding people up and deporting them. ... I'm not going to find grandmothers and deport them. Those are your words, not my words.'
You know our problem isn't 11 million grandmothers, said Romney.
Until Thursday night, Romney seldom had mentioned his Mexican roots. He was born in Detroit, but his father, the late Michigan Gov. George Romney, was born in Mexico, and he has about 40 relatives south of the border, all descended from Mormon pioneers who moved there 125 years ago, according to a Rock Center investigation.
Wolf Blitzer's question about self-deportation was inspired by an exchange between the two at a forum hosted by Univision, in which Gingrich said Romney had no concern for the humanity of undocumented immigrants. Romney called Gingrich's attack, and campaign ads currently airing with the same message, sad and inappropriate, reported The Huffington Post.
Florida Sen. Marco Rubio blasted the ads and Gingrich campaign said Wednesday he would take down ads that attacked Romney for being anti-immigrant. Romney brought those ads up again on the debate stage.
I'm glad that Marco Rubio called you out on it. I'm glad you withdrew it. I think you should apologize for it, Romney said to applause.
Gingrich was slammed even further for a 2007 comment in which he called Spanish a language of the ghetto, which was also quoted in a pro-Romney negative ad. Gingrich said his comments had been taken out of context and said he encourages all immigrants to learn English for practical purposes.
About 70 percent of registered Republicans in Miami-Dade county are Hispanic, the highest percentage in the nation, according to Public Radio International.
© Copyright IBTimes 2023. All rights reserved.