Ronda Rousey Shares Cryptic Message Quoting J.K. Rowling In First Post After Amanda Nunes Defeat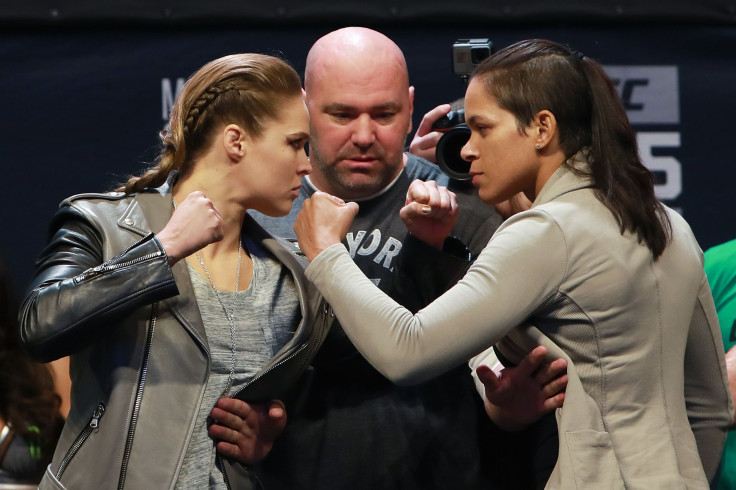 Ronda Rousey broke her silence Monday with an inspirational quote by author J.K. Rowling for the first time since losing in the first round at UFC 207 to Amanda Nunes. The cryptic Instagram post comes days after Rousey issued a written statement saying: "I need to take some time to reflect and think about the future."
Rousey and her fans' disappointment was evident after her comeback to the octagon after her title challenge lasted all of 48 seconds against Nunes. The 29-year-old had returned to the UFC after 13 months out of action. The recent post, which is a line picked up from Rowling's book "Very Good Lives: The Fringe Benefits of Failure and the Importance of Imagination," is the first time that Rousey has hinted at her state of mind.
Earlier this year, Rousey said in a statement:
I want to say thank you to all of my fans who have been there for me in not only the greatest moments but in the most difficult ones. Words cannot convey how much your love and support means to me. Returning to not just fighting, but winning, was my entire focus this past year. However, sometimes — even when you prepare and give everything you have and want something so badly — it doesn't work how you planned. I take pride in seeing how far the women's division has come in the UFC and commend all the other women who have been part of making this possible, including Amanda. I need to take some time to reflect and think about the future. Thank you for believing in me and understanding.
Rousey's mother, AnnMaria De Mars, posted a blog post shortly after the bout in December, writing that she was extremely proud of her daughter.
"All of those who have criticized Ronda for taking a loss so to heart, for not just 'shrugging it off' don't understand that's what made Ronda so successful is that she cares DEEPLY about winning to an extent that I don't believe the average person can wrap his/her head around," she wrote. "Caring deeply about something and working your hardest to achieve it doesn't mean you make the right decisions 100% of the time. Wouldn't it be a nicer world if it did?"
Rousey's first loss was in 2015 to fellow American fighter Holly Holm in Melbourne, Australia. She was 12-2 and had won six UFC title fights before losing to Holm.
© Copyright IBTimes 2023. All rights reserved.