Rosh Hashanah 2018: Prayers, Key Facts About Jewish New Year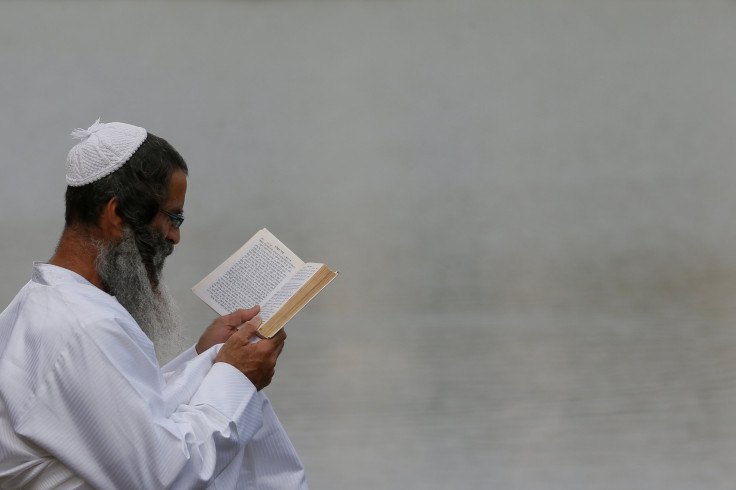 One of the Hebrew calendar's holiest holidays, Rosh Hashanah -- the Jewish New Year -- begins Sunday evening and ends Tuesday evening. The holidays are marked in several ways, including feasts to candle lighting and casting off the sins of the previous year into the sea.
On these two days, several prayers associated with Rosh Hashanah are recited from a prayer book called the Machzor. These prayers are also used during other Jewish holidays, including Yom Kippur. Conservative and Orthodox Jews observe the holiday over the course of two days, but Reform Jews celebrate Rosh Hashana for one day.
The common greeting on these days is L'shanah tovah, literally "for a good year."
Rosh Hashanah literally translates as "head of the year" or "first of the year." The holidays also mark the anniversary of the birth of the universe via God's creation of Adam and Eve. Symbolic foods include both bread and apples dipped in honey in order to signify the wish for a sweet new year.
Most Jewish people spend the two days by visiting synagogues where they worship God in creating and planning for the year ahead.
Rosh Hashanah begins the Days of Awe, a 10-day period ending with Yom Kippur.
Below are six prayers to recite during Rosh Hashanah:
1. "Blessed are you, Lord, our God, king of the universe who has sanctified us with his commandments and commanded us to light the candles of the holiday." -- words recited while lighting candles.
2. "Praised are You, Lord our God, Ruler of the Universe who has chosen and distinguished us by sanctifying our lives with commandments. Lovingly have you given us this Day of Remembrance, a day for recalling the shofar sound, a day for holy assembly and for recalling the Exodus from Egypt. Thus have you chosen us, sanctifying us among all people. Your faithful word endures forever. Praise are You, Lord, Ruler of all the earth, who sanctifies, the people Israel and the Day of Remembrance." -- while holding a cup of wine before the evening meal.
3. "Praised are you, Lord our God, ruler of the universe, who brings forth bread from the earth."
4. "Blessed art thou, Lord our God, king of the universe, creator of the fruit of the trees. May it be your will, Lord our God and God of our fathers, that you renew for us a good and sweet year in our Lord Yeshua the Messiah."
5. "Blessed are You, Lord our God, king of the universe, who sanctifies us with his commandments and commanded us to hear the sound of the shofar." -- prayer read after the sounding of a shofar – a hollowed out ram's horn which is traditionally blown up to 100 times.
6. "Who is like you, God, who removes iniquity and forgives transgression of the remainder of his heritage. He doesn't remain angry forever because he desires kindness. He will return and he will be merciful to us, and he will conquer our iniquities, and he will cast them into the depths of the sea. Give faithfulness to Jacob, kindness to Abraham like that you swore to our ancestors from long ago. From the straits I called upon God and with abounding relief God answered me. God is with me, I will not be afraid, what can man do to me? God is with me to help me, and I will see my foes [annihilated]. It is better to take refuge in God than to trust in man. It is better to take refuge in God, that to rely on nobles."
© Copyright IBTimes 2023. All rights reserved.