Rouhani Rome Visit: Italy Covers Nude Statues, Ditches Wine For Iran Presidential Tour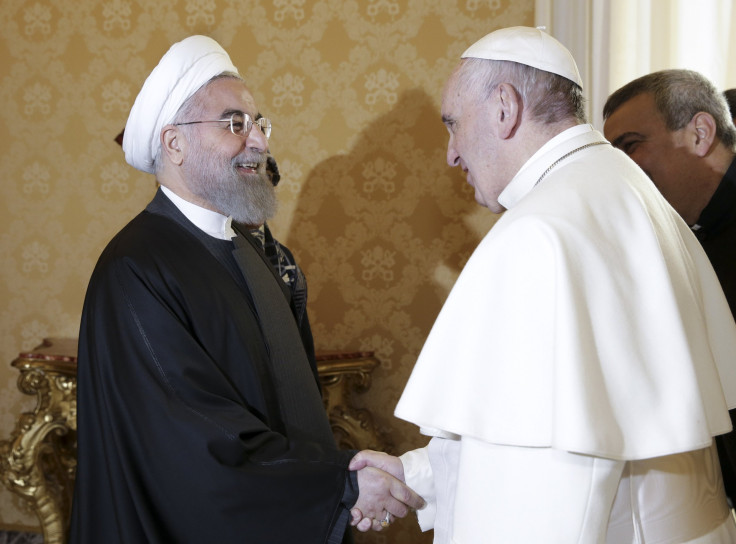 Out of respect for Muslim traditions, nude statues and sculptures were covered ahead of Iranian President Hassan Rouhani's visit to the Capitoline Museums in Rome, the Local reported Tuesday. The president's visit to the famed art and architectural museums, where he was joined by Italian Prime Minister Matteo Renzi, came after agreeing to up to $18 billion worth of contracts with European businesses Monday after sanctions were lifted against Iran this month.
A video from the trip showed the statues and sculptures covered by large white boxes. The preparation was apparently out of respect for Iran, where women are legally required to wear head scarves and viewing nudity is generally considered sinful. No wine was served during Rouhani's visit either, in stark contrast to a planned trip to France late last year, which was canceled after a request by the Iranian leader for an alcohol-free menu was declined.
Global sanctions were lifted against Iran this month as part of a nuclear agreement reached last summer requiring Tehran to implement restrictions on its nuclear program. Most U.S. sanctions have not yet been lifted. The Rome trip was expected to see massive business deals following sanction relief but was also something of a diplomatic mission. Rouhani visited Vatican City Tuesday, marking an Iranian president's first meeting with a pope since 1999.
Rouhani's visit was expected to patch up strained relations with Europe, but his visit to Europe was expected spark protests in Paris Thursday, the Wall Street Journal reported. The National Council of Resistance of Iran, made up of Iranian political dissidents, planned for thousands of people to protest Tehran's poor human rights record and support for the Syrian leader Bashar Assad, who has been accused of killing civilians in a five-year civil war.
At home, Rouhani's agenda has stirred some controversy among hard-liners in Parliament, who worry about his outreach to the West and their control over the country's economy. The deal was also heavily fought by many Republican U.S. congressional members, who argued that Iran could not be trusted to abide by the terms of the nuclear agreement, and challenged some of the terms of the deal.
© Copyright IBTimes 2023. All rights reserved.