Royals Reign After Beating Mets In World Series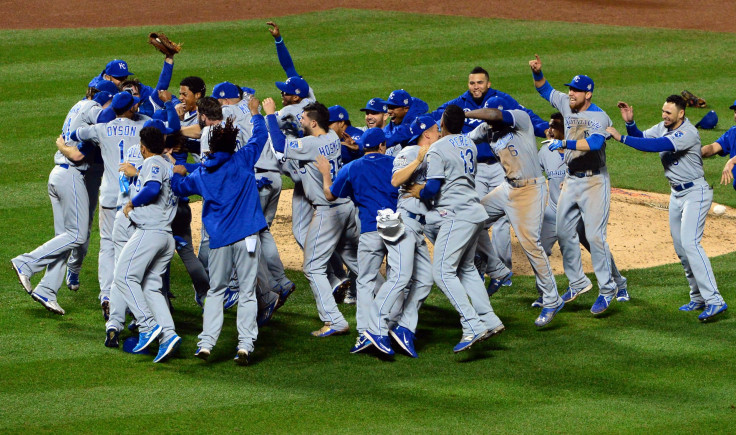 (Reuters) - Kansas City ended a 30-year wait for a World Series title as the Royals reigned over Major League Baseball with a 7-2, 12-inning victory over the New York Mets on Sunday.
A pinch-hit single by utility infielder Christian Colon scored the go-ahead run off reliever Addison Reed in the 12th and the Royals added four more runs in capturing the best-of-seven championship series by four games to one.
The visitors swarmed into the middle of the diamond in the hushed Citi Field stadium for a celebration by the mound where closer Wade Davis had struck out the side to end it.
The Royals' triumph was all the sweeter coming after their agonizing Game Seven loss in last year's World Series to the San Francisco Giants.
It marked Kansas City's first Fall Classic crown since their 1985 triumph against cross-state rivals the St. Louis Cardinals.
The Kansas City comeback kids trailed 2-0 heading into the ninth but rallied to tie the game, ruining the shutout bid of starter Matt Harvey and handing closer Jeurys Familia his third blown save of the series.
At the end of eighth, the crowd chanted "Harvey! Harvey!" hoping to see him come out to pitch the ninth, and the Mets ace ended the suspense when the bearded 26 year old ran from the dugout to the mound to Citi Field cheers.
Harvey, who had dueled with Royals starter Edinson Volquez in the tense battle, walked leadoff hitter Lorenzo Cain, who promptly stole second base. Eric Hosmer followed with a line-drive double to left that scored Cain to make it 2-1.
Mets manager Terry Collins then called in Familia, who was charged with blown saves in Game One and Game Four.
Familia got Moustakas to ground out to first as Hosmer raced to third. Salvador Perez hit a grounder to third baseman David Wright, who bluffed Hosmer back toward the bag before throwing on to first base for the out.
But as soon as Wright released the ball, Hosmer broke for home and first baseman Lucas Duda's throw to the plate came in wide as Hosmer slid in safely to tie the game.
The title-clinching victory was Kansas City's remarkable eighth come-from-behind win of the postseason.
© Copyright IBTimes 2023. All rights reserved.