Rupee Closes Slightly Down; Suspects RBI Intervention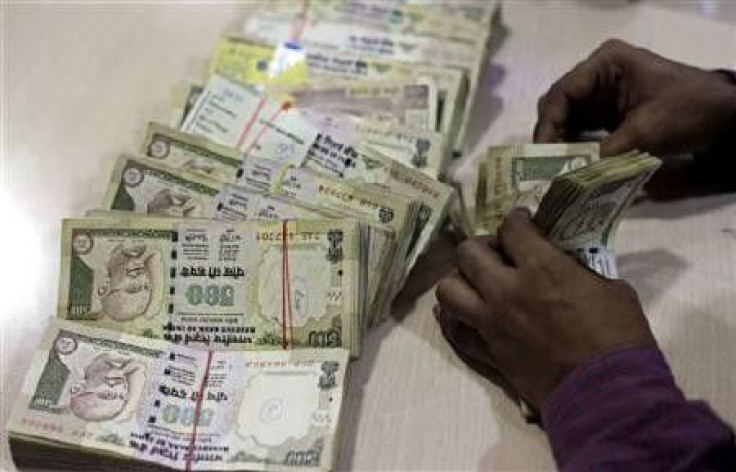 The rupee fell for the first session in seven on Friday as dollar demand from oil importers overwhelmed inflows, although suspected central bank intervention helped the currency recover smartly from the day's low.
The rupee ended at 50.32/33 to the dollar, slightly down from Thursday's close of 50.25/26 after moving in a wide band of 50.16 to 50.50 during the day.
Global risk sentiment turned negative as markets focused on talks between Greece and its private creditors, and this also weighed on the Indian currency, dealers said.
Next week is most likely to see choppy trade as the market will wait to see what emerges from the Reserve Bank of India review on Tuesday and the Federal Reserve the day after, said Ashtosh Raina, head of foreign exchange trading at HDFC Bank, who expects the rupee to move in range of 50 to 51 next week.
The tussle between oil refiners buying dollars to meet month-end payments and likely RBI intervention to prevent any steep sell-off of the rupee may add to volatility, traders said.
A Reuters poll of 22 economists on Wednesday showed the central bank is unlikely to cut rates when it reviews policy on Tuesday, but nearly all expect a cut by the end of June to boost faltering economic growth.
Despite Friday's fall, most analysts expect the rupee to gain against the dollar during the course of the year.
...Expect appreciation in stages to 47 in 2012, first as inflation slows ... and later as economy recovers, UBS said in a research note on Thursday.
Investors turned bullish on most emerging Asian currencies in the last two weeks, especially the rupee and the Indonesian rupiah, a Reuters poll showed on Thursday.
Recent measures by the RBI to curb corporate and interbank speculation and attract dollars from non-resident Indian and foreign investors have accelerated dollar inflows and will lend support to the currency, traders said.
The rupee notched up a third consecutive week of gains, rising 2.41 percent. It was the biggest weekly rise since last week of October, according to Thomson Reuters data.
India's headline inflation slowed in December to a two-year low as food price pressure eased dramatically, but manufactured products inflation edged up from November.
One-month offshore non-deliverable forward contracts were quoted at 50.8, indicating some weakness in the short term in the onshore spot rate.
In the currency futures market, the most-traded near-month dollar-rupee contracts on the National Stock Exchange, the MCX-SX and the United Stock Exchange all were around 50.47 on total volume of $4.03 billion.
© Copyright Thomson Reuters 2023. All rights reserved.