Russell Westbrook Admonished By Kerr, Backed By Shaq Over 'Next Question' Standoff
Russell Westbrook's standoff with the Oklahoman's reporter Berry Tramel has taken center stage during the first round of the NBA Playoffs, with Shaquille O'Neal, Steve Kerr and Charles Barkley speaking about the point guard's lack of responses during the post-game press conferences.
The Oklahoma City Thunder point guard has been non-responsive and simply stating "Next Question" to questions from Tramel for a number of years now, with the feud between the two supposedly going back to 2015. It continued during the post-game press conference after the team's Game 3 win over the Portland Trail Blazers, and then again after the Game 4 loss.
Westbrook seemed to appreciate the question after Game 4 from Tramel but chose not to answer and Golden State Warriors head coach Kerr believes the guard is setting a dangerous precedent going forward. He believes the player has an obligation to answer questions, not only for the media, but also to also provide information to the fans, who are a big part of the reason for the game's popularity.
"I just feel that we have to be very careful as a league," Golden State Warriors coach Steve Kerr said, as quoted by the Athletic. "We're in a good place right now. Very popular. Fans love the game, the social dynamic, the fashion. But more than anything they love the connection they feel to the players. I think it's important for the players to understand that it's a key dynamic to this league. I don't think this is a healthy dynamic, for this league, for any player, any team, any local media, any national media.
"It's all part of the business," Kerr added. "You've got to feed information to the fans. You don't have to give a great answer, but it's dangerous when you go down that path of no communication because one of the reasons people like the league right now is we have a lot of great players, really good guys who handle themselves well. So don't kill that. You've got to keep that going. That's a big part of the business."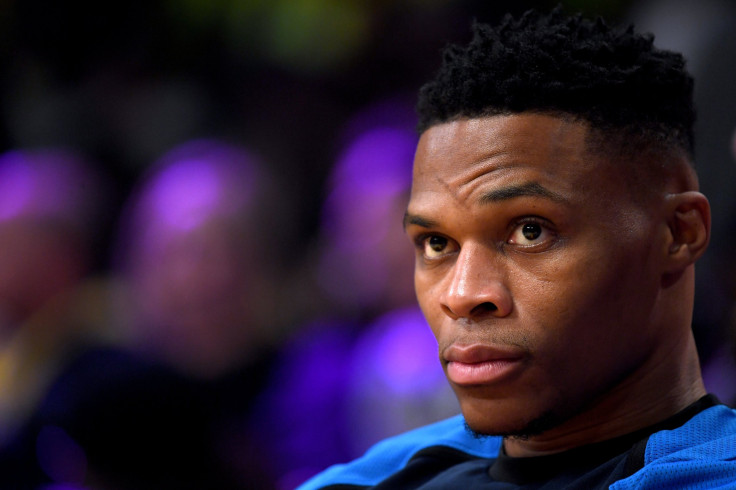 Charles Barkley also took the same stance as Kerr and said Westbrook was being unprofessional by ignoring Tramel's questions, but the Thunder point guard got the backing of Los Angeles Lakers legend Shaquille O'Neal. The four-time NBA champion feels that every player has the right to choose if he does not want to speak to a certain member of the press if they feel they have been wronged in the past.
"I'm gonna disagree with both of y'all, because I was Russell Westbrook — sensitive, and if I don't want to talk to you, I don't have to talk to you," O'Neal said on TNT's "Inside NBA". "Our job is to talk to the media. I don't have to talk to one particular guy. Media is media members like four or five. ... A lot of guys (in the media) try to get personal and try to be cute and try to get their followers ... so if you're sticking to the facts, 'Hack-a-Shaq, he can't shoot,' I ain't got no problem. But once you try to get personal and start doing that, man to man, I don't have to talk to you as a man if I don't want to talk to you."
© Copyright IBTimes 2023. All rights reserved.