Russia Accuses Ukraine Of Ignoring Ceasefire Agreement, Germany Says There Have Been 'Violations'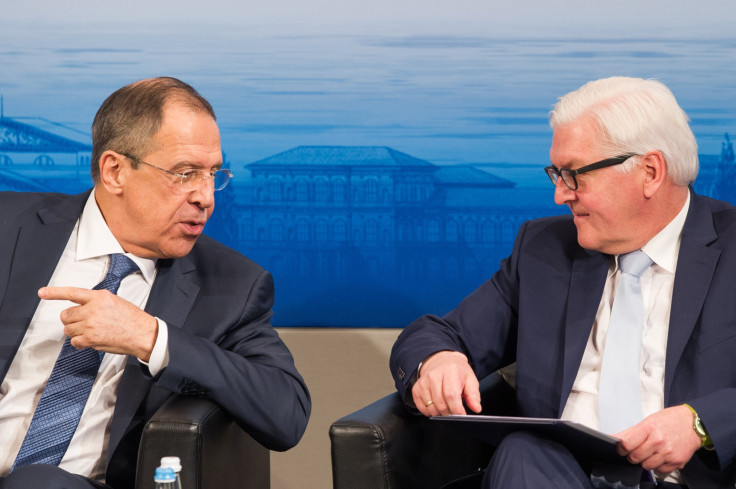 Russian Foreign Minister Sergei Lavrov said Wednesday Ukraine is ignoring the ceasefire agreement implemented last year, the Associated Press (AP) reported. The agreement between Russian, Ukrainian forces and pro-Russian rebels was implemented after months of fighting in eastern Ukraine.
Although most parts of the deal have been upheld, the AP report said none of the political elements, including calling for a local election, had been implemented. The ceasefire agreement was brokered by the Organization of Security and Co-operation in Europe (OCSE) and called for both Russia and Ukraine to pull out heavy weapons from the border. The agreement had also called for constitutional reforms to be implemented in Ukraine for its eastern region to have more autonomy.
Lavrov hosted German Foreign Minister Frank-Walter Steinmeier in Moscow on Wednesday and made the comments while talking to reporters. He said, according to AP, that Ukraine's inaction to implement the ceasefire in full was the main hurdle to a peace settlement in eastern Ukraine. Lavrov also noted that Germany had proposed the idea of holding an election in the rebel-occupied parts of eastern Ukraine over the upcoming summer, but officials in Kiev declined to do so. The country's administration cited security concerns for not being able to hold the elections.
On Wednesday, Steinmeier called for both sides to comply with the partial withdrawal of forces from the border in order to avoid escalation.
"In terms of security, we are not satisfied with the situation in Ukraine. There is still instability, and [there have been] violations of the ceasefire. But we have made some progress in this area," Steinmeier said, according to Sputnik News, adding: "We agree that we will continue to look forward to a peaceful solution in Ukraine."
The two officials also discussed Tuesday's attacks in Brussels, the Syrian ceasefire and the situation in Iran, Libya and Syria. Lavrov said, according to Sputnik News: "We analyzed bilateral cooperation on international issues. The attacks in Brussels have underscored the necessity for a joint fight against terrorism," adding: "We're interested in cooperating closely with Germany." He also said: "Relations with Germany are a high priority for us."
Steinmeier said: "It's very important to hold negotiations like this. Especially regarding the terrorist attacks in Brussels. We need to act together against terrorism."
© Copyright IBTimes 2023. All rights reserved.