Russia Airstrikes In Syria: NATO Warns Moscow Over Bombings And Entering Its Airspace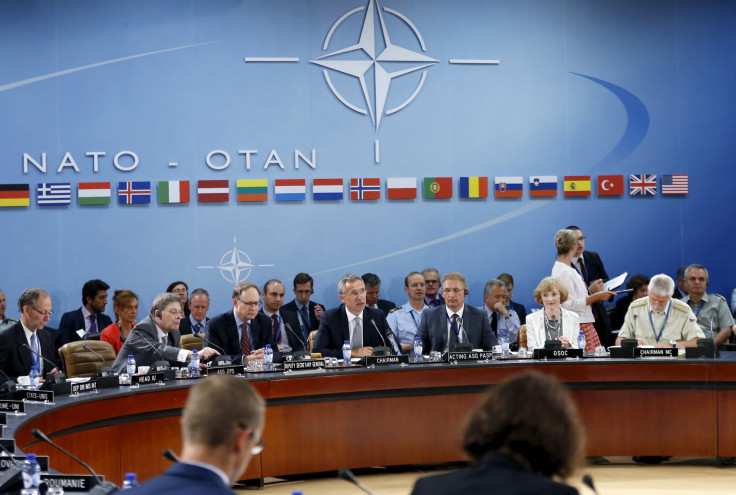 NATO has called on Russia to end its airstrikes in Syria and warned it against entering the airspace of the 28-member alliance after Russian fighter jets crossed over Turkey Saturday and Sunday, according to a NATO news release Monday. Moscow's Sukhoi fighter-bomber jets began bombing Syrian rebel and Islamic State group positions last week in an attempt to save the Bashar Assad regime in Syria.
"Russian military actions have reached a more dangerous level with the recent violations of Turkish airspace on 3 October and 4 October by Russian Air Force SU-30 and SU-24 aircraft in the Hatay region," a part of Turkey bordering Syria, according to a press release from the North Atlantic Council, the decision-making body of NATO. "The aircraft in question entered Turkish airspace despite Turkish authorities' clear, timely and repeated warnings. In accordance with NATO practice, Turkish fighter aircraft responded to these incursions by closing to identify the intruder, after which the Russian planes departed Turkish airspace."
NATO also said Russia had not targeted ISIS positions, but should "focus its efforts" on doing so rather than going after rebel groups that oppose Assad.
Russian Armed Forces Over Time | FindTheData
Turkish F-16 jets were scrambled Saturday after a single Russian jet ventured into Turkish airspace. Russia's embassy in Ankara denied any hostile act and said the aircraft had accidentally strayed over the border. An unidentified jet, which NATO said was also Russian, was also tracked Sunday crossing the same border.
Russia said the airspace violation lasted just a few seconds and was due to poor weather, while U.S. Secretary of State John Kerry said Turkey would have been within its rights to defend itself, according to an Agence France-Presse report.
"We're greatly concerned about it because it is precisely the kind of thing that had Turkey responded under its rights could have resulted in a shootdown," said Kerry while visiting Chile Monday.
© Copyright IBTimes 2023. All rights reserved.