Russia Conducts Military Exercises At Armenia Base In Latest Combat Readiness Drill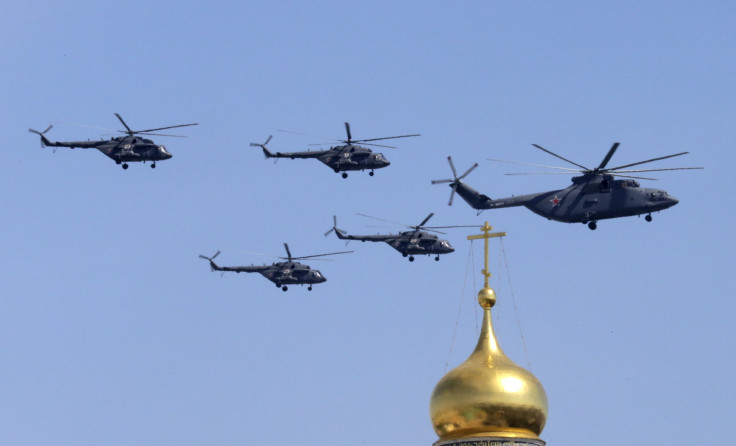 Russian ordered a snap-readiness exercise Tuesday for aviation personnel located at its military base in Armenia, Russia's Southern Military District said in a press release. Russian President Vladimir Putin has ordered several drills in recent months to test the combat readiness of Russian troops staged around the world, despite protests from Western nations.
The military exercise will assess how quickly Russian forces at the Armenian military base are capable of achieving "full combat readiness." Russian military officials will use drones to capture footage of the personnel as they respond to a mock alarm and man their battle stations, Russian outlet Tass reported.
"During the sudden check, the commission will study the readiness of on-duty forces in the aviation unit in Erenbuni and the military base in the Gyumri garrison for the accomplishment of the tasks for switching to full combat readiness," Russia's Southern Military District said in a press release.
Russian officials have committed in recent months to an overhaul of the nation's armed forces, in terms of both military technology and personnel training. Efforts to modernize the Russian military have occurred despite increased tensions with the West, where members of the European Union and NATO have questioned the intentions behind Russia's recent activity.
NATO officials condemned Russia's past snap-readiness maneuvers and expressed concern that Moscow used the training exercises to posture its military forces near foreign borders, particularly in Eastern Europe. Several of Russia's neighbors, including Finland, Sweden and the Baltic States, have strengthened their ties with NATO amid the Russian military activity.
"We are concerned by the size, sale and frequency of Russia's snap exercises," a NATO official told CNN in May. "Three of them have included over 80,000 troops. Some of them have been used to deploy troops to annex Crimea, mass forces on Ukraine's border and support the [pro-Moscow rebels in Ukraine]."
The Kremlin drew international criticism and scrutiny for its annexation of Crimea in March 2014 and apparent support for pro-Russian separatists in the Eastern Ukraine conflict, in which more than 6,400 people have died since early last year.
© Copyright IBTimes 2023. All rights reserved.