Russia Developing New 'Aircraft Carrier Killer' Submarine With Cruise Missiles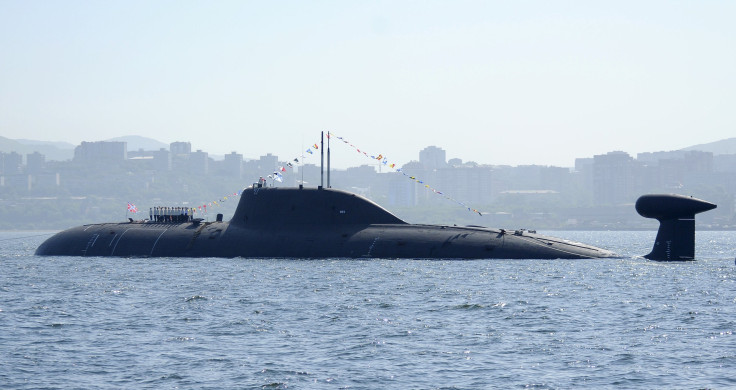 The Russian navy is developing two new fifth generation submarines with the ability to sink aircraft carriers and protect submarines that carry nuclear weapons, according to a Monday report from Sputnik, a pro-Russian news website. The project, which could be completed before the decade is out, is part of Moscow's $350 billion military modernization program aimed at reinforcing the Kremlin's current defense posture across Europe and gaining military parity with the United States.
Earlier in June, chief of the Russian Navy Viktor Chirkov confirmed that the new submarines had been designed by the Malakhit marine engineering design bureau and would be constructed by the Sevsmash shipbuilding company. "We need low-noise, fast-maneuvering submarines with the highest level of stealthiness and equipped with powerful weapons," said Chirkov, who also mentioned that the subs were likely to be completed by 2020. "In order to avoid pauses and standstill, we have started design work on developing submarines of the next, i.e. fifth generation."
Russia's ongoing efforts at military modernization have come while it continues to face increased European Union-led sanctions after its annexation of Crimea in March and its continued involvement in the east Ukraine war. Despite its faltering economy from those financial sanctions and the decrease in the price of oil, which has effected spending across the entire Russia public sector, the Kremlin's military spending in on track.
The first submarine, only known as "aircraft carrier killer" will carry cruise missiles and be used to target coastal defenses and aircraft carriers, according to Anatoly Shlemov, the head of Russia's United Shipbuilding Corporation. The second, says Shlemov, known as "underwater interceptor" will be used to protect submarines carrying ballistic submarines. Both will be in the same class but carry different armaments.
Currently Russia operates around 60 submarines, 10 of which are nuclear powered and carry ballistic missiles. Another 30 are smaller, multipurpose nuclear submarines with the rest being much older diesel powered vessels.
© Copyright IBTimes 2023. All rights reserved.