Russia Forming Specialist Group To Dismantle Mistral Communications Equipment In France: Report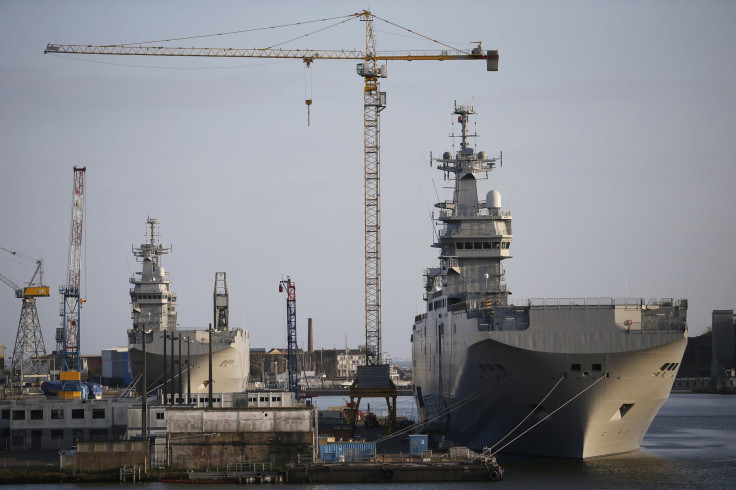 Russia is forming a group of specialists to travel to France and dismantle the communications equipment from the two French-made Mistral-class helicopter carriers, whose delivery to Moscow was canceled by Paris in November 2014, a report said Saturday.
The Kremlin has decided to send specialists to France to take away key instruments, which can be employed on other Russian navy ships, state-run Tass news agency reported, citing a source in the Russian defense and industrial sector. Following the cancelation of the deal with France, Russia had reportedly committed to building its own helicopter carriers to replace the two Mistral vessels.
"This task has been formulated and now a group of specialists is being formed to go to France to dismantle the control and communications equipment aboard the Mistrals delivered by Russia," Tass quoted the source as saying.
According to the terms of the $1.5 billion deal struck between Russia and France in June 2011, the first Mistral-class ship, known as the "Vladivostok," was scheduled to be delivered to Russia by the end of 2014. The second ship, known as the "Sevastopol," was set to be handed over in the second half of 2015.
The nearly 690-foot Mistral-class helicopter carriers have a displacement of 21 tons and can travel up to 20,000 miles at a maximum speed of 18 knots (nearly 21 miles per hour). The ships can carry 450 people, in addition to a crew of 180, 16 helicopters and 40 tanks or up to 70 motorized vehicles, Tass reported.
Both Russia and France are currently said to be working on an agreement on the sum of compensation for the latter's non-delivery of the warships, and a final document on the settlement will soon be approved by Russian President Vladimir Putin and French President Francois Hollande.
A previous report also said that Russia had disbanded the crews of the helicopter carriers, followed by contradictory accounts that suggested the crews can be disbanded only after a final decision on the fate of the warships is made.
© Copyright IBTimes 2023. All rights reserved.