Russia-Greece Gas Deal: Kremlin Denies Any Advance Loan Deal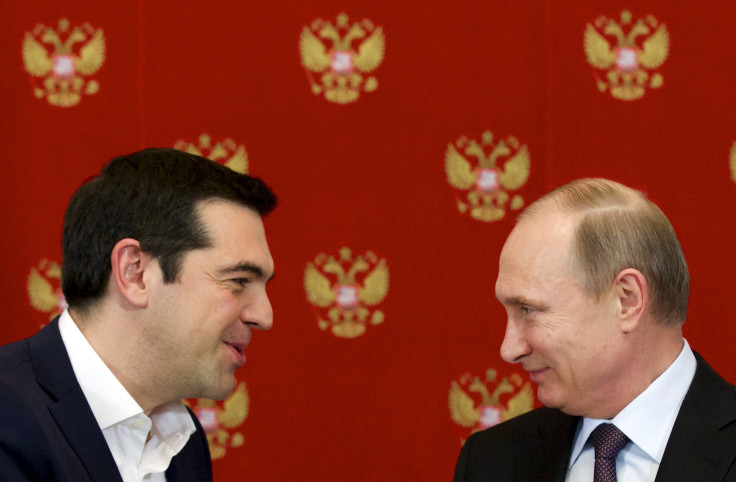 Russia has not reached an agreement to provide Greece with an advance payment of as much as 5 billion euros ($5.40 billion) in the context of a proposed project to construct a natural-gas pipeline that would run through the country, a representative of Russian President Vladimir Putin said Saturday. The pipeline would connect to the proposed Turkish Stream, a pipeline from Russia to Turkey that would cross the Black Sea on its way to the rest of Europe, delivering some 63 billion cubic meters of gas annually.
"Putin personally said at the phone-in conference that no one has turned for help," Kremlin rep Dmitry Peskov said in a radio interview, according to the TASS Russian News Agency. However, he said, "Russia did not promise to render financial assistance since no one had asked for it."
A report of an impending compact between Moscow and Athens first surfaced in the German newsmagazine Der Speigel. Its report cited an official with Greek Prime Minister Alexis Tsipras' anti-austerity Syriza party who said a deal encompassing a prepayment of between 3 billion ($3.24 billion) and 5 billion euros could be signed as soon as Tuesday.
Tsipras formally met with Putin April 8. The Greek prime minister and his political party hope to renegotiate the country's bailout agreement with its creditors, as represented by the so-called troika: the International Monetary Fund, European Commission and European Central Bank. With a default by Greece and even its exit from the European Union on the table, the talks over a deal have been tense. Accordingly, some is are concerned Tsipras is getting close to Putin, who is also at odds with most of Europe, to gain leverage over his creditors.
With Russia suffering under multiple economic sanctions because of the crisis in Ukraine and Greece in desperate need of cash, an agreement between the two nations on the proposed pipeline would likely be mutually beneficial. It would also help undermine sanctions the EU placed on Russia over its annexation of Crimea last year and alleged involvement in the conflict in Ukraine.
© Copyright IBTimes 2023. All rights reserved.