Russia Protests Estonia's Treatment Of Russian Minority, Echoing Pretext For Crimea Takeover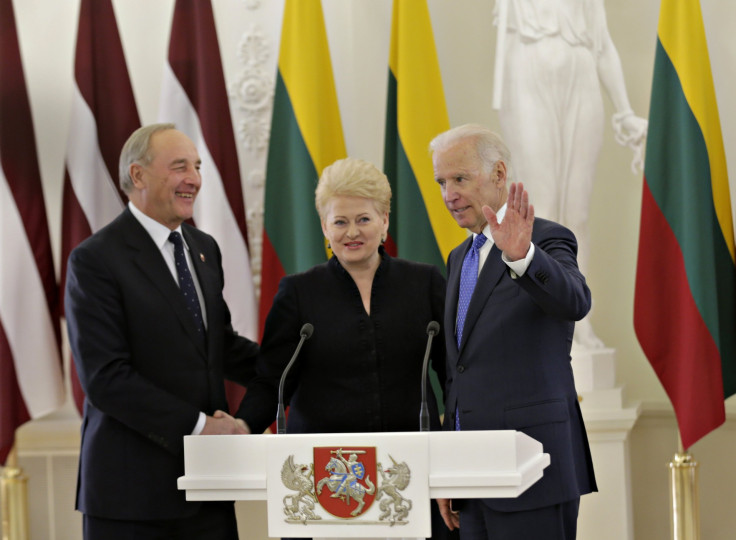 A day after annexing the Crimea, Russia signaled concern Wednesday at Estonia's treatment of its large ethnic Russian minority, echoing the pretext it used to intervene in Ukraine.
Russia has defended its annexation of Ukraine's Crimea peninsula by arguing it has the right to protect Russian-speakers outside its borders, so the reference to linguistic tensions in another former Soviet republic comes at an extremely sensitive moment.
The Russian statement at the U.N. Human Rights Council in Geneva comes a day after Estonian Foreign Minister Urmas Paet called on the European Union to ratchet up sanctions against Russia, and said an arms embargo should be one of the first issues on the agenda.
Russia fully supported the protection of the rights of ethnic and linguistic minorities, a Moscow diplomat told the Human Rights Council in Geneva, according to a summary of the session issued by the U.N.'s information department and reported by Reuters.
"Language should not be used to segregate and isolate groups," the diplomat was reported as saying. Russia was "concerned by steps taken in this regard in Estonia as well as in Ukraine," the Moscow envoy was said to have added.
The text of the Russian remarks, echoing long-standing complaints over Estonia's insistence that the large Russian minority in the country should learn to speak Estonian, was not immediately available.
But amid the growing Crimea crisis, Estonia, Latvia and Lithuania -- which like Ukraine were all parts of the old Soviet Union until 1991 -- have expressed growing apprehension over Moscow's intentions. And crucially, unlike Ukraine, they are members of NATO and the EU.
U.S. Vice President Joe Biden is currently in the Lithuanian capital Vilnius as part of a trip to reassure the three countries of Washington's support.
"I want to make it clear: We stand resolutely with our Baltic allies in support of the Ukrainian people and against Russian aggression," Biden said. "As long as Russia continues on this dark path, they will face increasing political and economic isolation," he also declared.
"There is an attempt, using brutal force, to redraw borders of the European states and to destroy the post-war architecture of Europe," said Lithuanian President Dalia Grybauskaite, welcoming Biden. "This situation is a direct threat to our regional security." Latvian President Andris Berzins also attended the meeting.
Latvia also has a large Russian-speaking population, and Minister of Economics Vjceslavs Dombrovskis said Tuesday that it is among the most vulnerable nations in Europe to wider economic sanctions against Russia, the Wall Street Journal reported. He said the Riga government is preparing for a range of scenarios over the crisis in Ukraine.
Speaking during an interview following a Cabinet meeting, he said: "It would be hard to find a country with greater relative exposure" to Russia. He added that much of Latvia's transport, service sector, merchandise trade and tourism industry depends on Russian businesses and consumers.
"What we are preparing for is the possible reaction on the other side to these sanctions," Dombrovskis said, indicating Russia holds important political cards when it comes to small nations like Latvia. He also said Latvia views one of the worst-case scenarios as being "the next Crimea" in five or 10 years.
The grim mood was reflected by Bulgarian President Rosen Plevneliev, who said in London, according to the Daily Mail: "What about Lithuania? What about Estonia? We do have Russian communities and minorities there. Is it possible in the 21st Century that they can call Moscow - and Moscow will send troops and occupy and annex some part of their territory?"
According to a 2011 census, ethnic Russians make up about a quarter of Estonia's total population, and more than a third in the capital, Tallinn. In Latvia, Russians make up 27 percent, but total Russian speakers are about a third, and about half in the capital, Riga.
In Geneva, Ukraine told the Human Rights Council that U.N. experts had found no credible evidence of mistreatment of its Russian minority as alleged by Moscow -- one of whose pro-Kremlin newspapers said this week there was "bloodshed almost like in Syria" in the east of the country.
The new government in Kiev, a Ukrainian envoy declared, was reinvigorating its promotion and protection of the rights of minorities "to the highest international standards."
The envoy asked what measures could be taken to protect Ukrainian, Crimean Tatar and other minority groups in Crimea "whose rights are being violated under the Russian occupation."
Responding, the Russian delegate said there were no violations of minority rights in Crimea and minorities were not being persecuted. The new Russian-backed government there had guaranteed protection of the Tatars.
© Copyright IBTimes 2023. All rights reserved.