Russia-Sweden War? Swedes Prepares For Potential Military Invasion On Baltic Island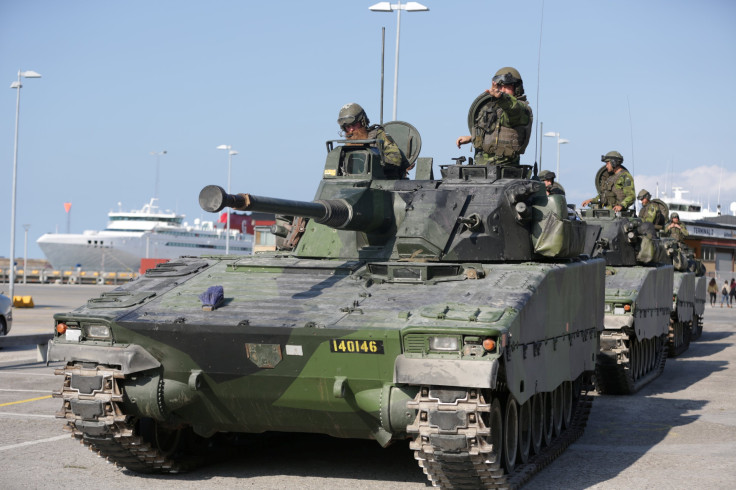 Sweden is preparing for a potential military attack from Russia. The Nordic nation has deployed military troops to a strategic area in the Baltics in the event Russia takes its aggressive military posturing in the region a step further, according to a new report released Friday.
A group of eight military experts wrote and edited the report published by the Royal Academy of Military Sciences that runs down the possibilities and consequences of a Russian invasion of Gotland, Sweden, a strategic military locale and tourist attraction known for its picturesque beaches. Sweden recently sent 150 troops to the island to bolster its defense. But that military presence may not be enough to counter a Russian attack, Sputnik News reported.
"Without artillery and air defense systems, it is impossible to prevent the capture of the island. It is only possible keep fighting for some time and keep individual objects in possession while waiting for reinforcements," Karlis Neretnieks, who led Swedish military troops in Gotland in the 1990s, wrote in the report.
Russia could send at least 2,500 of its soldiers to Gotland, according to the report. If that were to happen, Gotland could be under Russia's control in less than a full day's time, a military expert told Swedish tabloid Expressen.
Gotland could be enticing to Russia because of its key location in the Baltic region where the North Atlantic Treaty Organization (NATO) has been assisting local countries. Russia has reportedly had its eyes on Gotland for more than a year, including two instances last summer when it conducted military exercises in the Baltics in apparent preparation for taking the island by military force and also when two Russian bombers were spotted near the island.
Russia's targeting of Gotland and other islands in the Baltics would make it tougher for "NATO allies to reinforce the Baltic states," a security expert wrote in a report last year, the Local reported.
NATO concerns in the region stem from "Russia's illegal annexation of Crimea in March 2014 and its military actions in Ukraine," according to NATO's website. A Russia-controlled Gotland could also mean Russia might "position mobile surface-to-air missiles there," according to NATO, which has been working to secure the Nordic-Baltic region's states, even though some of them, such as Sweden, are not members of the international military bloc.
The top diplomatic officials from Sweden and Ukraine met Thursday in New York City and discussed existing sanctions against Russia and how to maintain them in the face of increasing Russian aggression. Pavlo Klimkin, minister of foreign affairs of Ukraine and Margot Wallstrom, foreign minister of Sweden, have been working together in order to neutralize Russia's presence in Ukraine, something that may be seen by Russia as a provocation, Interfax reported.
"Wallstrom noted the importance of maintaining the sanctions regime against the Russian Federation, increasing their efficiency and also facilitating the work of the OSCE mission in Ukraine in the context of monitoring the implementation of the Minsk agreements," Ukraine's Ministry of Foreign Affairs said Friday in a statement.
Sweden's worries of a Russian invasion may be unjustified, a European defense expert told the Local.
"I have no fear for an armed aggression directly against Sweden from Russia, but there is a risk, if we have a conflict concerning the Baltic countries, that there would be a need for Russia to occupy Gotland and use it as a base for preventing support from NATO," Stefan Ring said.
© Copyright IBTimes 2023. All rights reserved.