Russia-Turkey Crisis: Erdogan Criticizes Moscow For Backing Syrian President Assad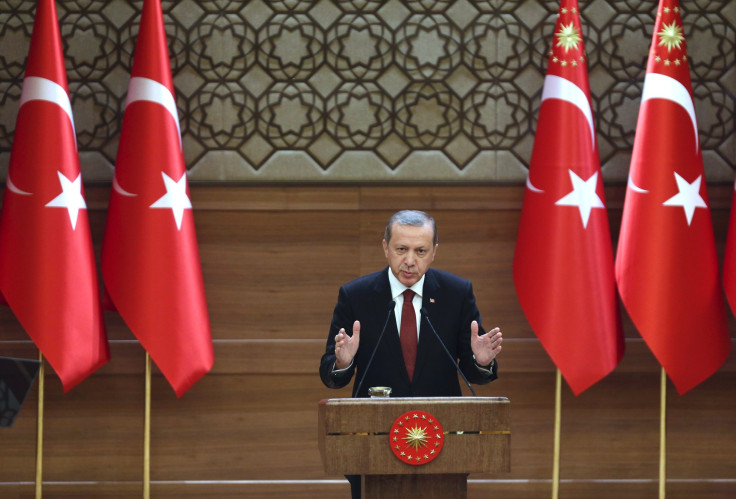 Turkish President Recep Tayyip Erdogan slammed Russia for backing Syrian President Bashar Assad amid heightened tensions between Ankara and Moscow. Erdogan Tuesday accused Assad's government of "mercilessly" killing tens of thousands of people.
Erdogan's comments came during a press conference before departing for Saudi Arabia for a visit that would focus on Syria and the fight against terrorist groups, including the Islamic State group, also known as ISIS.
"You cannot go anywhere by supporting a regime that has mercilessly killed 400,000 innocent people with conventional and chemical weapons," Erdogan said, according to the Associated Press, hinting at Russia. Erdogan also accused countries of "adding fuel to fire" by backing Syrian Kurdish fighters, which Turkey considers as terrorist groups because of their links to Turkey's outlawed Kurdish rebel group.
Russia and Turkey's relationship faced a massive blow after Turkish Air Force's F-16 fighter shot down a Russian Sukhoi Su-24 bomber in November, saying that the jet violated the Turkish airspace on the border with Syria. However, Russia said that "there was no violation of Turkey's airspace."
Russia has been conducting airstrikes in Syria targeting ISIS in Syria after the group claimed responsibility for the downing of a Russian passenger jet over Egypt in late October. However, the West has criticized Russia's actions in Syria as being focused on keeping long-term ally Assad in power.
Last month, Assad credited Russia's involvement in the fight against terrorism for "improving the situation" in Syria. Assad reportedly said that the difference between the American effort and the Russian operation lies in the level of cooperation with Syrian government forces as the U.S. does not cooperate with any ground troops.
Earlier this month, Assad condemned airstrikes carried out by a U.S.-led coalition in Syria saying that Britain and France lack capability to defeat terrorism.
Meanwhile, reports surfaced that a group of Russian Pacific Fleet warships recently held anti-air defense exercises in the Indian Ocean, the Russian Defense Ministry said Tuesday, according to Sputnik News.
"While completing tasks in military service, the ships' crews developed skills in air defense, trained in subunits in anti-terrorist drills, ship combat training, and developed activities in ship survival, as well as taking on provisions at sea," the ministry reportedly said in a statement.
© Copyright IBTimes 2023. All rights reserved.
FOLLOW MORE IBT NEWS ON THE BELOW CHANNELS