Russia - Ukraine War: UN Calls For Russians To Reparations Over Invasion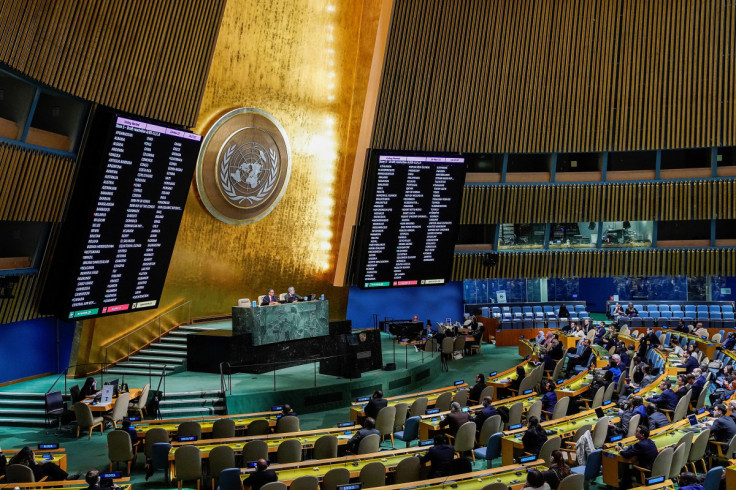 The United Nations General Assembly adopted a resolution on Monday calling for Russia to pay reparations to Ukraine for damages from the invasion.
The resolution is a product of an emergency special session called on Feb. 28 over the Russian invasion of Ukraine. The resolution would require Russia to pay Ukraine for damages.
In September, Reuters reported the estimated cost of rebuilding Ukraine would be close to $350 billion.
"This proposal is not about Russia alone. It will work for the benefit of all those who are being threatened now or might be threatened later by use of force," said Ukrainian Ambassador Sergiy Kyslytsya.
Russia rejected the resolution, with Russian Ambassador Vasily Nebenzya saying the resolution was an example of a small group of states acting outside of the jurisdiction of international law and that the countries that voted in favor of the resolution are attempting to become a judicial body.
"These countries boast about how committed they are to the rule of law, but at the same time, they are flouting its very semblance," Nebensya said.
Fifty nations co-sponsored the resolution on Monday. When brought to a vote, 94 countries voted in favor, 14 countries voted against it, and 73 countries abstained.
Russia has supported reparations, both for itself following World War II and for other countries. Russia supported the U.N. Compensation Commission, which came after Iraq's invasion of Kuwait in 1991. The U.N. reported that the UNCC completed its mission this year, providing over $52 billion to victims of the invasion.
Monday's vote was an added blow to Russia. On Monday, Ukrainian President Volodymyr Zelensky visited the newly freed town of Kherson. Kherson was liberated by Ukrainian soldiers last week, forcing Russian troops to retreat.
In September, Russian President Vladimir Putin named Kherson one of four annexed territories. Russia had held control over Kherson since the war began on Feb. 24.
Russian troops have also faced embarrassing setbacks, from blowing up their own supply train to reports of Russian soldiers "fleeing naked" to escape from Ukrainian troops.
While Ukraine has made progress the fighting has continued. Peace talks have been almost non-existent as Zelensky and Ukrainian officials say they are unwilling to compromise to meet Russian demands and have committed to fighting through the winter.
"Today, Russia, who claims to be the successor of the 20th century's tyranny, is doing everything it can to avoid paying the price for its own war and occupation, trying to escape accountability for the crimes it is committing," Kyslytsya said.
© Copyright IBTimes 2023. All rights reserved.